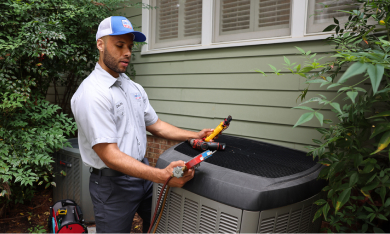 24/7 Heating and Cooling Services in Ellicott City, MD
If you're looking for a trustworthy plumber or HVAC technician in Ellicott City, MD, call United Air Temp. Our company has been serving homeowners in the DC Metro area since 1931. No matter the issue you're facing, the professionals at United Air Temp have the experience to solve your problem quickly. We're available 24/7 to provide emergency services as well.
Schedule a cooling or heating service today.
Air Conditioning Installation, Maintenance & Repair
Our team offers 24/7 emergency air conditioner repair so your home can remain comfortable throughout the summer. We'll let you know if repairs on your system are possible and how much they will cost before beginning any repair work. If repairs are not possible, a certified technician will recommend air conditioner replacements that fit your needs. We also offer routine maintenance services to extend the service life of your air conditioner, no matter the brand you have installed.
Contact us today to schedule an air conditioning service in your Ellicott City home.
Heating Services
When you need heating repair or heating installation services, our United Air Temp technicians are ready to help. We provide emergency heating repairs as part of our 24/7 emergency services. Our team frequently repairs gas and electric furnaces, heat pumps, ductless mini-splits, and dual-fuel heating systems. We can also install a new heating system that supplements or replaces your current heating system with our heating installation services. We can help you protect your investment with a preventative maintenance plan that keeps your new heating system functioning efficiently.
Chat with a representative to schedule an appointment with a NATE-certified heating system technician in Ellicott City.
Indoor Air Quality Services
Many homeowners don't realize that the quality of the air circulating throughout their home can be more polluted than the air outdoors. United Air Temp offers indoor air quality services that help you and other members of your household breathe easier, keeping dust, odors, mold, and other pollutants from circulating throughout your home. Signs of poor indoor air quality include sneezing, coughing, and headaches that disappear when you're away. In Ellicott City, our technicians install and repair products that improve your home's indoor air quality like humidifiers, dehumidifiers, thermostats, ductwork, air scrubbers, air purifiers, attic fans, and R-22 conversions.
Depend On United Air Temp for Reliable HVAC Services in Ellicott City, MD
For fast HVAC services from a company with a 90+ year tradition of service excellence, contact United Air Temp today. We're constantly updating our service techniques and industry knowledge to provide you with the best service possible. Our licensed plumbers and NATE-certified technicians will provide you with a detailed written report on all work performed so that you can make informed decisions long after your service is complete.
Request 24/7 emergency service with one of our licensed plumbers or certified technicians.

Why Choose Us
Discover the United Difference
Environmental Health & Safety
Environmental Health & Safety
Save on Your Service
Our Goal Is to Keep Your Home Comfortable
FREE

second opinion – HVAC or Plumbing replacement
Expires 03/31/23
$25 OFF

for referrer and friend
Expires 03/31/23
$50

diagnostic for first- time plumbing customer
Expires 03/31/23
What Our Clients Are Saying

The tech was at my home less than 10 minutes and gone within 20 minutes due to having my A/C up and running. I really appreciate his response to my home and working with my son due to me being out of town, but we spoke on the phone.

The technician arrived promptly, wore a mask, was very courteous and professional. I am generally very satisfied with service by United Air Temp. In addition to good service (they repair well), it is easy to speak to a person, and promptly. Thank you.

Great service! I called because I was under the impression the AC was not working upstairs. Someone came on the same day, checked out the system, and ensured everything was working. He was polite, thorough, and friendly.

Tech was very attentive and professional. He went out his way to explain everything to me as he was doing it. I appreciated him keeping me informed.
The service technician was awesome! He spent the extra time necessary to ensure the leak in our system was fixed, the system fully recharged and everything was functioning as it should. He was extremely thorough and very professional. We are extremely pleased with the result!