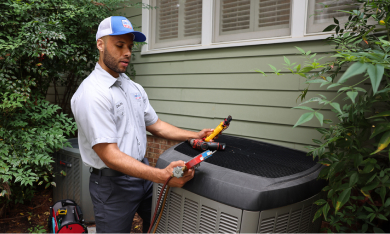 Garbage Disposal Repair & Installation in Northern Virginia and Washington D.C.
You depend on your garbage disposal to help you prepare food at home efficiently, and an unexpected breakdown is a frustrating inconvenience. United Air Temp's team of licensed plumbers in the DC metro area can repair and install garbage disposals quickly, so you can get back to efficient food preparation as soon as possible.
Our plumbers have the mechanical and plumbing skills to repair and install new garbage disposals. Schedule an appointment today.
Request Service
Get started by filling out a service request form or by giving us a call.
Same Day Garbage Disposal Repair Available
The garbage disposal in your DC metro area home was designed to handle a lot of heavy use, but all garbage disposals need repairs over time to function efficiently. Here are a few common signs that your garbage disposal needs repair:
When you flip the switch, nothing happens
You hear humming noises instead of grinding up food
The blades don't grind food as well as they used to
You see leaks from the disposal under your sink
If you have any of these issues with your garbage disposal, one of our experienced plumbers can identify the problem and repair it immediately.
Schedule your appointment online.
Garbage Disposal Installation & Replacement Throughout Washington, DC, Maryland & Northern Virginia
If one of our plumbers inspects your garbage disposal and finds that repairs won't fix the underlying issues, we'll give you a written report along with a free estimate for several replacement options and costs of installation.
We'll answer any questions you have. If you decide to proceed with an installation, we'll install your new garbage disposal as quickly as possible. With a professional installation, you'll avoid water damage and injury risks.
Depend on United Air Temp for Professional Garbage Disposal Services
For garbage disposal repairs and installation services you can trust, contact United Air Temp. We've served homeowners in the DC metro area for over 90 years, and we've built a reputation for high customer care standards and service excellence.
Our licensed plumbers stay up-to-date on technological advancements in the industry, so you can rest assured you're getting the highest quality service possible when you contact United Air Temp for our garbage disposal services. 
Schedule your garbage disposal repair today, or get a free estimate for a garbage disposal installation.
Frequently Asked Questions
How long does a garbage disposal last?
Garbage disposals usually last for about 10 years. If they last beyond 10 years of heavy use, they aren't efficient and need constant repairs.
What should I avoid putting through my garbage disposal?
Here's a list of items you should never put through your garbage disposal. Over time, these items will destroy your disposal—beyond simply jamming the flywheel or causing small leaks:
Eggshells (more specifically, the membranes that cling to the shells inside)
Oatmeal
Grease
Nuts
Potato peels
Coffee grounds
Fibrous fruits (i.e., melons)
The licensed plumbers at United Air Temp have seen and fixed every possible garbage disposal issue. Schedule an appointment with one of these experts today.
How do I get rid of a bad smell in my garbage disposal?
Sprinkle half a cup of baking soda in your kitchen drain, add a little vinegar, and wait for at least 15 minutes. This mixture should act as a natural cleaning agent that's safe for your garbage disposal and the surrounding plumbing system pipes.

Why Choose Us
Discover the United Difference
Environmental Health & Safety
Environmental Health & Safety
Save on Your Service
Our Goal Is to Keep Your Home Comfortable
BOGO! $99 Buy This Year's Tune Up, Get Next Year's Free.
Expires 12/31/23
Plus, up to 2 lbs of refrigerant if needed. *Cannot be combined with any other offer. Call for details.
Save Up To $2,000

When You Buy a Complete HVAC System with A/C and Furnace!
Expires 12/31/23
*Cannot be combined with any other offer. Not applicable for a heat pump system.
What Our Clients Are Saying

The tech was at my home less than 10 minutes and gone within 20 minutes due to having my A/C up and running. I really appreciate his response to my home and working with my son due to me being out of town, but we spoke on the phone.

The technician arrived promptly, wore a mask, was very courteous and professional. I am generally very satisfied with service by United Air Temp. In addition to good service (they repair well), it is easy to speak to a person, and promptly. Thank you.

Great service! I called because I was under the impression the AC was not working upstairs. Someone came on the same day, checked out the system, and ensured everything was working. He was polite, thorough, and friendly.

Tech was very attentive and professional. He went out his way to explain everything to me as he was doing it. I appreciated him keeping me informed.
The service technician was awesome! He spent the extra time necessary to ensure the leak in our system was fixed, the system fully recharged and everything was functioning as it should. He was extremely thorough and very professional. We are extremely pleased with the result!