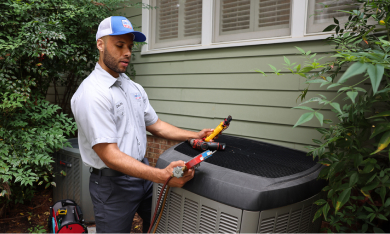 24/7 Plumbing Services in Northern Virginia, Washington DC, and the Baltimore Metro Areas
Plumbing problems make it difficult to enjoy your home, and they can create safety and sanitation issues. In Washington, DC, Maryland, and Virginia, United Air Temp offers a variety of comprehensive plumbing services. From repairs to maintenance, we can help you keep your plumbing running well.
Contact United Air Temp if you need plumbing service in Washington, DC, and the surrounding areas.
Most Common Causes of Plumbing Issues
Plumbing issues occur for a variety of reasons. You may need plumbing help because your pipes and faucets simply wear out over time. Changing seasons can cause water to freeze in your pipes, leading to plumbing concerns.
Lack of plumbing maintenance can cause these problems to arise sooner as well. Sometimes, plumbing problems are caused by unforeseen circumstances, such as a root that grows through a sewer line or hair that clogs a drain.
Regardless of the reason, if you have problems with your plumbing, contact United Air Temp for help.
We Proudly Serve NOVA, DC & BALT Areas
Get started by filling out a service request form.
When To Call a Professional Plumber
You may be able to fix some plumbing problems on your own, but sometimes you need the services of a professional. Always call a DC metro area plumber when:
You have no water flow.

You have no hot water.

The water heater is leaking or sweating.

You experience low water pressure.

The drains are blocked.

The faucet is dripping.

The toilet is overflowing or running,

You smell sewage.
These problems require a pro, so call United Air Temp for help.
Our Plumbing Services in the DC Metro, Northern Virginia, and Maryland Areas
At United Air Temp, you can trust our team for a wide range of plumbing needs, including:
Slab leak detection and repair
Contact our team for service in the DC metro area.
Why Hire a Professional at United Air Temp? 
When you have a plumbing problem in your DC metro area home, you don't want to tackle it as a DIY project. Plumbing issues are messy and put your home's integrity at risk. That's why you should always hire a professional when dealing with plumbing repair and plumbing maintenance.
United Air Temp has licensed plumbers with the right knowledge and tools to protect your home and its plumbing. We've been in the area since the 1930s and continue to deliver exceptional service every time someone calls for plumbing help.
We also have emergency service available if you have a plumbing emergency.
Schedule plumbing help with United Air Temp today by contacting our DC metro area plumbers.
Frequently Asked Questions About Plumbing
What causes plumbing to leak?
Plumbing can develop leaks as the pipes and connections wear down over time. Lack of maintenance can also cause leaks, as can uncontrolled changes in temperature.
Can I thaw a frozen pipe on my own?
If your pipes freeze, call a professional for service. Trying to thaw a frozen pipe on your own increases the risk that the pipe will burst and create a serious issue in your home.
Why is my water heater banging?
Electric water heaters and gas water heaters can develop sediment inside, which can cause banging sounds. This is a good indicator that you need water heater maintenance.

Why Choose Us
Discover the United Difference
Environmental Health & Safety
Environmental Health & Safety
Save on Your Service
Our Goal Is to Keep Your Home Comfortable
FREE

Surge Protector with Electrical Panel Upgrade
Expires 06/30/23
FREE

second opinion – HVAC or Plumbing replacement
Expires 06/30/23
What Our Clients Are Saying

The tech was at my home less than 10 minutes and gone within 20 minutes due to having my A/C up and running. I really appreciate his response to my home and working with my son due to me being out of town, but we spoke on the phone.

The technician arrived promptly, wore a mask, was very courteous and professional. I am generally very satisfied with service by United Air Temp. In addition to good service (they repair well), it is easy to speak to a person, and promptly. Thank you.

Great service! I called because I was under the impression the AC was not working upstairs. Someone came on the same day, checked out the system, and ensured everything was working. He was polite, thorough, and friendly.

Tech was very attentive and professional. He went out his way to explain everything to me as he was doing it. I appreciated him keeping me informed.
The service technician was awesome! He spent the extra time necessary to ensure the leak in our system was fixed, the system fully recharged and everything was functioning as it should. He was extremely thorough and very professional. We are extremely pleased with the result!