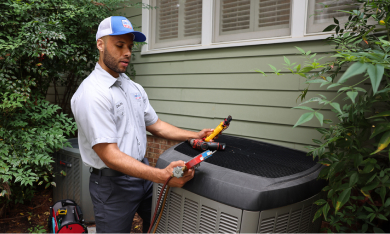 Plumbing Services in Frederick, MD
Frederick's many historic homes can be challenging to update and maintain, but United Air Temp can help. We offer comprehensive plumbing services to the Frederick community because we know the importance of having a plumber you can trust.
Whether it's a leaky faucet or a gas leak, you can turn to UAT for expert installations and emergency repairs.
Schedule plumbing services in Frederick today by calling (877) 552-8919 or contacting us online.
Signs You Need a Plumber
Your plumbing affects your home's function and convenience, so malfunctions can be highly disruptive. UAT can quickly restore your water and drains. Call us if:
Your sinks and showers drain slowly.
Your water pressure is poor.
You have a burst pipe or pipe leak.
Your toilet is running continuously.
Your water is discolored or smells strange.
We Proudly Serve NOVA, DC & BALT Areas
Get started by filling out a service request form.
24/7 Emergency Plumbing Repair in the Frederick Area
Water can do serious damage to your home. Our emergency response team is available to handle your service disruption 24/7. You need an emergency plumber if:
Multiple drains are odorous and have sewage backflow: This could indicate a sewer line clog that will prevent you from using any fixtures.
Your basement or ceilings are showing signs of dampness like mold and water stains: This is a sign of a hidden pipe leak that you should address quickly to limit water damage.
You notice pooling or lush spots on your lawn: A broken sewer line can release harmful bacteria into your home that can cause your family and pets to be sick.
Call (877) 552-8919 now for emergency plumbing repair for your Frederick home!
Full-Service Plumbing in Frederick & Surrounding Communities
As a full-service plumbing company, we replace and repair every aspect of your plumbing infrastructure, including your sewer line, drains, fixtures, and appliances.
Choose our team for:
If your plumbing is showing worrying symptoms, call (877) 552-8919 or schedule service online.
Hydro Jetting for Frederick Homes
Hydro jetting is a non-invasive solution to drainage problems in both your drains and sewer line. It's powerful enough to clear your pipes entirely, even if they're clogged by stubborn tree roots.
We rely on video camera inspections to locate your clog. While augers are great for dislodging and pulling out drain blockages, hydro jets scour your sewer pipe's interior, ensuring it's completely clean.
You might need hydro jetting if:
Multiple fixtures are slow to drain.
Your drains or sewage pipes are odorous.
You hear gurgling in your drains.
Schedule a hydro jetting service by calling (877) 552-8919 or contacting us online.
Burst Pipe Repair & Replacement in Frederick
Extremely high water pressure and ice can cause pressure buildup in your water supply pipe, ultimately resulting in a burst pipe. Our burst pipe repair team will do more than just fix the problem. We'll assess the cause so you know how to prevent burst pipes in the future.
A burst pipe can cause severe damage to your home, so turn off your water and electricity immediately. Turn on your faucets to release any residual water, then call our emergency plumbing repair team.
Call (877) 552-8919 to request emergency service for burst pipe repair in Frederick.
Why Choose United Air Temp?
United Air Temp has been the go-to company for local plumbing services since 1931. We've learned that the key to exceptional service lies in continuous training, so our crew never stops honing their skills.
We know that integrity and pricing transparency are as crucial as efficiency, so our customer service is as impressive as our results. Our 24/7 plumbing team will take care of urgent calls when you need us most.
Contact us online or call (877) 552-8919 to request plumbing replacement or repair you can count on!

Why Choose Us
Discover the United Difference
Environmental Health & Safety
Environmental Health & Safety
Save on Your Service
Our Goal Is to Keep Your Home Comfortable
FREE

second opinion – HVAC or Plumbing replacement
Expires 03/31/23
$25 OFF

for referrer and friend
Expires 03/31/23
$50

diagnostic for first- time plumbing customer
Expires 03/31/23
What Our Clients Are Saying

The tech was at my home less than 10 minutes and gone within 20 minutes due to having my A/C up and running. I really appreciate his response to my home and working with my son due to me being out of town, but we spoke on the phone.

The technician arrived promptly, wore a mask, was very courteous and professional. I am generally very satisfied with service by United Air Temp. In addition to good service (they repair well), it is easy to speak to a person, and promptly. Thank you.

Great service! I called because I was under the impression the AC was not working upstairs. Someone came on the same day, checked out the system, and ensured everything was working. He was polite, thorough, and friendly.

Tech was very attentive and professional. He went out his way to explain everything to me as he was doing it. I appreciated him keeping me informed.
The service technician was awesome! He spent the extra time necessary to ensure the leak in our system was fixed, the system fully recharged and everything was functioning as it should. He was extremely thorough and very professional. We are extremely pleased with the result!