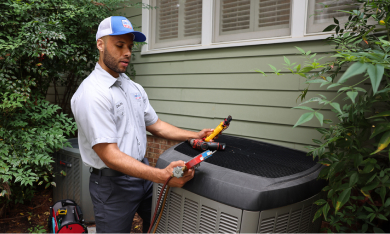 Boiler Services in Northern VA, DC & Baltimore Metro Areas
If you're looking for a reliable boiler services provider in the DMV area, call United Air Temp. We've been a leader in home comfort since 1931, and we're honored to be known as a plumbing and HVAC service company that homeowners can trust.
When you need boiler repairs, maintenance, or installation services, our trustworthy plumbing technicians are ready to provide quality customer service and expertise to restore your home's boiler as quickly as possible.
We Proudly Serve NOVA, DC & BALT Areas
Get started by filling out a service request form.
24/7 Emergency Boiler Repair in DC, Baltimore & NOVA
Boilers are among the most durable heating systems in the U.S., but they can still suffer from wear and tear. No matter how complicated the issue is, we provide 24/7 emergency boiler repairs, so you never have to go without heat for long.
Common boiler malfunctions we see in Washington, DC, Maryland, and Northern Virginia homes include:
Worn boiler parts
Leaks in the attic, walls, ductwork, or insulation
Banging or whistling noises
Cold radiators
Pilot light issues for gas boilers
Contact us online or call us at (877) 552-8919 to schedule emergency boiler repairs in the DMV area.
Boiler Installation & Replacement for DMV Homeowners
When it's time to install a new oil-, electric-, or gas-powered boiler, United Air Temp will first provide a free estimate. We'll arrive at your home, evaluate your home's heating needs, and recommend boiler replacements that meet your budget.
You'll know it's time to replace your boiler if:
Your boiler is over 10 years old.
There are warm and cool spots throughout your home.
You repair the boiler system frequently.
If you've noticed any of these signs you need a boiler replacement, call us at (877) 552-8919 or reach out online for a free estimate.
Boilers vs. Water Heaters
While water heaters and boilers look similar, they serve two different purposes.
Boilers heat a home by pushing non-potable hot water through a looped piping system. These pipes extend to termination points called radiators to provide heat to specific rooms throughout the home.
Water heaters collect potable cold water in a tank. Coils at the bottom of the tank heat the water and distribute it throughout the home when a hot water tap is turned on. Water that is heated in a water heater is safe to use to clean dishes, cook, drink, and wash clothes.
We Proudly Serve NOVA, DC & BALT Areas
Get started by filling out a service request form.
Boiler Maintenance in DC, MD & Northern VA
Routine boiler maintenance maximizes the system's life span and reduces the need for emergency repairs.
During your tune-up appointment, a UAT plumber will:
Adjust water levels
Flush and replace boiler water
Remove mineral buildup
Inspect for gas leaks
Clear vents of blockages and debris
Schedule boiler maintenance today. Call (877) 552-8919 or contact us online!
Schedule Boiler Services in Washington, DC, Maryland, & Northern Virginia
Whether you need boiler repairs or want to replace your boiler with a high-efficiency model, our team is ready to help.
We provide free estimates and upfront pricing so you can count on our team for transparency from when you first call us until the job is complete — and you know you can call on our team for any other plumbing repair or replacement needs after that!
After over 90 years in the business, we continue to deliver quality service to anyone who needs a boiler service from plumbers they can depend on.
Call us now at (877) 552-8919 or send a message online to schedule a boiler service in the DMV area.

Why Choose Us
Discover the United Difference
Environmental Health & Safety
Environmental Health & Safety
Save on Your Service
Our Goal Is to Keep Your Home Comfortable
FREE

second opinion – HVAC or Plumbing replacement
Expires 11/30/22
$25 OFF

for referrer and friend
Expires 11/30/22
$50

diagnostic for first- time plumbing customer
Expires 11/30/22
What Our Clients Are Saying

The tech was at my home less than 10 minutes and gone within 20 minutes due to having my A/C up and running. I really appreciate his response to my home and working with my son due to me being out of town, but we spoke on the phone.

The technician arrived promptly, wore a mask, was very courteous and professional. I am generally very satisfied with service by United Air Temp. In addition to good service (they repair well), it is easy to speak to a person, and promptly. Thank you.

Great service! I called because I was under the impression the AC was not working upstairs. Someone came on the same day, checked out the system, and ensured everything was working. He was polite, thorough, and friendly.

Tech was very attentive and professional. He went out his way to explain everything to me as he was doing it. I appreciated him keeping me informed.
The service technician was awesome! He spent the extra time necessary to ensure the leak in our system was fixed, the system fully recharged and everything was functioning as it should. He was extremely thorough and very professional. We are extremely pleased with the result!