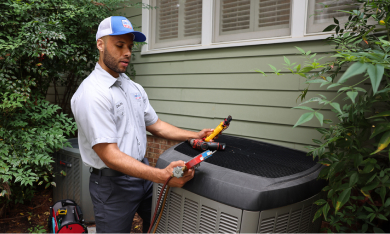 Plumbing Services in Chantilly, VA
Whether your home is new or old, plumbing problems are inescapable. Natural elements and weather can damage your pipes, and normal wear and tear can take a toll on garbage disposals, toilets, and other equipment.
Homeowners in the Chantilly area need a reliable plumber they can trust to fix their plumbing issues. At United Air Temp, our expert plumbers can handle any plumbing repair or replacement you need.
We provide 24/7 emergency plumbing for issues that just can't wait. You can always rely on our team for upfront pricing, on-time scheduling, and quality craftsmanship.
Call United Air Temp today at (877) 552-8919 or contact us online to request service for your Chantilly home.
When to Call a 24/7 Plumber
We hear this question all the time — should I call a plumber or fix it myself? Even the handiest DIYer needs to know when to hang up their tool belt and call a professional.
Signs you need a professional to tackle your plumbing issues include:
Running, leaky, or clogged toilets
Cracked or leaking pipes
Ceilings or wall leaks
The smell of rotten eggs
Clogged or slow drains
Sewage backup in multiple fixtures
Low water pressure
Basement flooding
Call (877) 552-8919 or schedule an appointment today if you notice any changes in your plumbing. The team at United Air Temp will inspect the issue and determine the best solution.
24/7 Emergency Plumbing in Chantilly
No one expects a plumbing emergency. While most plumbing repairs can wait, there are exceptions! That's why United Air Temp's 24/7 plumbers are standing by to help you with any emergent plumbing issues.
What Qualifies as a Plumbing Emergency?
A plumbing emergency is not a clogged toilet in a home with four other toilets, but if it's your only toilet, it's an emergency!
An emergency is also anything that could be dangerous or cause significant damage, such as:
Gas line leaks: If you smell rotten eggs, you might have a gas leak. Shut off your gas line, evacuate your home, call your utility company and then call us.
Burst pipes: A burst pipe can fill a room in minutes and quickly cause thousands of dollars in damages. Turn off the valve to the pipe, if possible, and give our emergency plumbers a call.
Sewage backups: Sewage smells or water appearing in the shower when you flush the toilet means you likely have a sewer line clog. You should avoid using fixtures until the issue is resolved.
Call (877) 552-8919 if you experience these or any other plumbing emergencies.
Full-Service Plumbing for Chantilly Homes
We're committed to providing great customer service and the repairs, installations, and replacements you need to keep your home's plumbing in optimal condition. This includes:
Give the friendly technicians at United Air Temp a call at (877) 552-8919 or schedule an appointment today.
Drain & Sewer Services in the Chantilly Area
Sewage backups and drain clogs aren't just plumbing issues — they risk health and safety issues, too. At United Air Temp, we take care of all your drain and sewer needs, including:
Video camera inspections: If there's a blockage or another problem, your plumber can see inside your pipe.
Drain cleaning: Often, you can clear your drains yourself. However, it's best to leave severe blockages to licensed plumbers.
Hydro jetting: We use specialized equipment to push highly pressurized water through your sewer pipe. This technique breaks up greasy buildup and even tree root infiltration.
Sewer line repair and replacement: We offer both trenchless and traditional sewer line services depending on the status of your pipes and the issue you've encountered.
Sewage ejector pump repair and replacement: If your pump is short-cycling or has difficulty starting, call us for fast service!
Request Service
Get started by filling out a service request form or by giving us a call.
Water Heater Services in Chantilly, VA
United Air Temp offers end-to-end solutions for water heaters, including:
Water heater installation and replacement
Water heater repair
Water heater maintenance
We service gas- and electric-powered tankless and standard water heaters. Tankless water heaters are energy-efficient alternatives that offer greater efficiency in a smaller unit, plus a virtually unlimited supply of hot water.
Call (877) 552-8919 or contact us online today to request water heater services in Chantilly!
Make United Air Temp Your Go-To Plumber in Chantilly!
When you have a plumbing problem, leave it to the professionals. At United Air Temp, our team offers free estimates and is available to answer your call 24/7. Our licensed plumbers have the right knowledge and tools to protect your home's plumbing.
We've proudly served our customers since the 1930s and continue to deliver exceptional service every single time.
Call United Air Temp now at (877) 552-8919 or schedule an appointment online today!

Why Choose Us
Discover the United Difference
Environmental Health & Safety
Environmental Health & Safety
Save on Your Service
Our Goal Is to Keep Your Home Comfortable
BOGO! $99 Buy This Year's Tune Up, Get Next Year's Free.
Expires 12/31/23
Plus, up to 2 lbs of refrigerant if needed. *Cannot be combined with any other offer. Call for details.
Save Up To $2,000

When You Buy a Complete HVAC System with A/C and Furnace!
Expires 12/31/23
*Cannot be combined with any other offer. Not applicable for a heat pump system.
What Our Clients Are Saying

The tech was at my home less than 10 minutes and gone within 20 minutes due to having my A/C up and running. I really appreciate his response to my home and working with my son due to me being out of town, but we spoke on the phone.

The technician arrived promptly, wore a mask, was very courteous and professional. I am generally very satisfied with service by United Air Temp. In addition to good service (they repair well), it is easy to speak to a person, and promptly. Thank you.

Great service! I called because I was under the impression the AC was not working upstairs. Someone came on the same day, checked out the system, and ensured everything was working. He was polite, thorough, and friendly.

Tech was very attentive and professional. He went out his way to explain everything to me as he was doing it. I appreciated him keeping me informed.
The service technician was awesome! He spent the extra time necessary to ensure the leak in our system was fixed, the system fully recharged and everything was functioning as it should. He was extremely thorough and very professional. We are extremely pleased with the result!