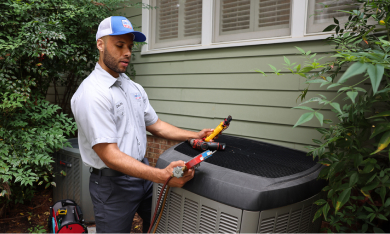 Plumbing Pipe Video Inspections In Northern Virginia and Washington D.C.
Same Day Plumbing Company, Always Available
Are you buying a new home in the DC area? A thorough home inspection is required before you close — and for a good reason. Home inspectors check for issues that could result in stalling your closing for the current owner to make repairs or concessions in the price of the home. Even a highly skilled inspector only checks for superficial plumbing issues.
What you don't see behind the walls and under the floors can cost you thousands in repairs. At United Air Temp, we conduct plumbing video inspections to give you the peace of mind you need. Our upfront pricing and free estimates let you know what to expect — no surprise fees or hidden costs for repairs, maintenance, and video inspections. We promise transparent communication from start to finish.
Call us at (877) 552-8919 or contact us online to schedule a plumbing video inspection in the DC Metro area.
What Is a Video Inspection?
A plumbing video inspection is a diagnostic method that uses a specialized camera mounted on a flexible rod. We insert the camera into a small opening and move it through your pipes. Then, the video feed transmits to one of our licensed plumbers, who can detect leaks, clogs, blockages, or anything damaging your pipes. Once we get the location and nature of the issue, our highly skilled plumbers can remove the blockage.
We only recommend necessary services to benefit the longevity of your home's plumbing systems. Whether looking for a blockage or preventive maintenance, video inspections are non-invasive, quick, and cost-effective, allowing us to diagnose without digging.
Call now at (877) 552-8919 or contact us online for a free estimate on preventive plumbing video inspections.
When Is a Plumbing Video Inspection Needed?
A plumbing video inspection is recommended whenever you're experiencing problems with your plumbing system or want to assess your pipes' condition.
Call us for a video inspection if you have the following:
Slow or clogged drains: If you have a slow or clogged drain, we can identify the cause and location of the blockage.
Water leaks: Identify the location of a leak before it becomes a flood. Time is not on your side when you have a water leak.
Sewage issues: Sewer backup is a significant problem for your pipes. We can locate the site of the sewage clog and resolve the issue.
Pre-purchase home inspection: Before purchasing a home, you should hire a home inspector and United Air Temp to inspect your pipes for any possible complications before you sign.
Pre-renovation inspection: Before major renovations, have your plumbing inspected so you can address any issues.
Periodic maintenance: As your home ages, it's a good idea to begin regularly scheduled plumbing system maintenance. At United Air Temp, we'd instead catch small issues before they become catastrophes.
Call United Air Temp at (877) 552-8919 to schedule your video inspection in the DC Metro area today.
Schedule a Plumbing Video Inspection in the DC Metro Area
Are you buying a new home or having drainage issues in your current home? A minor backup or leak can become a significant problem if not repaired. Let our industry-leading plumbers locate clogs with our video inspection services. We clean your drains, fix your sewer line, and provide both traditional and trenchless sewer line repairs. We'd love to hear from you, so schedule your free consultation now.
Don't let a little clog become a plumbing disaster — United Air Temp is here to keep the pipes flowing in your DC-area home.
Call us today at (877) 552-8919 or contact us online to get your free estimate.

Why Choose Us
Discover the United Difference
Environmental Health & Safety
Environmental Health & Safety
Save on Your Service
Our Goal Is to Keep Your Home Comfortable
BOGO! $99 Buy This Year's Tune Up, Get Next Year's Free.
Expires 12/31/23
Plus, up to 2 lbs of refrigerant if needed. *Cannot be combined with any other offer. Call for details.
Save Up To $2,000

When You Buy a Complete HVAC System with A/C and Furnace!
Expires 12/31/23
*Cannot be combined with any other offer. Not applicable for a heat pump system.
What Our Clients Are Saying

The tech was at my home less than 10 minutes and gone within 20 minutes due to having my A/C up and running. I really appreciate his response to my home and working with my son due to me being out of town, but we spoke on the phone.

The technician arrived promptly, wore a mask, was very courteous and professional. I am generally very satisfied with service by United Air Temp. In addition to good service (they repair well), it is easy to speak to a person, and promptly. Thank you.

Great service! I called because I was under the impression the AC was not working upstairs. Someone came on the same day, checked out the system, and ensured everything was working. He was polite, thorough, and friendly.

Tech was very attentive and professional. He went out his way to explain everything to me as he was doing it. I appreciated him keeping me informed.
The service technician was awesome! He spent the extra time necessary to ensure the leak in our system was fixed, the system fully recharged and everything was functioning as it should. He was extremely thorough and very professional. We are extremely pleased with the result!