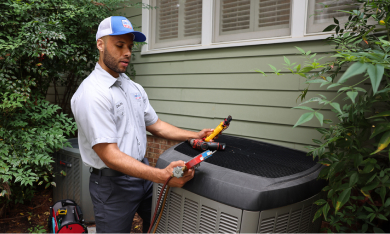 United Air Temp Proudly Serves Northern VA and Washington, DC
For over 90 years, homeowners have counted on United Air Temp to keep their homes comfortable and provide exceptional customer care, technical expertise, and products.
We're dedicated to serving the DMV community through consistent, honest work. When you need HVAC, plumbing, or electrical services in the DC area, our team will always be glad to help.
Schedule services with the United Air Temp team anywhere in the DC metro area by calling (877) 552-8919 or contacting us online.
HVAC Services
When your air conditioner freezes over or your heating system breaks down, United Air Temp will be glad to provide the services you need.
We offer HVAC repair, replacement, and maintenance to keep your home comfortable year-round. Ask about our HVAC maintenance plan for added convenience and benefits!
Our HVAC service area includes:
Plumbing Services
Keeping water flowing through your pipes so you can stay clean, comfortable, and hydrated is an important job, one the plumbing team at UAT is glad to handle for our customers.
When you're dealing with a tepid water heater, a frozen or burst pipe, or a stubborn drain clog that no amount of plunging can dislodge safely, we'll be there to get things back to normal.
Our plumbing service area includes:
Electrical Services
Even mild electrical issues can be dangerous — fortunately, you have the team at United Air Temp standing by to offer expert electrical services.
Upgrade your home with a new electrical panel or secure your power with a standby generator with the help of our electricians.
Choose United Air Temp for Home Services in the DC Metro Area
When your home needs reliable care from experienced professionals, choose the team that has operated with integrity, quality, and transparency since 1931.
Whatever your plumbing, HVAC, or electrical needs, you can be sure you'll receive outstanding service and care from our team.
Ready to schedule an appointment? Call UAT at (877) 552-8919 or contact us online today.

Why Choose Us
Discover the United Difference
Environmental Health & Safety
Environmental Health & Safety
Save on Your Service
Our Goal Is to Keep Your Home Comfortable
BOGO! $99 Buy This Year's Tune Up, Get Next Year's Free.
Expires 12/31/23
Plus, up to 2 lbs of refrigerant if needed. *Cannot be combined with any other offer. Call for details.
Save Up To $2,000

When You Buy a Complete HVAC System with A/C and Furnace!
Expires 12/31/23
*Cannot be combined with any other offer. Not applicable for a heat pump system.
What Our Clients Are Saying

The tech was at my home less than 10 minutes and gone within 20 minutes due to having my A/C up and running. I really appreciate his response to my home and working with my son due to me being out of town, but we spoke on the phone.

The technician arrived promptly, wore a mask, was very courteous and professional. I am generally very satisfied with service by United Air Temp. In addition to good service (they repair well), it is easy to speak to a person, and promptly. Thank you.

Great service! I called because I was under the impression the AC was not working upstairs. Someone came on the same day, checked out the system, and ensured everything was working. He was polite, thorough, and friendly.

Tech was very attentive and professional. He went out his way to explain everything to me as he was doing it. I appreciated him keeping me informed.
The service technician was awesome! He spent the extra time necessary to ensure the leak in our system was fixed, the system fully recharged and everything was functioning as it should. He was extremely thorough and very professional. We are extremely pleased with the result!