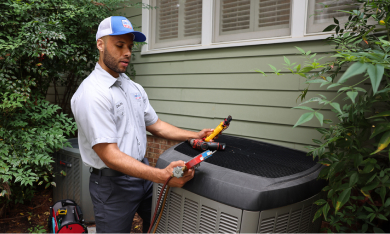 Plumbing Services in Centreville, VA
When you need home services, you want professional guidance and experienced specialists. Most of our homes here in Centreville and Fairfax County are between 20 to 40 years old. But even new homes can have plumbing problems.
United Air Temp is the company locals prefer for plumbing services in Centreville and the greater DMV area. With over 90 years in business, we know how to address plumbing repair or replacement needs with unbeatable customer service and technical expertise.
Call (877) 552-8919 or contact United Air Temp online to request plumbing services in Centreville.
When to Call a 24/7 Plumber
Some plumbing problems are obvious, while others are difficult to spot. Signs you need a professional plumber include:
Standing water in showers and sinks
Discolored water
Frequent drain clogs
Gurgling or rattling plumbing pipes or equipment
Low or no water pressure
Mildew and mold
No hot water
Sagging ceilings
Gas smells
Overflowing toilet
Water bill spikes
Water stains on walls and ceilings
Reduced hot water
Request Service
Get started by filling out a service request form or by giving us a call.
24/7 Emergency Plumbing in Fairfax County
If you're faced with a plumbing situation that's damaging your home or causing a health hazard, it's an emergency.
If you smell gas, evacuate your home and call your utility company, then call UAT for gas line repair or replacement.
Other plumbing emergencies include:
Burst pipes
Frozen pipes
Water supply piping leaks
Failed sump pump
Failed water heater
Call (877) 552-8919 for emergency plumbing services now!
Plumbing Repair & Replacement in the Centreville Area
United Air Temp plumbing professionals guarantee our work because we use industry best practices. You'll always receive on-time, full-service plumbing solutions when you choose our team. We offer:
We leave our workplace as clean as we found it because we respect you and your property.
Request Service
Get started by filling out a service request form or by giving us a call.
Burst Pipe Repair & Replacement for Centreville Homes
Northern Virginia winters frequently lead to burst pipes if you forget to leave your faucets dripping when temperatures dip below freezing.
When water freezes inside the pipes, the expanding ice causes it to expand rapidly. The water will start to thaw, and the high water pressure slams into the ice, causing it to burst.
If your pipes are frozen or have already burst, call United Air Temp for fast repair.
Don't delay. Call (877) 552-8919 for emergency plumbing services if you have a burst pipe.
Garbage Disposal Replacement & Repair in Centreville
Garbage disposals can't handle all food waste. You can avoid causing a broken garbage disposal and preventing a clogged kitchen sink if you don't put this food waste down your disposal:
Asparagus
Boiling water
Bones
Celery
Coffee grounds
Corn husks
Eggshells
Fruit seeds and pits
Glass
Grease
Metal
Oil
Pasta
Peels
Rice
Toxic chemicals
Never put your hand down the garbage disposal. Use tongs to retrieve any large items that are likely causing the jam.
Usually, when your garbage disposal breaks, you know it. But there may be signs of a problem:
Frequent resets
Noises
Won't turn on
Grinding noises when turned on
Call (877) 552-8919 or contact United Air Temp online for fast garbage disposal repair or replacement in Centreville.
Choose United Air Temp for Plumbing Solutions in the Centreville Area
We've served our community for over 90 years and are here to serve you today. Our commitment to customer care never wavers.
We offer:
Environmentally safe, sustainable solutions
Free estimates
Quality craftsmanship
Satisfaction guaranteed
Customer-focused service
Annual continuing education
Upfront pricing
We know you have choices. That's why we work hard to be your best choice for plumbing in Centreville, VA. To learn more, call (877) 552-8919 or contact United Air Temp online.

Why Choose Us
Discover the United Difference
Environmental Health & Safety
Environmental Health & Safety
Save on Your Service
Our Goal Is to Keep Your Home Comfortable
Save Up To $2,000

When You Buy a Complete HVAC System with A/C and Furnace!
Expires 09/30/23
*Cannot be combined with any other offer. Not applicable for a heat pump system.
FREE

Surge Protector with Electrical Panel Upgrade
Expires 09/30/23
What Our Clients Are Saying

The tech was at my home less than 10 minutes and gone within 20 minutes due to having my A/C up and running. I really appreciate his response to my home and working with my son due to me being out of town, but we spoke on the phone.

The technician arrived promptly, wore a mask, was very courteous and professional. I am generally very satisfied with service by United Air Temp. In addition to good service (they repair well), it is easy to speak to a person, and promptly. Thank you.

Great service! I called because I was under the impression the AC was not working upstairs. Someone came on the same day, checked out the system, and ensured everything was working. He was polite, thorough, and friendly.

Tech was very attentive and professional. He went out his way to explain everything to me as he was doing it. I appreciated him keeping me informed.
The service technician was awesome! He spent the extra time necessary to ensure the leak in our system was fixed, the system fully recharged and everything was functioning as it should. He was extremely thorough and very professional. We are extremely pleased with the result!