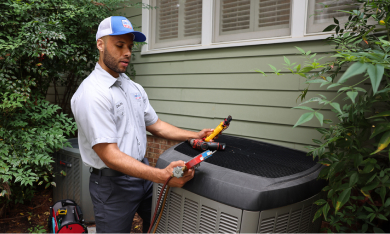 Heating Services in Northern VA, DC & Baltimore Metro Areas
When you live in the DC metro area, you get to enjoy all four seasons. This means warm springs, hot summers, comfortable falls, and cold winters. When the winter weather comes, you will want a reliable heating system to keep your home comfortable.
At United Air Temp, we offer a full list of HVAC services. Our heating services cover a variety of systems, including furnaces and heat pumps. Whether you need heating repair, heating maintenance, or heating installation, we have a team that can do the job. Our licensed, highly trained, and experienced technicians have the knowledge, tools, and skills to get the heat back up and running.
Contact United Air Temp today to schedule heat pump services in the DC metro area, including Maryland and Virginia.
Signs You Need to Call a Heating Professional
Your heating system is not something to leave for a DIY weekend job. You need to know that it will deliver reliable heating whenever you need it because cold weather can be dangerous. Some signs that it's time to call a heating pro include:
Unusual sounds, especially banging sounds, from the system
The system is not heating your home equally or efficiently
Electrical or burning smells from the heater
Indoor air quality problems
Contact us for heating repair, maintenance, or replacement help at the first sign of these issues.
We Proudly Serve NOVA, DC & BALT Areas
Get started by filling out a service request form.
Emergency Heating Repairs in DC, MD & VA
A broken heating system means a fast need for heating repair. Our technicians are standing by throughout the DC metro area to assist.
We have heating and furnace repair services that will get things back up and running as quickly as possible, and we drive fully stocked vehicles to ensure we always have the right parts and tools available.
Schedule heating repair today by contacting United Air Temp.
Heating Maintenance in DC, BALT & NOVA
One way to avoid a service call is to schedule furnace maintenance at the start of the winter heating season. Our technicians will thoroughly inspect and tune-up your system during a heating maintenance appointment, so you have reliable heating throughout the winter. This can help you save money and reduce the risk of a breakdown at an inopportune time.
Are you overdue for furnace maintenance? Contact us today.
Heating Replacement in DC, Baltimore, MD & Northern VA
If you need a new furnace or heat pump, you can trust our team to get it done quickly. When you call for furnace installation or replacement, we will carefully help you select the right system and offer the utmost care during installation. As a result, you will enjoy a functional and efficient heating system.
For heating installation and replacement, contact United Air Temp.
Why Choose Us for Heating Services in Washington, DC, Virginia & Maryland
United Air Temp is a well-known name in the DC metro area. We have been serving the region for over 90 years and are committed to a high level of training for all of our heating technicians. This means you can hire us with confidence that our technicians will handle your heating system with superior care.
Get a quote for your heating repair, maintenance, and installation needs by contacting United Air Temp today.
Frequently Asked Questions
How can I reset my heating system?
If you think your system needs a quick reset, turn off power via the thermostat or breaker. Leave it for about two minutes and turn it back on to see if the problem resolves. If not, call for heating repair.

Why Choose Us
Discover the United Difference
Environmental Health & Safety
Environmental Health & Safety
Save on Your Service
Our Goal Is to Keep Your Home Comfortable
FREE

second opinion – HVAC or Plumbing replacement
Expires 11/30/22
$25 OFF

for referrer and friend
Expires 11/30/22
$50

diagnostic for first- time plumbing customer
Expires 11/30/22
What Our Clients Are Saying

The tech was at my home less than 10 minutes and gone within 20 minutes due to having my A/C up and running. I really appreciate his response to my home and working with my son due to me being out of town, but we spoke on the phone.

The technician arrived promptly, wore a mask, was very courteous and professional. I am generally very satisfied with service by United Air Temp. In addition to good service (they repair well), it is easy to speak to a person, and promptly. Thank you.

Great service! I called because I was under the impression the AC was not working upstairs. Someone came on the same day, checked out the system, and ensured everything was working. He was polite, thorough, and friendly.

Tech was very attentive and professional. He went out his way to explain everything to me as he was doing it. I appreciated him keeping me informed.
The service technician was awesome! He spent the extra time necessary to ensure the leak in our system was fixed, the system fully recharged and everything was functioning as it should. He was extremely thorough and very professional. We are extremely pleased with the result!