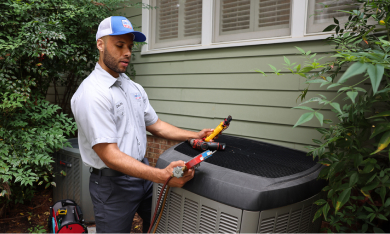 Thermostat Repair in Northern Virginia and Washington D.C.
Your thermostat serves as the control center for your heating and air conditioning system. It regulates the temperature and ensures your comfort. However, like any other electronic device, thermostats can experience malfunctions, leading to inefficiencies and discomfort in your home.
At United Air Temp, we specialize in thermostat repair, providing 24/7 emergency solutions to address these issues promptly and restore optimal functionality when needed.
We have the expertise to diagnose and repair any thermostat model to restore comfort to your home.
Request thermostat repair in DC, NOVA, or Central MD by calling United Air Temp at (877) 552-8919 today!
Types of Thermostats We Repair
At United Air Temp, we have experience repairing a wide range of thermostats, including:
Manual thermostats: Our team can diagnose and repair problems with manual thermostats, ensuring accurate temperature control.
Programmable thermostats: If your programmable thermostat is malfunctioning, we can troubleshoot and fix any issues, allowing you to enjoy energy savings from preset temperature scheduling once more.
Smart & Wi-Fi thermostats: Whether it's connectivity problems, software glitches, or other malfunctions, United Air Temp can diagnose and repair your smart thermostat. Our trained technicians are up to date with the latest smart thermostats, including Ecobee, Google Nest, Honeywell, and more.
Request Service
Get started by filling out a service request form or by giving us a call.
Signs You Need Thermostat Repair
If you notice any of the following signs, it may indicate that your thermostat requires professional repair:
The heating or cooling system is not turning on or off when it should.
You notice an unexplained increase in your utility bills.
Your thermostat screen is blank.
You have hot and cold spots in different rooms.
Your home's temperature is constantly changing.
If you experience any of these symptoms, it's best to contact United Air Temp for service. Call (877) 552-8919 to schedule thermostat repair in Washington, DC, today!
Common Thermostat Issues We Repair
With over 90 years of service experience, United Air Temp is uniquely capable of resolving all types of common thermostat problems. Common thermostat issues our team can help diagnose and repair include:
Inaccurate temperature readings: If your thermostat displays incorrect temperature readings, it may be due to sensor problems or calibration issues. We can recalibrate or replace the sensor.
Unresponsive thermostat controls: Non-functional buttons, unresponsive touchscreens, or blank displays can hinder your ability to control your HVAC system. Our team can diagnose the underlying cause and repair or replace the faulty components.
Thermostat programming difficulties: If you have trouble programming your thermostat or the programmed schedule isn't working, it could point to software glitches. We can help reprogram your thermostat.
Wi-Fi connectivity issues: For smart thermostats, connectivity issues can disrupt remote control access and automation features. We can troubleshoot connectivity problems to address software or hardware issues.
Get your thermostat problems resolved quickly by calling United Air Temp at (877) 552-8919. Schedule service in DC, NOVA, or Central MD today.
Trust United Air Temp With Your Thermostat Repair Needs!
When you need expert thermostat repair for your DMV home, there's no better team than United Air Temp. Homeowners turn to our team because they know they can always trust us for:
Free estimates
Upfront pricing
Quality craftsmanship
Guaranteed satisfaction
Transparent communication
Request thermostat repair from United Air Temp by calling our team at (877) 552-8919 today!

Why Choose Us
Discover the United Difference
Environmental Health & Safety
Environmental Health & Safety
Save on Your Service
Our Goal Is to Keep Your Home Comfortable
Save Up To $2,000

When You Buy a Complete HVAC System with A/C and Furnace!
Expires 09/30/23
*Cannot be combined with any other offer. Not applicable for a heat pump system.
FREE

Surge Protector with Electrical Panel Upgrade
Expires 09/30/23
What Our Clients Are Saying

The tech was at my home less than 10 minutes and gone within 20 minutes due to having my A/C up and running. I really appreciate his response to my home and working with my son due to me being out of town, but we spoke on the phone.

The technician arrived promptly, wore a mask, was very courteous and professional. I am generally very satisfied with service by United Air Temp. In addition to good service (they repair well), it is easy to speak to a person, and promptly. Thank you.

Great service! I called because I was under the impression the AC was not working upstairs. Someone came on the same day, checked out the system, and ensured everything was working. He was polite, thorough, and friendly.

Tech was very attentive and professional. He went out his way to explain everything to me as he was doing it. I appreciated him keeping me informed.
The service technician was awesome! He spent the extra time necessary to ensure the leak in our system was fixed, the system fully recharged and everything was functioning as it should. He was extremely thorough and very professional. We are extremely pleased with the result!