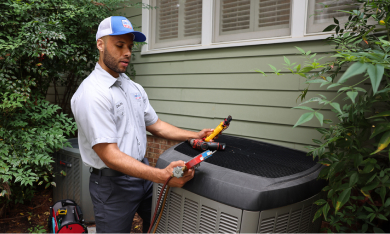 Heating Installation & Replacement in Northern Virginia and Washington D.C.
Reliable comfort is something every homeowner in the region deserves to enjoy throughout the year. At United Air Temp, our heating installation and heating replacement services will ensure your home stays warm and comfortable from the start of fall to the end of spring. We offer some of the most efficient and affordable systems in the region and are happy to help you select the make, model, and manufacturer that best suits your budget and desired comfort. Additionally, we offer financing options that will help your wallet.
Contact United Air Temp at (877) 552-8919 for more information about the brands we recommend and to schedule heating system installation or replacement in Washington, DC, Virginia, or Maryland.
New Heating Installation & Furnace Replacements 
Our installation process starts by helping you choose the ideally sized system for your home. Our expert technicians will calculate the required load needed and recommend systems and manufacturers whose systems are best suited for your needs.
We'll prepare your home for your new furnace or heat pump, select the best location and connect all ducts, drains, and the electrical and gas supply.
Once installed, we will test the system and show you how to achieve optimal efficiency and operation for your comfort. If we replace your old system, we will remove it from your home and properly dispose of it. 
Contact United Air Temp at (877) 552-8919 to learn more about the furnace installation and heating system replacement services we offer in Washington, DC, Virginia, and Maryland.
Interested in Financing?
Get Started Here
When To Replace Rather Than Repair Your Heating System
It's tempting to let your heating system operate for as long as possible. While it may seem cost-effective, the reality is that as the system starts to fail, it will operate less efficiently and safely. Replacing your heating system before it fails is always the best choice and the most effective method of protecting you against a sudden failure that leaves your home frosty and cold.
It's not always cut and dry that it's time to replace your furnace or heat pump. However, there are some guidelines we recommend.
For starters, it's better to replace rather than repair if the cost of repairs is more than 50% of the cost of replacement. It's also better to replace it if the frequency of repairs increases or if the system is nearing the end of its expected life span.
It may be tempting to think you should replace your system yourself. We strongly advise against this.
HVAC systems are complex machines, and failure to perform each step, connect each wire, or secure the gas connections properly can have lethal consequences. Hiring a professional HVAC specialist is an investment in your safety and your system's long-term operation.
Are you trying to decide whether to replace or repair your gas or electric furnace, heat pump, or other heating systems? Contact United Air Temp at (877) 552-8919, and we'll be happy to help you make the best choice for your comfort.
United Air Temp Is Ready To Help!
At United Air Temp, we have nearly a century of experience helping homeowners stay warm and comfortable. We offer flexible financing options as well.
Our certified, licensed, and insured HVAC technicians are experts at installing and maintaining a complete range of heating systems in Washington, DC, and surrounding communities.
We guarantee that our technicians will deliver the superior service and exceptional workmanship you deserve! 
Contact United Air Temp at (877) 552-8919 to schedule fast and responsive furnace installation, heat pump installation, and any other HVAC service your family needs in Washington, DC, Virginia, or Maryland!

Why Choose Us
Discover the United Difference
Environmental Health & Safety
Environmental Health & Safety
Save on Your Service
Our Goal Is to Keep Your Home Comfortable
BOGO! $99 Buy This Year's Tune Up, Get Next Year's Free.
Expires 12/31/23
Plus, up to 2 lbs of refrigerant if needed. *Cannot be combined with any other offer. Call for details.
Save Up To $2,000

When You Buy a Complete HVAC System with A/C and Furnace!
Expires 12/31/23
*Cannot be combined with any other offer. Not applicable for a heat pump system.
What Our Clients Are Saying

The tech was at my home less than 10 minutes and gone within 20 minutes due to having my A/C up and running. I really appreciate his response to my home and working with my son due to me being out of town, but we spoke on the phone.

The technician arrived promptly, wore a mask, was very courteous and professional. I am generally very satisfied with service by United Air Temp. In addition to good service (they repair well), it is easy to speak to a person, and promptly. Thank you.

Great service! I called because I was under the impression the AC was not working upstairs. Someone came on the same day, checked out the system, and ensured everything was working. He was polite, thorough, and friendly.

Tech was very attentive and professional. He went out his way to explain everything to me as he was doing it. I appreciated him keeping me informed.
The service technician was awesome! He spent the extra time necessary to ensure the leak in our system was fixed, the system fully recharged and everything was functioning as it should. He was extremely thorough and very professional. We are extremely pleased with the result!