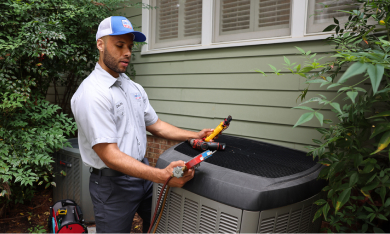 Air Duct Services in Northern Virginia and Washington D.C.
Properly installed and well-maintained ductwork is the backbone of a well-functioning heating and air conditioning system.
At United Air Temp, we understand ductwork's crucial role in maintaining indoor comfort, optimizing energy efficiency, and ensuring optimal indoor air quality in your DMV home. Our team of experts provides top-notch ductwork installation to enhance the overall performance of your home's HVAC system.
Call (877) 552-8919 now to request air duct services!
Signs You Need Ductwork Services
If your ducts are damaged, poorly sealed, or dirty, it can negatively impact your health and comfort.
If you notice any of the following signs, you need professional ductwork services:
Uneven heating and cooling in different areas of the home
Increased energy bills without any apparent cause
Poor airflow from vents
Persistent dust buildup in the home
Unpleasant odors emanating from the vents
Excessive humidity or moisture issues in the home
Request Service
Get started by filling out a service request form or by giving us a call.
Ductwork Installation & Replacement
If you need new ductwork for a home addition or to upgrade old, deteriorated ductwork, our team can assist you with professional installation and replacement.
During the installation and replacement process, our team will:
Evaluate your home's layout, size, and HVAC requirements to determine the most effective ductwork design
Develop a comprehensive installation plan, considering the best placement for ducts and ensuring minimal impact on your home's aesthetics
Carefully calculate and select duct sizes to match your home's specific heating and cooling needs
Execute the ductwork installation with precision, ensuring accurate connections, sealing, and insulation
Conduct thorough testing to verify the integrity and functionality of the newly installed or replaced ductwork
Allow our team to ensure optimal airflow, efficiency, and comfort throughout your home. Call (877) 552-8919 to request ductwork installation or replacement in the DMV area today!
Should I Replace My Air Ducts?
Determining whether to replace your air ducts depends on several factors. While repairs may suffice for minor issues, replacement becomes necessary in the following situations:
Extensive damage: If your ducts are severely deteriorated, have multiple leaks, or are beyond repair, replacement is the best option.
Aging ductwork: If your ductwork has surpassed its typical life span, a replacement can significantly improve system performance.
Energy efficiency: Older ductwork may not meet modern energy-efficiency standards. Replacing outdated ducts can help you save on energy costs.
Well-maintained ductwork can typically last around 15 to 20 years. However, specific factors such as material quality, installation methods, and environmental conditions can affect its life span.
Find out if replacement is right for you by scheduling a service appointment today. Call UAT at (877) 552-8919 to get started!
Choose United Air Temp for Your Ductwork Services!
At United Air Temp, we offer exceptional ductwork solutions to ensure your HVAC system operates at peak performance.
Our experienced technicians possess the expertise to diagnose and resolve ductwork issues promptly, enhancing your home's comfort, energy efficiency, and indoor air quality.
Trust United Air Temp to be your go-to partner for ductwork service in the DMV. Call (877) 552-8919 to request ductwork services today!  

Why Choose Us
Discover the United Difference
Environmental Health & Safety
Environmental Health & Safety
Save on Your Service
Our Goal Is to Keep Your Home Comfortable
Save Up To $2,000

When You Buy a Complete HVAC System with A/C and Furnace!
Expires 09/30/23
*Cannot be combined with any other offer. Not applicable for a heat pump system.
FREE

Surge Protector with Electrical Panel Upgrade
Expires 09/30/23
What Our Clients Are Saying

The tech was at my home less than 10 minutes and gone within 20 minutes due to having my A/C up and running. I really appreciate his response to my home and working with my son due to me being out of town, but we spoke on the phone.

The technician arrived promptly, wore a mask, was very courteous and professional. I am generally very satisfied with service by United Air Temp. In addition to good service (they repair well), it is easy to speak to a person, and promptly. Thank you.

Great service! I called because I was under the impression the AC was not working upstairs. Someone came on the same day, checked out the system, and ensured everything was working. He was polite, thorough, and friendly.

Tech was very attentive and professional. He went out his way to explain everything to me as he was doing it. I appreciated him keeping me informed.
The service technician was awesome! He spent the extra time necessary to ensure the leak in our system was fixed, the system fully recharged and everything was functioning as it should. He was extremely thorough and very professional. We are extremely pleased with the result!