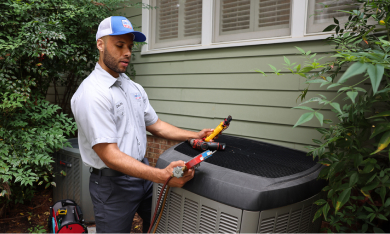 Electric Box Replacement in the DC Metro Area
You probably take your home's electric service panel for granted—that is, until you start noticing problems with it. Electrical wiring is complex and dangerous, so it's important to leave repair and replacement work to a licensed electrician. That's where United Air Temp comes in. We have over 90 years of experience providing reliable electrical services to our customers in the Metro DC Area.
If you're having trouble with your electric box, contact us to speak with a professional about your concerns.
Signs You Need Electric Box Replacement
It may be time for a new electric box if:
Your home is more than 20 to 30 years old: If your electrical panel is original to the house, it may be wearing out by now. Technology has also changed significantly in the past few decades, meaning your service panel may no longer keep up with electrical demand.
You want more outlets or new appliances: Adding outlets or installing new 240V appliances requires an electric box upgrade.
You have an old Federal Pacific Electric panel: FPE products were popular from the 1950s to the 1980s, but they have since been recalled due to frequent breakdowns and electrical fires.
You notice problems with your electric box: The service panel should operate silently. Call an electrician immediately if you notice humming, buzzing, sparking, or discoloration.
You have unreliable electric power: Problems such as flickering lights, frequently tripped breaks, hot or smoking outlets, and electrical odors are all signs of trouble with your electric box.
We Proudly Serve NOVA, DC & BALT Areas
Get started by filling out a service request form.
Our Electric Box Services
At United Air Temp, we provide expert electrical panel services in the metro DC area. We know how important your electrical system is and how dangerous it can become. That's why we offer 24/7 emergency services, so you can count on us day or night to check out your electric box.
We may recommend electric box repair, replacement, or upgrade, depending on what problems we find.
Contact us to schedule electric box services today.
Leave Electric Box Replacement to a Pro
If you attempt to service your electric box without the proper know-how, equipment, or training, you could accidentally start a fire or be electrocuted. Plus, a permit is often necessary to perform potentially dangerous and in-depth work on your electric service panel.
To ensure your safety and compliance with local regulations, you should never attempt DIY electric box replacement.
Depend on United Air Temp for Electric Box Services in the DC Metro Area
The licensed electricians at United Air Temp are dedicated to meeting your electrical needs while ensuring your safety. That's why we use state-of-the-art equipment and draw on decades of experience to repair, replace, or upgrade your electric box correctly the first time.
We know the electrical problems you're having may be urgent, so feel free to contact us anytime to speak with a licensed electrician.
Don't put the safety of your home and family at risk—contact United Air Temp for electric box services today!
Frequently Asked Questions About Electric Boxes
Is it possible to have two main electric boxes?
Yes. The installation must conform to all National Electrical Code (NEC) requirements. For instance, the main electrical drop must be sized for both panels, and each panel needs its own utility meter.
How do I size an electric box for my home?
Trust this task to a licensed electrician, knowing that most homes require at least a 100-amp panel. This amperage is large enough to power a medium-sized home with several 240V appliances and a central air conditioner.

Why Choose Us
Discover the United Difference
Environmental Health & Safety
Environmental Health & Safety
Save on Your Service
Our Goal Is to Keep Your Home Comfortable
FREE

second opinion – HVAC or Plumbing replacement
Expires 03/31/23
$25 OFF

for referrer and friend
Expires 03/31/23
$50

diagnostic for first- time plumbing customer
Expires 03/31/23
What Our Clients Are Saying

The tech was at my home less than 10 minutes and gone within 20 minutes due to having my A/C up and running. I really appreciate his response to my home and working with my son due to me being out of town, but we spoke on the phone.

The technician arrived promptly, wore a mask, was very courteous and professional. I am generally very satisfied with service by United Air Temp. In addition to good service (they repair well), it is easy to speak to a person, and promptly. Thank you.

Great service! I called because I was under the impression the AC was not working upstairs. Someone came on the same day, checked out the system, and ensured everything was working. He was polite, thorough, and friendly.

Tech was very attentive and professional. He went out his way to explain everything to me as he was doing it. I appreciated him keeping me informed.
The service technician was awesome! He spent the extra time necessary to ensure the leak in our system was fixed, the system fully recharged and everything was functioning as it should. He was extremely thorough and very professional. We are extremely pleased with the result!