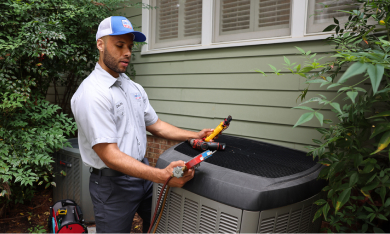 Sewage Ejector Pump Services in Northern Virginia & Washington D.C.
If the municipal sewer lines are higher than your home's main sewer line or you have fixtures in the basement below the sewer line, you need a sewage ejector pump to lift the sewage to the appropriate level to let gravity carry it away from your property. When you need a skilled team to repair or replace your sewage ejector pump, choose United Air Temp.
Our licensed plumbers serve Washington, DC and Northern Virginia, providing top-quality plumbing services that you can depend on. From on-time service and upfront pricing to 24/7 emergency service, we ensure you're satisfied with our services.
As a leading home comfort provider since 1931, you can count on UAT for technical expertise and excellent results.
Has your sewage ejector pump stopped working? Call United Air Temp at (877) 552-8919 or contact us online today for fast sewage ejector pump repairs or replacements in Virginia or the DC metro area.
Request Service
Get started by filling out a service request form or by giving us a call.
Do I Need a Sewage Ejector Pump?
The drain and sewage systems in your home typically work by gravity, with the waste traveling downhill to carry it away from your home, but that isn't always possible.
Sewage ejector pumps are needed in any home that:
Has a sewer line that is below the municipal sewer line
Has fixtures that are lower than the main sewer line
Has utility sinks or bathrooms in the basement that are lower than the sewer line
Has a septic system with a holding tank or leach field that is higher than the sewer line
To learn if a sewage ejector pump is right for your home, call (877) 552-8919 or contact UAT online today.
Sewage Ejector Pump Installation & Replacement in Washington, DC & Northern Virginia
Most sewage ejector pumps will last seven to 10 years, depending on the location. If the pump serves your entire home, it will likely fail sooner than a pump that serves only a fixture or two.
In most cases, the pump motor will fail due to worn brushes or shorted windings, but the ejector pump can also fail due to:
A damaged impeller
Corrosion
When you need an ejector pump replacement, talk to the team at UAT. Our plumbers can recommend the best model and size for your needs, and we can provide a fast and professional ejector pump installation.
Call us today at (877) 552-8919 or contact us online to request a free estimate for an ejector pump replacement in the DC metro area.
Signs You Need Sewage Ejector Pump Repair
When your sewage ejector pump breaks, it won't take long to create a mess. To avoid unnecessary water damage and contamination, call UAT to schedule ejector pump repairs at the first sign of problems, such as:
You have clogged drains that are served by the ejector pump.
You notice wastewater backup.
You smell sewage or other foul odors.
The pump is running but not emptying the wastewater basin.
The pump is buzzing, grinding, or screeching.
The pump is constantly running.
For ejector pump repairs anywhere in DC or Northern Virginia, call (877) 552-8919 or contact us online now!
Request Service
Get started by filling out a service request form or by giving us a call.
Choose United Air Temp for Ejector Pump Services
Make your sewage ejector pump as reliable as possible by choosing United Air Temp for all your ejector pump installation, repair, and replacement needs.
Our skilled, highly trained plumbers are standing by, and we offer two-hour service windows with on-item scheduling so that you can avoid waiting all day for help to arrive.
Our company offers honest, reliable service throughout the DC metro area, and we are committed to quality customer service, excellence, and industry-leading training for all our personnel.
Call us at (877) 552-8919 or contact us online to schedule sewage ejector pump services in VA or the DC area.

Why Choose Us
Discover the United Difference
Environmental Health & Safety
Environmental Health & Safety
Save on Your Service
Our Goal Is to Keep Your Home Comfortable
BOGO! $99 Buy This Year's Tune Up, Get Next Year's Free.
Expires 12/31/23
Plus, up to 2 lbs of refrigerant if needed. *Cannot be combined with any other offer. Call for details.
Save Up To $2,000

When You Buy a Complete HVAC System with A/C and Furnace!
Expires 12/31/23
*Cannot be combined with any other offer. Not applicable for a heat pump system.
What Our Clients Are Saying

The tech was at my home less than 10 minutes and gone within 20 minutes due to having my A/C up and running. I really appreciate his response to my home and working with my son due to me being out of town, but we spoke on the phone.

The technician arrived promptly, wore a mask, was very courteous and professional. I am generally very satisfied with service by United Air Temp. In addition to good service (they repair well), it is easy to speak to a person, and promptly. Thank you.

Great service! I called because I was under the impression the AC was not working upstairs. Someone came on the same day, checked out the system, and ensured everything was working. He was polite, thorough, and friendly.

Tech was very attentive and professional. He went out his way to explain everything to me as he was doing it. I appreciated him keeping me informed.
The service technician was awesome! He spent the extra time necessary to ensure the leak in our system was fixed, the system fully recharged and everything was functioning as it should. He was extremely thorough and very professional. We are extremely pleased with the result!