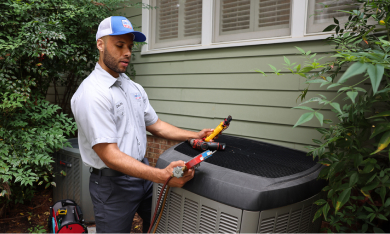 Water Heater Services in Northern Virginia and Washington D.C.
Water heater technology is more advanced than ever before. Today's homes can heat water on demand, so the days of waiting for hot water are over.
United Air Temp offers end-to-end solutions that take care of your installations, replacements, repairs, and routine maintenance. We install tankless, hybrid, and conventional storage heaters, and we can service all units regardless of your preferred power source.
Call (877) 552-8919 or contact us online to request water heater services for your home!
Same Day Water Heater Repair Available
While tankless water heaters typically require fewer repairs than conventional products, no unit remains in perfect condition forever. You might need a water heater repair if:
Your water temperature is fluctuating.
Your water pressure has declined.
Your water has become cloudy or odorous.
You see signs of corrosion.
You run out of hot water frequently, or your unit only produces lukewarm temperatures.
Your tankless system shuts itself down.
United Air Temp has been in the industry since 1931. We're highly experienced and factory-trained to repair any water heater technology.
24/7 Emergency Water Heater Repair
The team at United Air Temp is here for you whenever water heater problems arise.
If you are facing a serious water heater issue or have no hot water, you don't have to wait to get help. Our emergency repair services are available 24/7. We're committed to providing fast repairs the same day you call.
Call (877) 552-8919 to request emergency water heater repair in the DMV area.
Water Heater Replacement & Installation in Northern VA and Washington, DC
If your water heater has reached the end of its service life and breaks down frequently, you may need a water heater replacement. Rust, clanging, and minor leakage are all signs that you might need a new product. It's time to experience the innovations of today's industry.
With a new water heater and expert installation, you can expect faster results, cheaper running costs, and extra efficiency.
Gas vs. Electric Water Heaters
Electric and gas water heaters rely on different components, so you'll need a professional who can handle yours. Electric water heaters are safe, efficient, and offered in a wide range of sizes, but they have higher operating costs.
Gas water heaters will serve you well if you prefer a more energy-efficient and economical product. They tend to be smaller, but they have excellent recovery times. Whether you have a gas or electric water heater, look no further than United Air Temp. Our trained plumbers install, maintain, and repair both gas and electric water heaters.
Request Service
Get started by filling out a service request form or by giving us a call.
Water Heater Maintenance in Northern VA and DC Metro Areas
Routine maintenance keeps your water heater in excellent condition and prevents expensive components from failing. It's the most economical approach to ownership because it keeps your water pure while simultaneously avoiding costly replacements.
Traditional and tankless water heaters require professional maintenance at least once a year. During a maintenance appointment, we'll check for water leaks, flush your tank, clear out your burner assembly, test your pressure relief valve and vent system, and more.
Why Choose United Air Temp?
Our licensed plumbers have the tools and knowledge to handle all your water heater needs. When you choose United Air Temp, you choose:
An award-winning team
On-time scheduling
Upfront pricing
Guaranteed satisfaction
And more
Schedule Water Heater Services in DC or Northern VA 
United Air Temp has served the DC metro area since 1931. United Air Temp is an easy choice for all your water heater needs. Our company is dedicated to your comfort and continues to deliver a high level of service every time.
We offer unparalleled honesty and integrity, and we're happy to help with any water heater problems you may encounter.
Contact us online or call (877) 552-8919 to schedule water heater service or repairs in your DC-area home.
Frequently Asked Questions

Why Choose Us
Discover the United Difference
Environmental Health & Safety
Environmental Health & Safety
Save on Your Service
Our Goal Is to Keep Your Home Comfortable
BOGO! $99 Buy This Year's Tune Up, Get Next Year's Free.
Expires 12/31/23
Plus, up to 2 lbs of refrigerant if needed. *Cannot be combined with any other offer. Call for details.
Save Up To $2,000

When You Buy a Complete HVAC System with A/C and Furnace!
Expires 12/31/23
*Cannot be combined with any other offer. Not applicable for a heat pump system.
What Our Clients Are Saying

The tech was at my home less than 10 minutes and gone within 20 minutes due to having my A/C up and running. I really appreciate his response to my home and working with my son due to me being out of town, but we spoke on the phone.

The technician arrived promptly, wore a mask, was very courteous and professional. I am generally very satisfied with service by United Air Temp. In addition to good service (they repair well), it is easy to speak to a person, and promptly. Thank you.

Great service! I called because I was under the impression the AC was not working upstairs. Someone came on the same day, checked out the system, and ensured everything was working. He was polite, thorough, and friendly.

Tech was very attentive and professional. He went out his way to explain everything to me as he was doing it. I appreciated him keeping me informed.
The service technician was awesome! He spent the extra time necessary to ensure the leak in our system was fixed, the system fully recharged and everything was functioning as it should. He was extremely thorough and very professional. We are extremely pleased with the result!