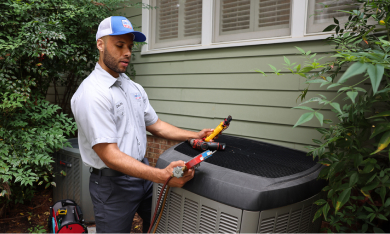 Water Heater Repair in DC
Your water heater is integral to your daily hygiene and safety, so caring for it properly is vital. The better you take care of your water heater, the better it will take care of you. When your water heater is no longer operating as it should, turn to United Air Temp. Our licensed plumbers have the tools and knowledge to resolve any of your water heater problems.
Common Signs That Your Water Heater Needs Repair
Corrosion, leakage, and pressure variations are among the most common causes of breakdowns. Leaks can occur at the drain valve, pressure relief valve, or water supply line. You might need water heater repair if:
You see signs of leakage in your ceiling.
Your appliance isn't producing hot water.
Your water has become rusty or polluted by debris.
You run out of hot water faster than you used to.
You're detecting unusual sounds and scents.
Your water heater pressure has decreased.
Your utility bills have increased for no apparent reason.
Some of these are signs of an impending failure, so it's crucial to deal with problems the moment you notice them. Failing to do so could render your appliance irreparable.
United Air Temp will make light work of your breakdowns. We repair a wide range of products, from storage tanks and tankless systems to hybrids and high-efficiency condensers.
Contact us to discuss your water heater repair needs today.
We Proudly Serve NOVA, DC & BALT Areas
Get started by filling out a service request form.
6 Common Causes of Water Heater Breakdowns
Like any appliance in your home, water heaters are complex machines. Comprised of several components, there are many reasons your water heater may break down, including:
Age
Corroding surfaces
Sediment buildup
Broken heating mechanisms
Faulty electrical connections
Loose parts
If your water heater has broken down, contact United Air Temp for prompt service.
Why You Need To Hire a Professional
It's tempting to cut costs by taking the DIY route, but the average repair person rarely has the right fittings and tools. Water heaters are electric appliances that produce open currents, so they're a serious risk to your safety. Incorrect installations can lead to wasted time and money, so hiring a licensed professional is often more economical than doing it yourself.
It will probably protect you from burst appliances and the problems they can cause. United Air Temp can diagnose failures correctly and provide lasting solutions that don't break the bank.
Request a repair by contacting us online today.
 Why Choose United Air Temp?
United Air Temp's licensed plumbers can provide the finest water heater services on the market today. When you call United Air Temp, you'll receive:
Upfront pricing
Quality work
On-time scheduling
Friendly, licensed plumbers
And more
United Air Temp is the company to call if you need quick, reliable water heater services in DC.
Contact United Air Temp for Water Heater Repair
United Air Temp has provided water heater repair to DC families since the 1930s. We have a dedicated team ready to assist with all your water heater needs.
We only hire licensed, insured, background-checked plumbers to join our team, ensuring you feel comfortable with the professional who knocks on your door. We also prioritize upfront pricing and on-time scheduling, so you're never stuck waiting.
Experience the United Air Temp difference when you contact us for water heater repair.
Frequently Asked Questions

Why Choose Us
Discover the United Difference
Environmental Health & Safety
Environmental Health & Safety
Save on Your Service
Our Goal Is to Keep Your Home Comfortable
FREE

Surge Protector with Electrical Panel Upgrade
Expires 06/30/23
FREE

second opinion – HVAC or Plumbing replacement
Expires 06/30/23
What Our Clients Are Saying

The tech was at my home less than 10 minutes and gone within 20 minutes due to having my A/C up and running. I really appreciate his response to my home and working with my son due to me being out of town, but we spoke on the phone.

The technician arrived promptly, wore a mask, was very courteous and professional. I am generally very satisfied with service by United Air Temp. In addition to good service (they repair well), it is easy to speak to a person, and promptly. Thank you.

Great service! I called because I was under the impression the AC was not working upstairs. Someone came on the same day, checked out the system, and ensured everything was working. He was polite, thorough, and friendly.

Tech was very attentive and professional. He went out his way to explain everything to me as he was doing it. I appreciated him keeping me informed.
The service technician was awesome! He spent the extra time necessary to ensure the leak in our system was fixed, the system fully recharged and everything was functioning as it should. He was extremely thorough and very professional. We are extremely pleased with the result!