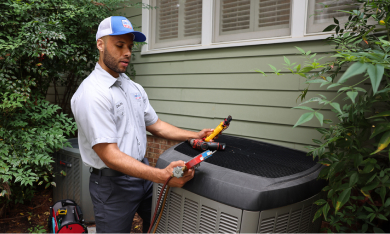 Water Supply Piping Repair & Replacement in Northern Virginia and Washington D.C.
Did you know that as a homeowner, you're responsible for the water supply piping between your home and your water meter? This means the water delivery pipe running through your yard is your responsibility, not the city's. Problems with your water supply pipe can mean substantial leaks, drops in water quality, and a host of other headaches.
When you need water supply piping repair or replacement or other plumbing services in the DC metro area, turn to the expert plumbers at United Air Temp for reliable, professional care. Our commitment to excellence, service, and the integrity of our staff means you can expect only the best when we're on the job.  
Call (877) 552-8919 or contact us online to request water supply pipe services in DC or Northern Virginia.
Request Service
Get started by filling out a service request form or by giving us a call.
How Does the Water Pipe System Work?
Assuming you have municipal water from the city's water system, water enters your property through a city-owned and -serviced water main at the edge of your property. Water then enters your water line and moves toward your home.
The water may pass through a pressure regulator at some point to control the water pressure. Then, it splits into:
Cold water pipes: These pipes split further toward various cold water fixtures.
A hot water pipe: This pipe connects to your water heater. Your water heater sends a line of hot water, which splits further toward hot water fixtures.
Water exits your home in essentially the opposite fashion, with multiple drain lines converging into a single sewer line that carries your wastewater away to the city sewer system. Like your water line, your sewer line is your responsibility until it hits the city's pipes.
The details can vary at the beginning and end of the process if your water comes from a well and ends up in a septic tank, but the rest remains the same.
Learn more about how your piping works and request water supply piping repair or replacement by contacting United Air Temp online or calling (877) 552-8919 today.
Signs You Need Water Supply Pipe Repair or Replacement
Not sure you need a new water line or water line repair? While pinning down a particular source of ongoing plumbing woes is a task best left to professionals, signs you need water supply pipe service include:
Poor water quality
Low water pressure
Strange noises from pipes
Dirty, rusty, or murky water
Relatively clean water making its way into your basement
Of course, some of these can have different solutions, like a need for water treatment to deal with mineral contamination that isn't related to your main line's condition. However, poor water quality can contribute to pipe deterioration over time if left unattended.
Have you noticed any of these water supply pipe issues? Call (877) 552-8919 or contact United Air Temp online to request service in the DC metro area.
Request Service
Get started by filling out a service request form or by giving us a call.
Water Supply Piping Materials
Water distribution pipes are available in different materials that vary in price, life span, and more.
Because a water line can last for decades without replacement, even if it's not an ideal material, in the long run, homes in the DC area showcase an assortment of piping materials. Some homes even use different materials depending on the purpose of a pipe, such as whether water coming through that pipe is going to be hot or cold, potable, or non-potable.
Common water supply piping materials include:
Cross-Linked Polyethylene (PEX): PEX is a form of plastic piping commonly used for hot and cold water lines. This material is affordable and flexible but susceptible to deterioration in any application where it's exposed to sunlight.
Chlorinated Polyvinyl Chloride (CPVC): CPVC pipes are plastic pipes commonly used in modern plumbing, built to endure higher temperatures and greater pressures than what basic PVC can safely carry. PVC is more often used for drainage rather than water supply.
Galvanized steel: Galvanized pipes are steel pipes with zinc coating to protect against corrosion. This was previously the most common material for water supply lines, and if you have a pre-1960s house, you may have this piping material.
Copper: The rigid and corrosion-resistant traits of copper piping makes it ideal for hot and cold water distribution. Copper piping can work above- or below-ground, but it needs a protective sleeve if used underground because soil with a high alkaline content can lead to corrosion.
Learn more about piping materials and request water supply piping services from United Air Temp today. Call (877) 552-8919 or contact us online.
Choose United Air Temp for Water Distribution Pipe Services in Washington, DC and Northern VA
When you need water supply pipe repair or replacement, you can count on the trained professionals at United Air Temp to offer the best possible results. We're dedicated to serving the DC metro community with exceptional service every time, which is why working with United Air Temp means:
Trained technicians who complete ongoing education
Satisfaction guarantees
On-time scheduling with precise arrival windows
Clear and upfront communication
Ready to request water supply services in the DC area? Reach out to us online or call United Air Temp at (877) 552-8919 to schedule service today.

Why Choose Us
Discover the United Difference
Environmental Health & Safety
Environmental Health & Safety
Save on Your Service
Our Goal Is to Keep Your Home Comfortable
BOGO! $99 Buy This Year's Tune Up, Get Next Year's Free.
Expires 12/31/23
Plus, up to 2 lbs of refrigerant if needed. *Cannot be combined with any other offer. Call for details.
Save Up To $2,000

When You Buy a Complete HVAC System with A/C and Furnace!
Expires 12/31/23
*Cannot be combined with any other offer. Not applicable for a heat pump system.
What Our Clients Are Saying

The tech was at my home less than 10 minutes and gone within 20 minutes due to having my A/C up and running. I really appreciate his response to my home and working with my son due to me being out of town, but we spoke on the phone.

The technician arrived promptly, wore a mask, was very courteous and professional. I am generally very satisfied with service by United Air Temp. In addition to good service (they repair well), it is easy to speak to a person, and promptly. Thank you.

Great service! I called because I was under the impression the AC was not working upstairs. Someone came on the same day, checked out the system, and ensured everything was working. He was polite, thorough, and friendly.

Tech was very attentive and professional. He went out his way to explain everything to me as he was doing it. I appreciated him keeping me informed.
The service technician was awesome! He spent the extra time necessary to ensure the leak in our system was fixed, the system fully recharged and everything was functioning as it should. He was extremely thorough and very professional. We are extremely pleased with the result!