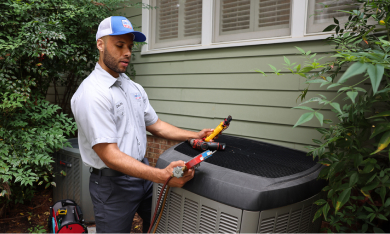 Water Heater Replacement in DC, MD & Northern VA
Your water heater is one of the most important appliances in your home. You depend on it for daily tasks, including washing dishes, showering, and more. However, it's also one of the most power-hungry appliances in your home. Failures can rack up expensive utility bills and lead to serious leaks that could damage your home's interior. That's not a situation to trifle with, so it's crucial to seek out a repair in good time.
We Proudly Serve NOVA, DC & BALT Areas
Get started by filling out a service request form.
Reasons Why Water Heaters Break Down
As with any appliance, water heaters are prone to wear and tear over the years. If your water heater breaks down, it may be due to:
Age
Mineral and sediment buildup
Loose parts
Loose electrical connections
A failing thermostat
A plumber should address all water heater failures as soon as possible to avoid extensive issues.
Water Heater Repair vs. Replacement
If your core water heater components fail, your appliance could be rendered irreparable. When your tank fails, you'll need a replacement rather than a repair. Corrosive air can be just as destructive. Old age is another complicated problem to fix, so you can expect frequent, expensive breakdowns in your future. Too much internal pressure can quickly pass the point of no return. If you've noticed your water pressure has changed, it's advisable to call a professional. If your appliance breaks down at the end of its service life, it rarely makes financial sense to repair it.
Are DIY Water Heater Replacements a Good Idea?
Water heaters are dangerous territory for homeowners. They have live, exposed wires and the potential to burst. A professional repair comes with all the right tools and parts, making it much more effective than a DIY repair. United Air Temp is a leading plumbing company in the DC, MD, and VA areas. As leaders in home comfort, we are committed to your satisfaction. In fact, we guarantee it. Save time and money when you depend on us for your water heater replacement needs.
Gas Water Heater Replacement
Gas water heaters are surprisingly economical to run. They're efficient, quick and independent of the grid. Their high upfront prices are offset by their excellent running costs. If you're considering a gas water heater, we'll help you choose the right size and provide a flawless installation.
Electric Water Heater Replacement Service
If you love the convenience of electric appliances, this option is perfect for you. Electric water heaters are cheap to replace and use less energy than ever before. They're also remarkably safe to operate.
Why Choose United Air Temp?
Since 1931, we've provided the unparalleled services DC residents trust. When you call us, we'll be there to provide:
On-time scheduling
Friendly, licensed plumbers
Upfront pricing
Value-added services
And more!
We're constantly improving our skills as new technologies emerge, allowing us to provide expert installations and repairs for even the latest equipment. Contact us to schedule water heater replacement in DC, MD, or Northern VA.
FAQ

Why Choose Us
Discover the United Difference
Environmental Health & Safety
Environmental Health & Safety
Save on Your Service
Our Goal Is to Keep Your Home Comfortable
FREE

Surge Protector with Electrical Panel Upgrade
Expires 06/30/23
FREE

second opinion – HVAC or Plumbing replacement
Expires 06/30/23
What Our Clients Are Saying

The tech was at my home less than 10 minutes and gone within 20 minutes due to having my A/C up and running. I really appreciate his response to my home and working with my son due to me being out of town, but we spoke on the phone.

The technician arrived promptly, wore a mask, was very courteous and professional. I am generally very satisfied with service by United Air Temp. In addition to good service (they repair well), it is easy to speak to a person, and promptly. Thank you.

Great service! I called because I was under the impression the AC was not working upstairs. Someone came on the same day, checked out the system, and ensured everything was working. He was polite, thorough, and friendly.

Tech was very attentive and professional. He went out his way to explain everything to me as he was doing it. I appreciated him keeping me informed.
The service technician was awesome! He spent the extra time necessary to ensure the leak in our system was fixed, the system fully recharged and everything was functioning as it should. He was extremely thorough and very professional. We are extremely pleased with the result!