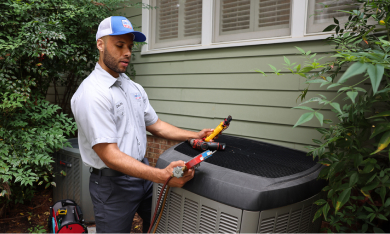 HVAC Services in Northern Virginia and Washington D.C.
Are you looking for heating and AC services in DC, Northern Virginia, or Maryland? United Air Temp offers top-tier service at an affordable price. For over 90 years, United Air Temp has been the leading HVAC services provider in the DC metro area. Your satisfaction and comfort are our top priorities, so you can depend on us for unbeatable service.
Our highly trained HVAC team can handle all your heating and cooling needs, from maintenance and repair to installation and replacement.
If you need heating and cooling services in DC, contact United Air Temp.
Our Same-Day HVAC Services
DC residents enjoy all four seasons. The hot summers and freezing winters in Washington, DC, make a reliable HVAC system a necessity. Our knowledgeable HVAC team services a variety of air conditioning and heating systems, including: 
HVAC Repair in DC
If you need HVAC repair in DC or nearby, call United Air Temp! We'll arrive on time and quickly repair your system, so you can enjoy maximum comfort. When HVAC systems require repair, they'll show noticeable signs of damage, such as:
AC blowing warm air
Short-cycling
An increase in humidity levels
Leaks
Strange smells coming from your vents
Sounds such as banging, rattling, and more 
If you need HVAC repair, United Air Temp is the only name you need to know. Contact us online to book an appointment.
HVAC Maintenance
Keeping your heating and cooling system running efficiently requires regular maintenance. Scheduling heating maintenance in the fall and air conditioning maintenance in the spring will reap many benefits, including:
Lower energy bills
Increased efficiency 
Optimal comfort
 A longer system life span
And more
United Air Temp offers HVAC maintenance plans to keep your systems running smoothly all year.
Contact us to sign up and start saving.
Request Service
Get started by filling out a service request form or by giving us a call.
HVAC Installation & Replacement in DC & Surrounding Areas
Even with the best care, no HVAC system lasts forever. When it's time to replace your current HVAC system or install a new one, you can count on us for expert service. Our professionals have the knowledge and tools to provide a flawless HVAC installation that will ensure your comfort for years to come. 
Let our experts help you select the ideal system for your home, comfort needs, and budget. Contact us online to start your HVAC installation project.
Why Choose Us?
For over 90 years, United Air Temp provided top-of-the-line HVAC services and products for homeowners in DC. We have a reputation for trustworthy and affordable services. When you call us, you can expect: 
Trained technicians
Upfront pricing
On-time scheduling
Quality service
Guaranteed satisfaction
And more
Contact United Air Temp for HVAC services in Atlanta, and see what makes us the best choice for your heating and cooling needs.

Why Choose Us
Discover the United Difference
Environmental Health & Safety
Environmental Health & Safety
Save on Your Service
Our Goal Is to Keep Your Home Comfortable
BOGO! $99 Buy This Year's Tune Up, Get Next Year's Free.
Expires 12/31/23
Plus, up to 2 lbs of refrigerant if needed. *Cannot be combined with any other offer. Call for details.
Save Up To $2,000

When You Buy a Complete HVAC System with A/C and Furnace!
Expires 12/31/23
*Cannot be combined with any other offer. Not applicable for a heat pump system.
What Our Clients Are Saying

The tech was at my home less than 10 minutes and gone within 20 minutes due to having my A/C up and running. I really appreciate his response to my home and working with my son due to me being out of town, but we spoke on the phone.

The technician arrived promptly, wore a mask, was very courteous and professional. I am generally very satisfied with service by United Air Temp. In addition to good service (they repair well), it is easy to speak to a person, and promptly. Thank you.

Great service! I called because I was under the impression the AC was not working upstairs. Someone came on the same day, checked out the system, and ensured everything was working. He was polite, thorough, and friendly.

Tech was very attentive and professional. He went out his way to explain everything to me as he was doing it. I appreciated him keeping me informed.
The service technician was awesome! He spent the extra time necessary to ensure the leak in our system was fixed, the system fully recharged and everything was functioning as it should. He was extremely thorough and very professional. We are extremely pleased with the result!