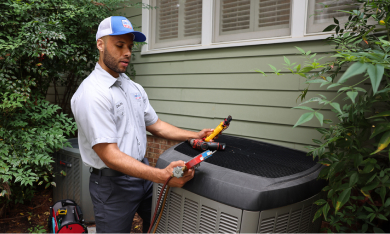 Air Conditioning and Heating Services in Centreville, VA
Gone are the days when you had to call two different companies to take care of your home's HVAC systems. At United Air Temp, our technicians are trained to take on everything from clogged toilets to broken heating and AC units.
Whether you need a new furnace unit installed or air conditioning condenser repairs, we have the solutions to make your Centreville home comfortable again.
Get the best HVAC services in Centreville by scheduling an appointment online with United Air Temp.
24/7 Air Conditioning Services
If your air conditioner is over 10 years old, is blowing out hot air, or isn't turning on at all, our certified technicians can handle all your AC needs. In the Centreville area, we provide comprehensive AC services, including:
Reach maximum cooling comfort with professional AC services from United Air Temp. Schedule service in Centreville online today.
Heating Services 
Since Centreville winters can get chilly, you'll want to ensure you have reliable heating when the temperatures start to drop. The best way to do this is to have your heater serviced at least once a year to keep it in good condition.
If you're noticing issues with your current heater or your unit is nearing the end of its service life span, we offer these heating services:
Replace, repair, and maintain your heating units with our heating services in Centreville. Contact us online to schedule an appointment.
Indoor Air Quality Services
Are you experiencing unusually dry skin, excessive humidity, or stuffiness? These are common signs of poor indoor air quality. The air in your home can be up to 5 times as polluted as the air outside, making it crucial to have the right systems in place to keep it fresh, clean, and clear of harmful airborne particles and pathogens.
At United Air Temp, we have a variety of ways to improve your indoor air quality, including:
Contact United Air Temp online for indoor air quality services in Centreville.
Choose United Air Temp for All Your HVAC Needs
When you choose United Air Temp, you'll experience unmatched quality, expert training, and over 90 years of service from the best one-stop shop service company. Whether you need heating or cooling services, we have you covered.
Since 1931, we've delivered exceptional services to the Centreville community. Having served over 80,000 happy customers, we look forward to serving you.
See why Centreville residents prefer United Air Temp every time! Contact us online today.

Why Choose Us
Discover the United Difference
Environmental Health & Safety
Environmental Health & Safety
Save on Your Service
Our Goal Is to Keep Your Home Comfortable
Save Up To $2,000

When You Buy a Complete HVAC System with A/C and Furnace!
Expires 09/30/23
*Cannot be combined with any other offer. Not applicable for a heat pump system.
FREE

Surge Protector with Electrical Panel Upgrade
Expires 09/30/23
What Our Clients Are Saying

The tech was at my home less than 10 minutes and gone within 20 minutes due to having my A/C up and running. I really appreciate his response to my home and working with my son due to me being out of town, but we spoke on the phone.

The technician arrived promptly, wore a mask, was very courteous and professional. I am generally very satisfied with service by United Air Temp. In addition to good service (they repair well), it is easy to speak to a person, and promptly. Thank you.

Great service! I called because I was under the impression the AC was not working upstairs. Someone came on the same day, checked out the system, and ensured everything was working. He was polite, thorough, and friendly.

Tech was very attentive and professional. He went out his way to explain everything to me as he was doing it. I appreciated him keeping me informed.
The service technician was awesome! He spent the extra time necessary to ensure the leak in our system was fixed, the system fully recharged and everything was functioning as it should. He was extremely thorough and very professional. We are extremely pleased with the result!