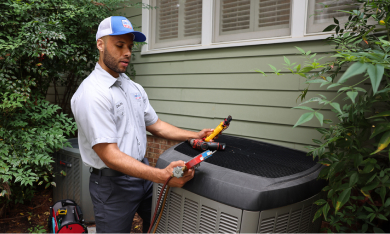 Attic Fan Installation & Repair in Northern Virginia and Washington D.C.
Attic fans can help you save money on your cooling costs by improving the airflow in your home. It can be an excellent investment in your home, its indoor air quality, and its comfort, but attic fans require the right service and installation to do their job.
If you've been considering an attic fan, United Air Temp can help. We offer attic fan installation and services in the DC metro area, so you can benefit from one of these systems in your home.
Contact United Air Temp today to learn more about attic fans and how they can benefit your Washington, DC area home.
Request Service
Get started by filling out a service request form or by giving us a call.
Attic Fan Installation
Your attic already has ventilation. The soffits and gable vents allow air to circulate. So why should you put in an attic fan? One of the problems with normal attic ventilation is that it is passive. The outside air must move to circulate the air. Without air circulation, moisture can build up in the attic.
An attic fan can add circulation to the attic to prevent this problem and, as a result, improve indoor air quality by limiting moisture and mold. It can also pull air through your home when the windows are open to make it more comfortable. The attic fan may help cool the upper stories if you have a multi-story home.
We offer attic fan installation services to help you enjoy these benefits. Our experienced team will expertly install the fan to ensure optimal ventilation and performance. With your new attic fan, you will enjoy a more efficient cooling system throughout the summer while reducing the risk of damage to your attic due to moisture buildup.
Schedule attic fan installation in the DC metro area today.
Attic Fan Repair Services
Attic fans may sometimes have problems that require repair. If your fan is not working correctly, United Air Temp can get it back up and running. Our attentive technicians are well-versed at finding problems and fixing them promptly, so you can enjoy the full function of your attic fan and all of the benefits it brings.
Contact United Air Temp to schedule attic fan repair services today.
Why Choose United Air Temp for Attic Fan Services?
United Air Temp provides reliable HVAC and plumbing services throughout the DC metro area. We have a team of NATE-certified technicians who are ready to help you enjoy all the benefits of an attic fan and keep it running at its best.
We strive to perform every job with honesty, integrity, trustworthiness, loyalty, and respect, so you can be confident in our service. We offer on-time scheduling and upfront pricing to give you peace of mind for every job performed.
Let United Air Temp know how we can help you with your attic fan in Washington, DC.
Attic Fan FAQs
When should I run my attic fan?
The most efficient time to run the attic fan is when the outdoor air is cooler than the air inside your home. Open the windows and turn on the fan, and it will draw in that cool air and make your home more comfortable.
Does an attic fan help with humidity?
Yes, when you run your attic fan, it will pull some of the humidity out of the attic. As a result, the risk of moisture damage to your timbers and insulation is reduced.
How long should I run my attic fan?
Plan to run the attic fan for about 15 minutes at a time. This is enough time to replace the attic air with outside air and enjoy all the benefits of the fan.

Why Choose Us
Discover the United Difference
Environmental Health & Safety
Environmental Health & Safety
Save on Your Service
Our Goal Is to Keep Your Home Comfortable
Save Up To $2,000

When You Buy a Complete HVAC System with A/C and Furnace!
Expires 09/30/23
*Cannot be combined with any other offer. Not applicable for a heat pump system.
FREE

Surge Protector with Electrical Panel Upgrade
Expires 09/30/23
What Our Clients Are Saying

The tech was at my home less than 10 minutes and gone within 20 minutes due to having my A/C up and running. I really appreciate his response to my home and working with my son due to me being out of town, but we spoke on the phone.

The technician arrived promptly, wore a mask, was very courteous and professional. I am generally very satisfied with service by United Air Temp. In addition to good service (they repair well), it is easy to speak to a person, and promptly. Thank you.

Great service! I called because I was under the impression the AC was not working upstairs. Someone came on the same day, checked out the system, and ensured everything was working. He was polite, thorough, and friendly.

Tech was very attentive and professional. He went out his way to explain everything to me as he was doing it. I appreciated him keeping me informed.
The service technician was awesome! He spent the extra time necessary to ensure the leak in our system was fixed, the system fully recharged and everything was functioning as it should. He was extremely thorough and very professional. We are extremely pleased with the result!