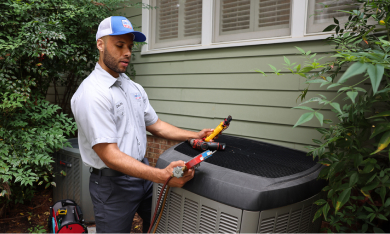 Humidifier & Dehumidifier Services in Northern VA, DC & Baltimore Metro Areas
A home's humidity levels can have a significant impact on your indoor air quality and comfort. The ideal humidity levels or a healthy home are between 30% to 50%, and anything higher or lower can have adverse effects. When you need help managing the humidity in your Maryland or DC home, talk to our team at United Air Temp. We offer whole-home humidifiers and dehumidifiers that can help you correct problems and control humidity levels inside your home. We serve customers throughout Maryland, Northern Virginia, and the Washington, DC, area. With more than 90 years of service in the DC Metro area, you can count on us for professional heating, cooling, and indoor air quality services.
Are you concerned about the humidity levels in your Maryland home? Contact United Air Temp online to learn if a humidifier or dehumidifier can help.
The Impact of Indoor Air Quality on Comfort
Indoor air quality is an important factor in the comfort of any home in the DC area. Air pollutants such as dust, pollen, pet dander, and dust mites can aggravate the symptoms of allergies, asthma, COPD, and other breathing conditions. These contaminants can also affect otherwise healthy people, leading to skin, nose, and throat irritation, along with possible coughing, sneezing, wheezing, and more.
Humidity levels play a significant role in indoor air quality. Low humidity levels cause skin, nose, and throat irritation, and high humidity levels promote mold, mildew, dust mite infestations, and more. By minimizing air pollutants and controlling humidity levels, you can greatly improve comfort in your home.
To learn how our team at United Air Temp can help you improve your indoor air quality, contact us online.
We Proudly Serve NOVA, DC & BALT Areas
Get started by filling out a service request form.
Humidifier Services in DC, MD & VA
Forced-air heat sources like furnaces often strip humidity from the air as they operate, causing dry skin, nose and throat irritation, and greater chances of virus transmission. A whole-home humidifier can be the ideal way to add humidity back to the air, bringing your home up to the ideal humidity levels of 30% to 50%.
At United Air Temp, we can recommend the best humidifier for your needs, and we can provide a professional installation. We offer humidifier installation, replacement, repair, and maintenance throughout Maryland and the DC Metro area, and a complete satisfaction guarantee backs our work.
Dehumidifier Services in Washington, DC, Maryland & Virginia
Summers can be somewhat humid in the DC area, and though an air conditioner helps dehumidify as it cools, it is not always enough. A dehumidifier can help. It can remove any of the excess humidity that can lead to moisture problems, pest infestations, mold growth, and more.
When you need a quality whole-home dehumidifier for your Maryland, Virginia, or DC-area home, turn to our team at United Air Temp. We offer dehumidifier installations throughout the DC area, as well as maintenance, repairs, and more.
To request a quote for a humidifier or dehumidifier installation in the DC Metro area, contact our team at United Air Temp.
Schedule Humidifier or Dehumidifier Services in DC, BALT & NOVA
Improve your comfort and protect your family's health with humidifier and dehumidifier services from United Air Temp. We dedicate ourselves to your comfort and our company features:
Over 90 years of service
Skilled, friendly professionals
NATE-certified technicians
Upfront pricing with no surprises
Convenient two-hour service windows
Guaranteed satisfaction
Contact our team to schedule your humidifier or dehumidifier installation anywhere in Maryland, Northern Virginia, or Washington, DC.

Why Choose Us
Discover the United Difference
Environmental Health & Safety
Environmental Health & Safety
Save on Your Service
Our Goal Is to Keep Your Home Comfortable
FREE

Surge Protector with Electrical Panel Upgrade
Expires 06/30/23
FREE

second opinion – HVAC or Plumbing replacement
Expires 06/30/23
What Our Clients Are Saying

The tech was at my home less than 10 minutes and gone within 20 minutes due to having my A/C up and running. I really appreciate his response to my home and working with my son due to me being out of town, but we spoke on the phone.

The technician arrived promptly, wore a mask, was very courteous and professional. I am generally very satisfied with service by United Air Temp. In addition to good service (they repair well), it is easy to speak to a person, and promptly. Thank you.

Great service! I called because I was under the impression the AC was not working upstairs. Someone came on the same day, checked out the system, and ensured everything was working. He was polite, thorough, and friendly.

Tech was very attentive and professional. He went out his way to explain everything to me as he was doing it. I appreciated him keeping me informed.
The service technician was awesome! He spent the extra time necessary to ensure the leak in our system was fixed, the system fully recharged and everything was functioning as it should. He was extremely thorough and very professional. We are extremely pleased with the result!