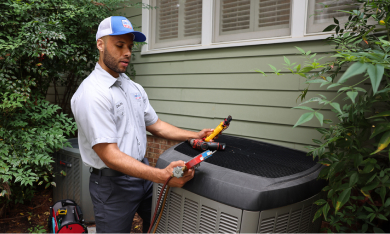 Plumbing Services in Manassas, VA
United Air Temp customers throughout the DC and NOVA areas rely on our highly trained technicians for plumbing service excellence.
A leader in home comfort since 1931, we offer a comprehensive range of repairs and replacements to homeowners in Manassas and beyond, so you can restore your plumbing as soon as possible.
Contact us online or call (877) 552-8919 to request service from our team. We promise to deliver upfront pricing and quality craftsmanship so you can have peace of mind.
When to Call a 24/7 Plumber
It's not always obvious that a plumbing issue may need professional service. If you see any of these signs, contact us right away:
A sudden increase in water bills
Unusual sounds or smells coming from plumbing fixtures or drains
Fluctuating water pressure or temperature
Slow drainage in one or more fixture
The sound of running water, even when no fixtures are being used
Have you noticed any of these problems? Call us right away at (877) 552-8919 or reach out online!
24/7 Emergency Plumbing for Manassas Homes
Plumbing emergencies happen when you least expect them. UAT offers 24/7 emergency plumbing repair for those problems that just can't wait, such as:
Burst pipes
A flooded basement
No water supply
No hot water supply
Sewage backup into drains or toilets
If you have a plumbing emergency, don't hesitate to call (877) 552-8919 24/7 for fast service.
Full-Service Plumbing in the Manassas Area
The plumbers at United Air Temp have the experience and knowledge to effectively and efficiently tackle every plumbing situation. Our comprehensive plumbing services include:
For all your plumbing needs, call UAT (877) 552-8919 or reach out to us online.
Hydro Jetting in Manassas
Hydro jetting may be the answer for particularly difficult water line clogs where pipe snaking just isn't resolving the problem.
This drain-cleaning technology blasts water through the drain pipe at a high pressure, clearing dirt, debris, residue, and other blockages for fast results.
Consider hydro jetting if:
You experience recurring clogs.
The drains in your home require frequent snaking.
You have an older home, and your pipes have never been hydro jetted.
Before we begin, we'll inspect your pipes via a video camera to locate the clog and ensure it is completely cleared.
To learn if your sewer main needs hydro jetting, call (877) 552-8919 or contact us online.
Water Supply Piping Replacement & Repair in Manassas & Surrounding Areas
Pipe leaks are inevitable as the material weakens over time. You may have a leak requiring emergency service if your home demonstrates any of the following:
Water stains on walls, ceilings, or floors
Moldy smells
Spike in water bills
Sounds of running water behind walls
Though the evidence of the leak may be obvious, the source of the leak often lurks in places that are difficult to find. That's why UAT offers emergency leak detection and repair to find the source of your leak.
We can also repair or replace your water line with PEX or CPVC materials if the pipe has been otherwise damaged by age, tree root intrusion, or anything else.
Request Service
Get started by filling out a service request form or by giving us a call.
Why Choose United Air Temp for Plumbing Services?
At United Air Temp, we go the extra mile because our customers deserve it. We treat you the way we want to be treated, with a commitment to service excellence, ongoing training, and quality customer service.
Turn to our team for:
24/7 emergency plumbing repair
Upfront pricing
Satisfaction guaranteed
On-time scheduling with a two-hour arrival window for repair and maintenance appointments
Transparent, honest communication with a written report of the work performed
Call UAT at (877) 552-8919 or reach out online for any of your plumbing service needs!

Why Choose Us
Discover the United Difference
Environmental Health & Safety
Environmental Health & Safety
Save on Your Service
Our Goal Is to Keep Your Home Comfortable
Save Up To $2,000

When You Buy a Complete HVAC System with A/C and Furnace!
Expires 10/31/23
*Cannot be combined with any other offer. Not applicable for a heat pump system.
FREE

Surge Protector with Electrical Panel Upgrade
Expires 10/31/23
What Our Clients Are Saying

The tech was at my home less than 10 minutes and gone within 20 minutes due to having my A/C up and running. I really appreciate his response to my home and working with my son due to me being out of town, but we spoke on the phone.

The technician arrived promptly, wore a mask, was very courteous and professional. I am generally very satisfied with service by United Air Temp. In addition to good service (they repair well), it is easy to speak to a person, and promptly. Thank you.

Great service! I called because I was under the impression the AC was not working upstairs. Someone came on the same day, checked out the system, and ensured everything was working. He was polite, thorough, and friendly.

Tech was very attentive and professional. He went out his way to explain everything to me as he was doing it. I appreciated him keeping me informed.
The service technician was awesome! He spent the extra time necessary to ensure the leak in our system was fixed, the system fully recharged and everything was functioning as it should. He was extremely thorough and very professional. We are extremely pleased with the result!