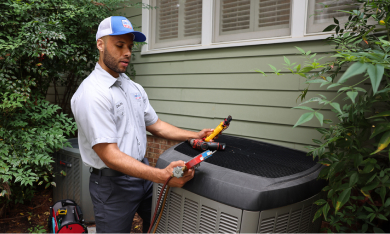 Plumbing Services in Oakton, VA
When it comes to keeping your home in working order, a reliable plumbing system is at the top of the list of necessities.
If your plumbing isn't working as it should, you know how frustrating — and potentially dangerous — it can be to tackle on your own. No matter your plumbing issues, United Air Temp is the team you need to get the job done right.
From emergency water heater services and drain cleaning to gas line replacement and boiler repair, our plumbing services are second to none. Whether you need a simple repair or a comprehensive replacement, we're here to help.
Reach out to us online or call (877) 552-8919 for plumbing services in Oakton.
When to Call a 24/7 Plumber
You may be familiar with the phrase, "If it ain't broke, don't fix it," but it doesn't always ring true when plumbing systems are involved.
Many people often wait until there is a major problem before they call a plumber, which can lead to more extensive and expensive repairs and replacements. However, there are a few signs you can look out for long before things reach that point. These include:
Slow-moving drains
Unusually high water bills
Low water pressure
Reduced hot water capacity
Foul odors coming from drains
Water spots on walls and ceilings
If you suspect you may have an underlying plumbing problem, our professionals are here to help. Give us a call at (877) 552-8919 or reach out to us online.
24/7 Emergency Plumbing for Oakton Homeowners
Plumbing issues can appear anytime — often when it's most inconvenient. That's why United Air Temp offers 24/7 emergency plumbing services.
No matter when you need us, we'll be there to help. We understand that plumbing problems can be stressful, so we're dedicated to making the repair process as fast and stress-free as possible.
Call our emergency plumbers at (877) 552-8919 for 24/7 service in Oakton.
Full-Service Plumbing in the Oakton Area
Your plumbing system is made up of many components, from pipes and fixtures to appliances and more, so we offer a full range of services to take care of all your plumbing needs, including:
Request Service
Get started by filling out a service request form or by giving us a call.
Hydro Jetting in Oakton
Plungers and drain snakes aren't enough to get the job done when your pipes have a major clog or buildup. When that's the case, you need hydro jetting.
Unlike a drain snake, hydro jetting uses specialized equipment that pushes highly pressurized water through your pipe to clear it of all sorts of buildup.
If it feels like you've tried everything to unclog your pipes to no avail, call in the team at United Air Temp. We'll get your drains flowing freely in no time!
Clear out stubborn mineral or grease buildup with the professional hydro jetting services from United Air Temp. Call (877) 552-8919 or get in touch online to schedule service in the Oakton area.
Gas Line Replacement & Repair in Oakton & Surrounding Areas
Only a professional should complete gas line repair and replacement because even a small mistake can result in a serious accident. Signs you need gas line service include:
Hissing pipes or gas-powered appliances
Rotten egg smells
High utility bills
Physical symptoms of gas poisoning, like fatigue, severe headaches, and nausea
If you notice any of these issues, evacuate your home immediately and call your utility company to shut off your gas supply.
Keep your loved ones safe by choosing United Air Temp. Call (877) 552-8919 for emergency gas line repair.
Schedule Your Plumbing Service With United Air Temp Today!
If you need plumbing services in Oakton, you can't go wrong with our experts at United Air Temp. Our highly trained and licensed professionals are available 24/7 for emergency services, so you're never left without help when you need it. We ensure all our plumbers remain up to date on the latest service techniques and technologies to guarantee top-quality craftsmanship.
At UAT, we believe in being transparent with all our customers. You'll receive a free estimate with no surprises, so you don't have to worry about additional fees.
United Air Temp is ready to offer the helping hand you need. Contact us online or call (877) 552-8919 today to schedule plumbing service in the Oakton area.

Why Choose Us
Discover the United Difference
Environmental Health & Safety
Environmental Health & Safety
Save on Your Service
Our Goal Is to Keep Your Home Comfortable
BOGO! $99 Buy This Year's Tune Up, Get Next Year's Free.
Expires 12/31/23
Plus, up to 2 lbs of refrigerant if needed. *Cannot be combined with any other offer. Call for details.
Save Up To $2,000

When You Buy a Complete HVAC System with A/C and Furnace!
Expires 12/31/23
*Cannot be combined with any other offer. Not applicable for a heat pump system.
What Our Clients Are Saying

The tech was at my home less than 10 minutes and gone within 20 minutes due to having my A/C up and running. I really appreciate his response to my home and working with my son due to me being out of town, but we spoke on the phone.

The technician arrived promptly, wore a mask, was very courteous and professional. I am generally very satisfied with service by United Air Temp. In addition to good service (they repair well), it is easy to speak to a person, and promptly. Thank you.

Great service! I called because I was under the impression the AC was not working upstairs. Someone came on the same day, checked out the system, and ensured everything was working. He was polite, thorough, and friendly.

Tech was very attentive and professional. He went out his way to explain everything to me as he was doing it. I appreciated him keeping me informed.
The service technician was awesome! He spent the extra time necessary to ensure the leak in our system was fixed, the system fully recharged and everything was functioning as it should. He was extremely thorough and very professional. We are extremely pleased with the result!