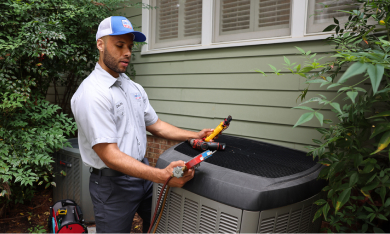 Plumbing Services in Burke, VA
There's one thing all Burke-area homeowners have in common, and that's a need for reliable plumbing.
United Air Temp has a team of plumbers standing by to help you whenever your drains clog or your sump pump fails.
We offer 24/7 emergency plumbing service because we know that fast repair will minimize property damage and stress. We do everything we can to ensure our customers receive the service they deserve now.
Schedule plumbing repair, replacement, maintenance, and installation services by contacting us online or calling (877) 552-8919. 
When to Call a 24/7 Plumber
Are you considering tackling that pesky plumbing problem on your own? For most plumbing needs, Burke homeowners should call a professional, but there are several signs you should look for specifically.
You need a plumber if you notice:
Leaks, drips, and burst pipes
Sewage or drain backups
Constantly clogging or overflowing toilets
The smell of natural gas
Discolored or strange-smelling water
Request Service
Get started by filling out a service request form or by giving us a call.
24/7 Emergency Plumbing Repair in the Burke Area
Sometimes, plumbing problems just can't wait. If you have a serious plumbing issue, you need emergency assistance.
We offer 24/7 plumbing repair because we understand the urgency of water damage, having no water, and similarly time-sensitive plumbing issues.
Our team drives stocked vehicles so we can arrive quickly with all the components and tools we need to resolve your plumbing issues.
Call (877) 552-8919 for emergency plumbing services in Burke.
Full-Service Plumbing for Burke Homeowners
United Air Temp plumbers are invested in the work they do. No matter your plumbing issue, our team will be by your side to offer fast repairs and expert installation.
Choose our team for:
For all of your plumbing needs, call (877) 552-8919 or reach out online today.
Water Supply Piping Replacement & Repair in Burke
Many Burke homeowners are unaware that they are responsible for the water supply pipes that run between the water meter and the home.
If your water supply pipes develop issues, you may notice:
A loss of water pressure
Reduced water quality
Water stains on walls and ceilings
High utility bills
Depending on the state of your pipes, we may be able to repair your water supply piping. However, if you have galvanized steel or copper pipes, it may be best to replace your water supply pipes and upgrade to PEX or CPVC piping.
Contact us at (877) 552-8919 to learn more about our piping replacement and repair services or to schedule leak detection help.
Toilet Replacement & Repair in Fairfax County
Is your toilet operating properly? Many homeowners are unaware of the signs they need toilet replacement or repair. Be on the lookout for:
Unusual gurgling sounds when you flush
Leaks around the base of the toilet
Constant running
These problems can be costly because they cause leaks, but our team can assist with fast toilet repair.
If you need to replace your toilet, turn to the professionals. This is not a DIY job because toilets are delicate but heavy, making them difficult to transport. They require a tight seal to ensure proper installation.
Request Service
Get started by filling out a service request form or by giving us a call.
Schedule Plumbing Services With United Air Temp Today
At United Air Temp, our plumbers are committed to treating our customers the way we want to be treated. This means a commitment to:
Service
Excellence
Training
Character
We offer 24/7 plumbing service, so we're available when you need us most, and we are committed to delivering that service with professionalism and friendliness.
If you need an emergency plumber in Burke, don't wait. Call (877) 552-8919 or contact us online to request service.

Why Choose Us
Discover the United Difference
Environmental Health & Safety
Environmental Health & Safety
Save on Your Service
Our Goal Is to Keep Your Home Comfortable
Save Up To $2,000

When You Buy a Complete HVAC System with A/C and Furnace!
Expires 09/30/23
*Cannot be combined with any other offer. Not applicable for a heat pump system.
FREE

Surge Protector with Electrical Panel Upgrade
Expires 09/30/23
What Our Clients Are Saying

The tech was at my home less than 10 minutes and gone within 20 minutes due to having my A/C up and running. I really appreciate his response to my home and working with my son due to me being out of town, but we spoke on the phone.

The technician arrived promptly, wore a mask, was very courteous and professional. I am generally very satisfied with service by United Air Temp. In addition to good service (they repair well), it is easy to speak to a person, and promptly. Thank you.

Great service! I called because I was under the impression the AC was not working upstairs. Someone came on the same day, checked out the system, and ensured everything was working. He was polite, thorough, and friendly.

Tech was very attentive and professional. He went out his way to explain everything to me as he was doing it. I appreciated him keeping me informed.
The service technician was awesome! He spent the extra time necessary to ensure the leak in our system was fixed, the system fully recharged and everything was functioning as it should. He was extremely thorough and very professional. We are extremely pleased with the result!