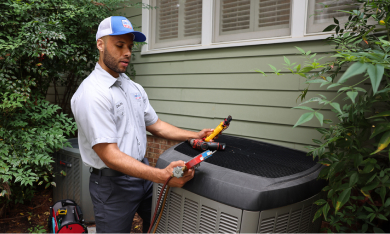 Plumbing Services in Annandale, VA
From leaking toilets and stubborn clogs to flooded basements and burst pipes — when your plumbing fails or malfunctions, the results can be catastrophic without professional help from a trustworthy team.
At United Air Temp, our expert plumbers proudly offer the comprehensive solutions Annandale residents need. Offering 24/7 emergency plumbing repair and 100% satisfaction guaranteed, we know our team can help put any plumbing problem to rest.
Get the same-day plumbing solutions you need by contacting United Air Temp at (877) 552-8919 today!
Signs You Need a Plumber
It's important to identify the signs of needed plumbing service early to have the best chance of total restoration.
Contact our team sooner rather than later if you notice any of the following signs that you need a plumber:
No running water
No hot water
No water pressure
Sweating water heater
Stubborn drain clogs
Dripping faucets
Overflowing toilets
Sewage odors in the home
We Proudly Serve NOVA, DC & BALT Areas
Get started by filling out a service request form.
24/7 Emergency Plumbing for Annandale Homes
We understand that plumbing failures happen at the most inconvenient moments. That's why our team delivers 24/7 emergency plumbing repairs to Annandale and surrounding areas.
No matter when your system malfunctions, our team will be there to provide the fast, reliable repair solutions you need.
Don't let your plumbing problems be put on hold until normal business hours. Trust the team at United Air Temp to provide the same-day service you need.
Call (877) 552-8919 to request emergency plumbing repairs today! 
Full-Service Plumbing in Annandale
Each of our plumbers receives ongoing United Air Temp Academy and factory training, allowing us to resolve virtually any plumbing service request. We proudly offer:
No matter how simple or complex your plumbing service request may be, United Air Temp has the knowledgeable, experienced plumbers you need to set the problem right. Call us at (877) 552-8919 to request plumbing service in Annandale today!
Annandale-Area Burst Pipe Repair & Replacement
A burst pipe is one of the worst plumbing problems a homeowner can discover. It's important to be on the lookout for signs of a potential pipe burst as symptoms might not always be as immediately obvious as spraying water. These signs include:
Fluctuating water pressure
Rust-colored, foul-smelling water
Visible mold or mildewy odors
Water stains on walls and ceilings
If you notice the signs of a burst pipe affecting your plumbing performance, the first thing you'll need to do is shut off your water and disconnect your electrical panel.
Help relieve any additional pressure within your pipes by turning on the faucets and allowing any remaining water to fully drain from your system. Then, contact the United Air Temp plumbers to schedule burst pipe repair or replacement for your home.
If you have a burst pipe in your home, call (877) 552-8919 now to request emergency plumbing service.
Sump Pump Replacement & Repair in Fairfax County
Our sump pump replacement and repair professionals are here to help with all your sump pump service requests. Homes that benefit most from sump pump installation include homes that:
Are located in flood zones
Have poor drainage systems
Have basements, crawl spaces, and/or patios
Have ground that slopes toward the property rather than away
It's important to have sump pump malfunctions repaired immediately to keep your home protected from a potential flooding event. Otherwise, your system may not work when you need it most, resulting in catastrophic water damage to your property.
We Proudly Serve NOVA, DC & BALT Areas
Get started by filling out a service request form.
Why Choose United Air Temp?
United Air Temp delivers the top-quality plumbing solutions that Annandale residents trust for:
24/7 emergency plumbing repair
100% satisfaction guaranteed
Upfront, honest pricing
Factory-trained service technicians
Quality craftsmanship
Don't leave your plumbing service needs in the wrong hands. Get the fast, efficient service you deserve by calling United Air Temp at (877) 552-8919 today!

Why Choose Us
Discover the United Difference
Environmental Health & Safety
Environmental Health & Safety
Save on Your Service
Our Goal Is to Keep Your Home Comfortable
FREE

Surge Protector with Electrical Panel Upgrade
Expires 05/31/23
FREE

second opinion – HVAC or Plumbing replacement
Expires 05/31/23
What Our Clients Are Saying

The tech was at my home less than 10 minutes and gone within 20 minutes due to having my A/C up and running. I really appreciate his response to my home and working with my son due to me being out of town, but we spoke on the phone.

The technician arrived promptly, wore a mask, was very courteous and professional. I am generally very satisfied with service by United Air Temp. In addition to good service (they repair well), it is easy to speak to a person, and promptly. Thank you.

Great service! I called because I was under the impression the AC was not working upstairs. Someone came on the same day, checked out the system, and ensured everything was working. He was polite, thorough, and friendly.

Tech was very attentive and professional. He went out his way to explain everything to me as he was doing it. I appreciated him keeping me informed.
The service technician was awesome! He spent the extra time necessary to ensure the leak in our system was fixed, the system fully recharged and everything was functioning as it should. He was extremely thorough and very professional. We are extremely pleased with the result!