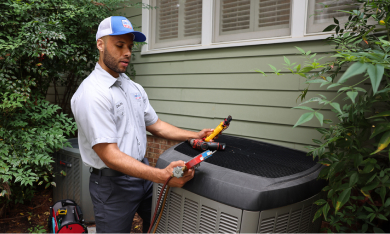 Plumbing Services in Leesburg, VA
You count on your plumbing every day, so plumbing problems can quickly bring your household to a halt. When you need plumbing services in Leesburg, choose United Air Temp. We deliver high-quality workmanship with upfront pricing and superior customer service.
Our 2-hour appointment windows mean you never have to wait around all day for our plumbers to arrive. We work to make a lifelong customer on each project and guarantee your satisfaction so you can trust our team as your go-to plumbers.
For expert plumbing services in Leesburg, call us at (877) 552-8919 or contact us online today!
When to Call a 24/7 Plumber
A burst pipe is a clear sign you need a professional plumber. Some signs are not as clear, but homeowners need to be aware of them too. They include:
Standing water and slow drainage
Poor or no water pressure
Sewage smells inside your home
Gurgling drains or toilets
Rotten egg smells
Strange-tasting or discolored water
If you notice any of these signs, our skilled professionals will quickly diagnose and address your plumbing problem.
For plumbing services in Leesburg, choose the experts at United Air Temp! Call (877) 552-8919 or contact us online to schedule your appointment today!
24/7 Emergency Plumbing for Leesburg Homes
You need fast and reliable plumbing services when a plumbing emergency happens in your Leesburg home. United Air Temp is always available to offer 24/7 emergency plumbing.
Plumbing emergencies we frequently encounter include:
Burst pipes
Sewage backup in one fixture when you use another
Flooded basements
No water supply
These are signs of major plumbing issues that can cause damage to your home and/or leave you without access to safe, clean water. At United Air Temp, our trucks are stocked and ready to go, so our emergency plumbers can quickly and efficiently solve your plumbing issues.
When you have a plumbing emergency in Leesburg, don't hesitate to ask us for help! Call (877) 552-8919 24/7 for emergency plumbing services!
Full-Service Plumbing in Leesburg & Surrounding Areas
We offer comprehensive plumbing services to help keep your Leesburg home's plumbing in optimal condition. From emergency repairs to expert installations and upgrades, our services include:
Choose United Air Temp for expert plumbing services in Leesburg. Call (877) 552-8919 or contact us online to request an appointment and a free estimate!
Leesburg-Area Drain & Sewer Services
If you have sewer line problems, you need repairs done right the first time. United Air Temp provides full-service sewer services, including:
Sewer line repair and replacement
Hydro jetting
Request Service
Get started by filling out a service request form or by giving us a call.
Common Causes of Sewer Line Leaks & Breaks
When your sewer line malfunctions, sewage can seep into your yard and back up into your home, causing excessive damage.
Common causes of sewer line issues include:
Shifting soil
Significant clogs
Tree root infiltration
Wear and tear over time
At United Air Temp, we offer traditional and trenchless sewer line services, so you can have your sewer lines repaired with minimal disruption.
Call us at (877) 552-8919 or contact us online today to request sewer line repair or replacement for your Leesburg home!
Garbage Disposal Replacement & Repair in the Leesburg Area
A clogged kitchen sink is a problem for busy homeowners. If your garbage disposal is causing your kitchen plumbing headaches, we can help! United Air Temp can repair or replace your garbage disposal depending on the age of your disposal and the extent of the damage.
While disposals can break up most foods, there are common food scraps you should not put down your drain, including:
Eggshells
Coffee grounds
Cooking grease
Bones and fruit pits
Pasta, rice, and oatmeal
These foods can damage the blades or stick together and cause drain clogs.
Signs You Need Garbage Disposal Service
You should be careful when troubleshooting garbage disposal issues because you can easily injure yourself. Call in a professional plumber if your garbage disposal:
Won't turn on
Frequently needs to be reset
Is jammed
Makes strange noises
Call (877) 552-8919 or contact us online to request garbage disposal service today!
Choose United Air Temp for Plumbing Services in Leesburg, VA
At United Air Temp, we put our customers first. Our commitment to service excellence, ongoing training, and customer care means you can trust our team for all your plumbing needs in Leesburg and surrounding areas.
Call (877) 552-8919 or contact us online to request a free estimate and schedule your appointment today!

Why Choose Us
Discover the United Difference
Environmental Health & Safety
Environmental Health & Safety
Save on Your Service
Our Goal Is to Keep Your Home Comfortable
Save Up To $2,000

When You Buy a Complete HVAC System with A/C and Furnace!
Expires 09/30/23
*Cannot be combined with any other offer. Not applicable for a heat pump system.
FREE

Surge Protector with Electrical Panel Upgrade
Expires 09/30/23
What Our Clients Are Saying

The tech was at my home less than 10 minutes and gone within 20 minutes due to having my A/C up and running. I really appreciate his response to my home and working with my son due to me being out of town, but we spoke on the phone.

The technician arrived promptly, wore a mask, was very courteous and professional. I am generally very satisfied with service by United Air Temp. In addition to good service (they repair well), it is easy to speak to a person, and promptly. Thank you.

Great service! I called because I was under the impression the AC was not working upstairs. Someone came on the same day, checked out the system, and ensured everything was working. He was polite, thorough, and friendly.

Tech was very attentive and professional. He went out his way to explain everything to me as he was doing it. I appreciated him keeping me informed.
The service technician was awesome! He spent the extra time necessary to ensure the leak in our system was fixed, the system fully recharged and everything was functioning as it should. He was extremely thorough and very professional. We are extremely pleased with the result!