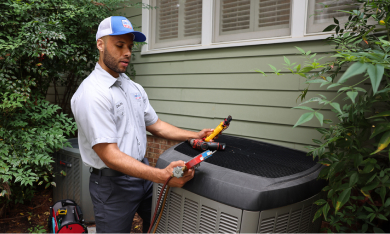 24/7 AC and Heating Services in Woodbridge, VA
For nearly one hundred years, customers have trusted United Air Temp to deliver knowledgeable, dependable, and friendly heating and air conditioning services. We also offer 24/7 emergency repair for issues that can't wait until regular business hours.
Our licensed technicians are courteous, punctual, highly skilled and trained, and can complete any home service request to your total satisfaction.
Schedule an appointment with United Air Temp to experience unparalleled work quality delivered with outstanding customer service.
24/7 Air Conditioning Services in Woodbridge, VA
You can call United Air Temp for a full range of air conditioning services. We have the solution, no matter what air conditioning problem you're facing. We'll help you keep cool through our expert:
Count on United Air Temp to keep your Woodbridge, VA, air conditioning running properly. Contact us online for an appointment.
Heating Solutions in Woodbridge, VA
Woodbridge homeowners need to know their heating system is a match for Virginia winters. They also need a trustworthy HVAC company to deliver comprehensive heating services to support that system.
United Air Temp has the tools and experience to handle:
Contact United Air Temp today for outstanding Woodbridge, VA, heating services.
Indoor Air Quality Solutions in Woodbridge, VA
Indoor pollution can have a greater impact on our health and well-being than outdoor pollution. The pollution outside can make its way inside, where it lingers if you don't have the ventilation and filtration systems to get rid of it.
Today's homes are built to keep climate-controlled air from escaping, but that same advantage can lead to a buildup of chemicals, dust, odors, pet dander, mold, and volatile organic compounds (VOCs). As a result, air pollutant levels are two to five times greater in the average DC metro home than outside.
Thankfully, United Air Temp has many indoor air quality solutions to provide you with clean, fresh air, such as:
Air scrubbers and air purifiers
Thermostats
Ductwork installation and repair
Improve your indoor air quality with United Air Temp. Contact us for an appointment today.
Why Choose United Air Temp?
Since 1931, United Air Temp has been committed to delivering 100% customer satisfaction through outstanding products and service. We've guaranteed generations of loyal customers with fair and upfront pricing and affordable home maintenance plans.
Trust United Air Temp for your air conditioning, heating, and indoor air quality needs in Woodbridge, VA.
Contact us online to make an appointment.

Why Choose Us
Discover the United Difference
Environmental Health & Safety
Environmental Health & Safety
Save on Your Service
Our Goal Is to Keep Your Home Comfortable
Save Up To $2,000

When You Buy a Complete HVAC System with A/C and Furnace!
Expires 09/30/23
*Cannot be combined with any other offer. Not applicable for a heat pump system.
FREE

Surge Protector with Electrical Panel Upgrade
Expires 09/30/23
What Our Clients Are Saying

The tech was at my home less than 10 minutes and gone within 20 minutes due to having my A/C up and running. I really appreciate his response to my home and working with my son due to me being out of town, but we spoke on the phone.

The technician arrived promptly, wore a mask, was very courteous and professional. I am generally very satisfied with service by United Air Temp. In addition to good service (they repair well), it is easy to speak to a person, and promptly. Thank you.

Great service! I called because I was under the impression the AC was not working upstairs. Someone came on the same day, checked out the system, and ensured everything was working. He was polite, thorough, and friendly.

Tech was very attentive and professional. He went out his way to explain everything to me as he was doing it. I appreciated him keeping me informed.
The service technician was awesome! He spent the extra time necessary to ensure the leak in our system was fixed, the system fully recharged and everything was functioning as it should. He was extremely thorough and very professional. We are extremely pleased with the result!