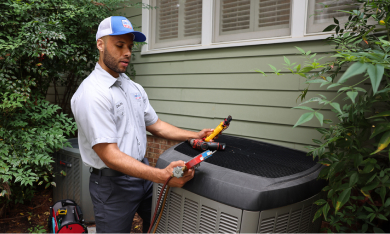 Plumbing Services in Vienna, VA
When you have a problem like a leaking water line, backed-up drain line, or toilet that's overflowing, not only can it disrupt your home, but it can cause costly damage.
For expert help with plumbing problems in Vienna, VA, and surrounding areas in Dorchester County, trust our team at United Air Temp. We have been a leader in home comfort since 1931, and we offer everything from plumbing and drain services to heating, cooling, and electrical services.
We feature skilled, licensed plumbers, precise service windows, 24/7 plumbing services for emergencies, upfront pricing, and more! Choose our team for all your home plumbing needs in Vienna.
Request your free estimate for plumbing services in Vienna today. Call (877) 552-8919 or contact us online.
24/7 Emergency Plumbing in Vienna, MD
At United Air Temp, we're available 24/7 to help with major plumbing problems that can leave you without access to clean water or cause water damage to your home.
We feature fully stocked service vehicles, and we can provide all types of emergency repairs, including:
Drain cleaning and clearing
Call (877) 552-8919 today for 24/7 plumbing services from United Air Temp.
Signs You Need a Plumber
It doesn't take long for plumbing problems to cause damage to your home. To keep your repair costs to a minimum, call our team at United Air Temp at the first sign of plumbing trouble, such as:
No hot water
No water
Wet floors, carpets, drywall, or cabinets
Low water pressure
Discolored water
Slow or clogged drains
Sewage smells
Unusual noises like gurgling or dripping
Request Service
Get started by filling out a service request form or by giving us a call.
Full-Service Plumbing in Dorchester County
Do you need plumbing repairs or upgrades for your home in Vienna? Call United Air Temp today!
We offer a full selection of plumbing installation and repair services, including:
To request a free quote for plumbing installations, repairs, or replacements anywhere in Dorchester County, call (877) 552-8919 or contact us online today.
Drain Cleaning in Vienna & Dorchester County
If you have clogged or slow-moving drains, call our team at United Air Temp for drain cleaning, clogged sink repair, clogged toilet repair, and more.
If you have sewage backups in multiple fixtures, it may be a clog in your sewer line, but you should notice some issues before it reaches that point.
Clogged drains are common in any home, old or new, and can be quite frustrating, but they are also relatively easy to prevent. The most common causes of clogged drains include:
Grease and oil from cooking that is washed down the drain
Hair, skin cells, and soap scum from the shower and sinks
Foreign debris like baby wipes, flushable wipes, hygiene products, or paper products flushed down the toilet
To prevent clogged sinks and drains, add screens on every drain to catch hair, soap, and food particles, and throw grease in the garbage after it has cooled.
Never flush anything but waste and toilet paper down the toilet, and be especially careful to avoid flushing wipes, paper towels, tissues, napkins, and similar products.
Call us today at (877) 552-8919 or contact us online for drain services in Vienna.
Water Heater Services in Vienna, VA
When you need water heater services in Vienna, count on our expert plumbers at United Air Temp. We have extensive experience with both standard and tankless water heaters, and our services include:
Water heater repair
Water heater installation and replacement
Water heater maintenance
Consider a tankless water heater replacement if you would like to enjoy a virtually unlimited supply of hot water while having a water heater that costs less to operate, saves energy, and lasts longer than a storage tank model.
Request Service
Get started by filling out a service request form or by giving us a call.
Schedule Plumbing Services with United Air Temp in Vienna Today
At United Air Temp, our company has provided high-quality services and products for over 90 years. We are well-qualified to help with all your home plumbing needs in Vienna or the surrounding areas, and our company features:
Skilled technicians who receive ongoing training
An unwavering commitment to our customers
Exceptional service, quality, and workmanship
Upfront pricing
On-time scheduling
Guaranteed satisfaction
When you need the best plumbing services in Vienna, VA, choose United Air Temp. Call (877) 552-8919 or contact us online to schedule an appointment today.

Why Choose Us
Discover the United Difference
Environmental Health & Safety
Environmental Health & Safety
Save on Your Service
Our Goal Is to Keep Your Home Comfortable
BOGO! $99 Buy This Year's Tune Up, Get Next Year's Free.
Expires 12/31/23
Plus, up to 2 lbs of refrigerant if needed. *Cannot be combined with any other offer. Call for details.
Save Up To $2,000

When You Buy a Complete HVAC System with A/C and Furnace!
Expires 12/31/23
*Cannot be combined with any other offer. Not applicable for a heat pump system.
What Our Clients Are Saying

The tech was at my home less than 10 minutes and gone within 20 minutes due to having my A/C up and running. I really appreciate his response to my home and working with my son due to me being out of town, but we spoke on the phone.

The technician arrived promptly, wore a mask, was very courteous and professional. I am generally very satisfied with service by United Air Temp. In addition to good service (they repair well), it is easy to speak to a person, and promptly. Thank you.

Great service! I called because I was under the impression the AC was not working upstairs. Someone came on the same day, checked out the system, and ensured everything was working. He was polite, thorough, and friendly.

Tech was very attentive and professional. He went out his way to explain everything to me as he was doing it. I appreciated him keeping me informed.
The service technician was awesome! He spent the extra time necessary to ensure the leak in our system was fixed, the system fully recharged and everything was functioning as it should. He was extremely thorough and very professional. We are extremely pleased with the result!