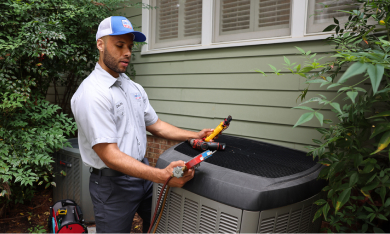 Air Conditioning and Heating Service in Ashburn, VA
Ashburn, VA, has a suburban feel within the Washington, DC metro area with plenty of parks, coffee shops, and restaurants. As most residents own their own homes, they need local heating and air conditioning they can count on every time.
United Air Temp happily serves Ashburn with the best HVAC and indoor air quality services to keep our community healthy and comfortable.
Contact United Air Temp and discover why our customers prefer us over other Ashburn HVAC companies.
24/7 Air Conditioning Services
When you're in the middle of a hot, humid Ashburn summer, you want air conditioning that works so well you can take it for granted. United Air Temp can help with our comprehensive AC services, which include:
Contact United Air Temp to schedule AC services in Ashburn, VA.
Heating Services
Having hot and humid summers doesn't protect Ashburn from icy winters, so your heating unit should work just as well as your AC. Thankfully, United Air Temp also provides comprehensive heating services, including:
Heating repair: Our fully stocked vans have everything needed to complete most heating repairs on the spot.
Heating maintenance: Don't wait until it gets cold to wonder if your heater will keep you warm. Schedule preventive maintenance for peace of mind.
Heating installation: Whether you need heating installation to replace an old, broken system or want to make a change, like switching from a furnace to a heat pump, we can help.
Schedule an appointment for expert heating services with United Air Temp in Ashburn, VA.
Indoor Air Quality Services 
Perhaps a family member was diagnosed with asthma, or you've developed a chronic cough or allergy symptoms that don't improve no matter how much "spring cleaning" you do. Whatever is wrong with the indoor air quality of your Ashburn home, United Air Temp has effective solutions, including:
Air scrubbers
Air purifiers
Ductwork repair and installation
Contact United Air Temp to improve your indoor air quality.
Why Choose United Air Temp?
From expert HVAC service to one-stop shopping for your indoor air quality needs, United Air Temp has the skills, knowledge, and experience to help your family stay comfy and healthy year-round.
We're dedicated to providing friendly, professional service and back our work with strong ethics, expert knowledge, and experience.
Trust United Air Temp for your HVAC and indoor air quality needs. Schedule your services today by contacting us online.

Why Choose Us
Discover the United Difference
Environmental Health & Safety
Environmental Health & Safety
Save on Your Service
Our Goal Is to Keep Your Home Comfortable
BOGO! $99 Buy This Year's Tune Up, Get Next Year's Free.
Expires 12/31/23
Plus, up to 2 lbs of refrigerant if needed. *Cannot be combined with any other offer. Call for details.
Save Up To $2,000

When You Buy a Complete HVAC System with A/C and Furnace!
Expires 12/31/23
*Cannot be combined with any other offer. Not applicable for a heat pump system.
What Our Clients Are Saying

The tech was at my home less than 10 minutes and gone within 20 minutes due to having my A/C up and running. I really appreciate his response to my home and working with my son due to me being out of town, but we spoke on the phone.

The technician arrived promptly, wore a mask, was very courteous and professional. I am generally very satisfied with service by United Air Temp. In addition to good service (they repair well), it is easy to speak to a person, and promptly. Thank you.

Great service! I called because I was under the impression the AC was not working upstairs. Someone came on the same day, checked out the system, and ensured everything was working. He was polite, thorough, and friendly.

Tech was very attentive and professional. He went out his way to explain everything to me as he was doing it. I appreciated him keeping me informed.
The service technician was awesome! He spent the extra time necessary to ensure the leak in our system was fixed, the system fully recharged and everything was functioning as it should. He was extremely thorough and very professional. We are extremely pleased with the result!