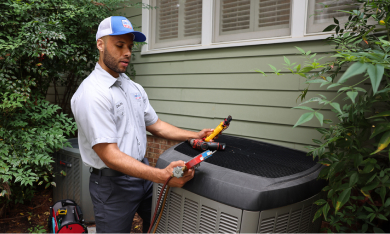 Air Conditioning and Heating Services in Arlington, VA
Your heating and cooling systems ensure you enjoy year-round comfort. At United Air Temp, we work hard to ensure your heating systems always provide the treated air you need. Our team of certified HVAC specialists can install, maintain, repair, and replace a broad range of HVAC systems.
When you want comfort you can rely on and service you can trust, you can always depend on our team to exceed your expectations!
Contact United Air Temp to schedule HVAC service in Arlington today.
24/7 Air Conditioning Services 
Arlington summers are hot and humid. Without a functional air conditioner, it doesn't take much to make your home feel like a sauna. At United Air Temp, our air conditioning services include:
Air conditioner installation: We'll perform a thorough load calculation and help you determine the best system and installation location. 
Air conditioner maintenance: Our certified HVAC specialists will ensure your system is properly maintained and that you remain compliant with all warranty requirements.
Air conditioner repair: When components break and systems falter, we'll diagnose the problem and apply the necessary repair.
Contact United Air Temp to schedule air conditioner service in Arlington today.
Heating Services
Heavy snows and freezing temperatures are common in Arlington during the winter. Before the leaves change, we recommend ensuring your systems are ready for when the temperatures start to drop. Our HVAC technicians can provide a full range of heating services, including:
Heating installation: We can install ductless mini-splits, gas furnaces, electric furnaces, heat pumps, dual-fuel heating systems, and geothermal systems. 
Heating maintenance: We'll maintain your heating system to ensure optimal comfort and superior performance.
Heating repair: Our certified HVAC specialists will identify problems with your system and apply industry-approved solutions that will restore the system to proper operation.
Contact United Air Temp to schedule heating system service in Arlington today.
Request Service
Get started by filling out a service request form or by giving us a call.
Indoor Air Quality Services 
The air in your home can be worse than the air blowing around outside. Our indoor air quality specialists can test your air and recommend filters, air purifiers, air sanitizers, and other steps you can take to clear the air and breathe easier.
Contact United Air Temp to speak with our indoor air quality specialists about how to clear the air in your home!
Depend on United Air Temp for Your Comfort
Since 1931, the teams at United Air Temp have established our company as Arlington's leading HVAC service provider. When you want service you can rely on year after year, turn to United Air Temp.
Our highly trained technicians are experts at their craft, and we guarantee you'll be satisfied with the quality of the work and the attentiveness of our team to your needs.
Contact United Air Temp to schedule HVAC services in Arlington today!
We can answer your questions and provide the reliable recommendations and advice you need to enhance your home comfort.

Why Choose Us
Discover the United Difference
Environmental Health & Safety
Environmental Health & Safety
Save on Your Service
Our Goal Is to Keep Your Home Comfortable
BOGO! $99 Buy This Year's Tune Up, Get Next Year's Free.
Expires 12/31/23
Plus, up to 2 lbs of refrigerant if needed. *Cannot be combined with any other offer. Call for details.
Save Up To $2,000

When You Buy a Complete HVAC System with A/C and Furnace!
Expires 12/31/23
*Cannot be combined with any other offer. Not applicable for a heat pump system.
What Our Clients Are Saying

The tech was at my home less than 10 minutes and gone within 20 minutes due to having my A/C up and running. I really appreciate his response to my home and working with my son due to me being out of town, but we spoke on the phone.

The technician arrived promptly, wore a mask, was very courteous and professional. I am generally very satisfied with service by United Air Temp. In addition to good service (they repair well), it is easy to speak to a person, and promptly. Thank you.

Great service! I called because I was under the impression the AC was not working upstairs. Someone came on the same day, checked out the system, and ensured everything was working. He was polite, thorough, and friendly.

Tech was very attentive and professional. He went out his way to explain everything to me as he was doing it. I appreciated him keeping me informed.
The service technician was awesome! He spent the extra time necessary to ensure the leak in our system was fixed, the system fully recharged and everything was functioning as it should. He was extremely thorough and very professional. We are extremely pleased with the result!