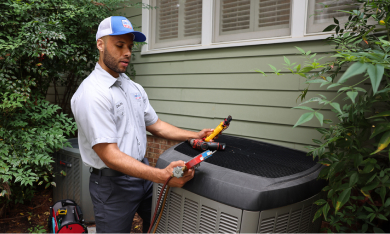 24/7 AC and Heating Services in Manassas, VA
United Air Temp is in the business of comfort. Whether you need water heater repair, AC replacement, or more, you can depend on United Air Temp. Our HVAC services are performed by seasoned experts, so you can have confidence when you hire us. With over 90 years of experience, there's no problem we can't resolve.
24/7 Air Conditioning Services
Survive the sweltering, humid summers in Manassas with a sparkling-new air conditioner. When temperatures rise above 90 degrees, you need a reliable cooling system. That's why United Air Temp offers a comprehensive range of AC services, including:
Air conditioner repair: If your energy bills have skyrocketed or your unit is blowing hot air, it's time to call the professionals. We'll make easy work of over-cycling and indoor air quality issues. Our NATE-certified technicians always provide exceptional results.
Air conditioner maintenance: Your unit can only achieve optimal efficiency if it gets regular tune-ups. Scheduled maintenance will prevent costly failures and cooling disruptions while extending the service life span of your AC.
Air conditioner replacements: If your AC is 10 to 15 years old, it probably has frequent breakdowns. At this stage, the money you spend on repairs is better spent on a replacement. Replacing your system will amplify your SEER rating and improve your unit's cooling abilities. Our installation team will give your new unit its best chance for success. We'll even help you choose the correct capacity for your square footage.
Contact us online to experience the best cooling services on the market.
Request Service
Get started by filling out a service request form or by giving us a call.
Heating Services
The icy winters in Manassas are hard to tolerate without heating services. An HVAC unit will enhance your comfort while improving your air quality. It can even reduce your risk of falling ill. United Air Temp offers a full range of heating services for a variety of systems, including heat pumps, furnaces, hybrids, and more.
Heating repair: If your HVAC unit produces strange smells or sounds, a swift repair is crucial to its life span. We also handle inefficient heating, electrical faults, and indoor air quality problems. Our technicians are constantly standing by because we understand the importance of swift repairs.
Heating maintenance: Don't let unwanted breakdowns disrupt your winter. Our annual maintenance services will extend your unit's life span, prevent unexpected problems, and help your system achieve optimal energy efficiency.
Heating installation: The quality of your installation will affect your unit for the rest of its service life, so it's crucial to find an outstanding team. We'll make sure your HVAC choice can heat your entire home year after year.
Indoor Air Quality Services
When you think of pollution, you probably imagine city smog, but the EPA has found that indoor pollutants are often more concentrated. Poor indoor air quality can trigger allergies, respiratory illness, and even heart disease.
You can breathe easier when you call United Air Temp for indoor air quality services! We install, repair, and maintain a wide range of purifiers, including whole-home systems and UV purifiers.
For service in the DC metro area, contact our team to get started.
You Can Depend on United Air Temp
United Air Temp has licensed plumbers with the right knowledge and tools to protect your HVAC system. We've been in the area since the 1930s and continue to deliver a high level of service every time someone calls for help.
We have emergency service available as well, should you encounter a heating or AC emergency.
Schedule service with United Air Temp today by contacting our team online.

Why Choose Us
Discover the United Difference
Environmental Health & Safety
Environmental Health & Safety
Save on Your Service
Our Goal Is to Keep Your Home Comfortable
Save Up To $2,000

When You Buy a Complete HVAC System with A/C and Furnace!
Expires 09/30/23
*Cannot be combined with any other offer. Not applicable for a heat pump system.
FREE

Surge Protector with Electrical Panel Upgrade
Expires 09/30/23
What Our Clients Are Saying

The tech was at my home less than 10 minutes and gone within 20 minutes due to having my A/C up and running. I really appreciate his response to my home and working with my son due to me being out of town, but we spoke on the phone.

The technician arrived promptly, wore a mask, was very courteous and professional. I am generally very satisfied with service by United Air Temp. In addition to good service (they repair well), it is easy to speak to a person, and promptly. Thank you.

Great service! I called because I was under the impression the AC was not working upstairs. Someone came on the same day, checked out the system, and ensured everything was working. He was polite, thorough, and friendly.

Tech was very attentive and professional. He went out his way to explain everything to me as he was doing it. I appreciated him keeping me informed.
The service technician was awesome! He spent the extra time necessary to ensure the leak in our system was fixed, the system fully recharged and everything was functioning as it should. He was extremely thorough and very professional. We are extremely pleased with the result!