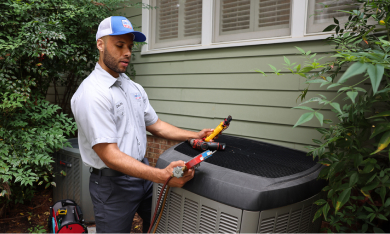 Air Conditioning and Heating Services in Fairfax, VA
Having trouble with your heating or cooling? When you need home services from a team you can count on, make the experts at United Air Temp your first and last call. Our team will show up promptly, identify your problem, and implement a lasting solution.
You shouldn't have to make multiple calls, slowly troubleshoot a problem yourself, or settle for half-fixes. When you work with the technicians at United Air Temp, you won't have to.
Contact us online today to schedule home services in the Fairfax area.
24/7 Air Conditioning Services
When your air conditioning starts causing trouble during the hottest days of the Virginia summer, you won't want to endure a half-functional air conditioner for long. When the time comes, you can count on United Air Temp to provide all your air conditioning services:
Air conditioning repairs: Our team will quickly identify what's wrong with your AC and resolve it so you can enjoy a cool climate again.
Air conditioning installation & replacement: Need a new air conditioner? We'll assess your needs, find the best fit for you, and install it right, so you won't have more problems down the line.
Air conditioning maintenance: Regular tune-ups keep your AC running efficiently, effectively, and reliably, which means less money spent on energy and repairs over time.
Ready to schedule a visit for air conditioning services in Fairfax, VA? Contact us online to get started.
Heating Services
Winters in Fairfax can get intense, so you want a heating solution you can rely on through the cold nights — and when something goes wrong, you want service fast. We provide residents of the Fairfax area with a full selection of heating services:
Heating repairs: Having heating trouble? Whether you need help with something minor or have a complete outage in the middle of winter, you can count on our team to solve the problem fast.
Heating installation & replacement: When you need a new heating system installed, let the team at United Air Temp identify the best unit for your needs and install it perfectly to manufacturer specifications.
Heating maintenance: By keeping up with your heating maintenance, you'll not only keep your home comfortable for less, but you'll also minimize safety hazards and the risk of an unpleasant breakdown.
When you need heating services in the Fairfax area, don't hesitate. Contact United Air Temp today!
Request Service
Get started by filling out a service request form or by giving us a call.
Indoor Air Quality Services 
Did you know the air in your home can have three times more contamination than the air outside? Pollutants such as bacteria, viruses, cleaning supply residue, waste, pet dander, mold spores, and more accumulate and contribute to illness, degradation of complex machinery, and damage to your home.
With help from United Air Temp, you can implement a combination of humidity control, air filtration, air purification, and other solutions to make the air you breathe as clean and safe as possible.
Contact the team at United Air Temp today for more information on our indoor air quality services.
Choose United Air Temp for HVAC 
When you need home services in the Fairfax area, choose the most dependable and customer-focused team in the region. When you decide to work with United Air Temp for your heating and cooling needs, you'll benefit from:
Trained technicians with years of experience
Transparent pricing and communications
Reliable scheduling
Care for our community, environment, and safety
Satisfaction guaranteed on all projects
Don't hesitate when you need help keeping your home's plumbing and HVAC in top condition; let the expert technicians of United Air Temp solve your problems once and for all.
Contact us today to learn more!

Why Choose Us
Discover the United Difference
Environmental Health & Safety
Environmental Health & Safety
Save on Your Service
Our Goal Is to Keep Your Home Comfortable
Save Up To $2,000

When You Buy a Complete HVAC System with A/C and Furnace!
Expires 10/31/23
*Cannot be combined with any other offer. Not applicable for a heat pump system.
FREE

Surge Protector with Electrical Panel Upgrade
Expires 10/31/23
What Our Clients Are Saying

The tech was at my home less than 10 minutes and gone within 20 minutes due to having my A/C up and running. I really appreciate his response to my home and working with my son due to me being out of town, but we spoke on the phone.

The technician arrived promptly, wore a mask, was very courteous and professional. I am generally very satisfied with service by United Air Temp. In addition to good service (they repair well), it is easy to speak to a person, and promptly. Thank you.

Great service! I called because I was under the impression the AC was not working upstairs. Someone came on the same day, checked out the system, and ensured everything was working. He was polite, thorough, and friendly.

Tech was very attentive and professional. He went out his way to explain everything to me as he was doing it. I appreciated him keeping me informed.
The service technician was awesome! He spent the extra time necessary to ensure the leak in our system was fixed, the system fully recharged and everything was functioning as it should. He was extremely thorough and very professional. We are extremely pleased with the result!