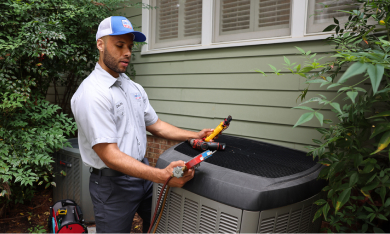 Plumbing Services in Alexandria, VA
It's stressful when your plumbing pipes break, your water heater malfunctions, or you have any other plumbing issue that requires repair or replacement. No homeowner should have to deal with that, especially because malfunctioning plumbing can pose serious health concerns to your family.
At United Air Temp, we offer 24/7 emergency service, ensuring you never have to find yourself stranded without functioning plumbing!
Request Service
Get started by filling out a service request form or by giving us a call.
When to Call a 24/7 Plumber
It can be hard to tell when you do and don't need a plumber! You might feel there are some issues you can solve on your own, but if you notice any of the following, we recommend contacting a plumber:
The smell of sewage coming from your home.
Your toilet is running or overflowing.
You have reduced water pressure.
Your water heater is leaking.
Do you think you might need a plumber for your Alexandria home? Contact us online or call us at (877) 552-8919 to schedule a free estimate today!
24/7 Emergency Plumbing in the Alexandria Area 
Some plumbing issues can't wait days or weeks. Our team understands this and offers 24/7 emergency plumbing repair to provide the quick response you need.
Our team has seen a slew of plumbing emergencies, but the most common ones we've seen are:
No hot water
Clogged sink drains
Overflowing toilets
Leaking or burst pipes
Plumbing emergencies can't wait! Call us at (877) 552-8919 to request emergency repair in Alexandria!
Full-Service Plumbing in Alexandria & Surrounding Areas
Not only do we pride ourselves on having a strong, trained team of professionals, but we also offer a wide variety of plumbing services to ensure that we can restore your home!
Services we offer include:
Request Service
Get started by filling out a service request form or by giving us a call.
Alexandria Drain Cleaning
Clogged drains are extremely common, but professional drain cleaning offers quick solutions that you can count on. Our team often finds many things in drains that don't belong there.
We can't guarantee that your sink won't get clogged, but when sending items down the drain, try to avoid these:
Bones
Eggshells
Coffee grounds
Grease
If you want to try clearing your drain yourself, avoid using chemicals. It might seem like the route of least resistance, but it can eat away at your pipes and cause major issues down the line.
Instead, use some of these methods if you're looking to do DIY drain cleaning:
Use a toilet plunger to unclog the sink.
Pour boiling water down the drain. Add one part vinegar and one part baking soda, allowing the solution to sit for several minutes. Flush out the solution with more boiling water.
Tired of clogged sink drains and standing water in your shower? Contact us online or call us at (877) 552-8919 to schedule a free estimate today!
Water Supply Piping Replacement & Repair in Fairfax County
In Virginia, you hold responsibility for the pipes that run from your house to your water meter. It's up to you to stay proactive about the quality of pipes to ensure you continue to get good water pressure and high-quality water in your home.
There are likely two culprits if you have water supply or quality issues: outdated water supply piping materials and leaking water pipes.
Chances are you need water supply piping replacement or repair if you notice:
Unusually high water bills
Water stains on walls and ceilings
Dirty, murky water
Low water pressure
When looking at pipes, there are two different categories:
Plastic pipes like Cross-Linked Polyethylene (PEX) and Chlorinated Polyvinyl Chloride (CPVC)
Metal pipes, like galvanized steel and copper
The condition of your piping will determine the path our team will take in fixing your home.
Trust us to replace and repair your water supply pipes! Call us at (877) 552-8919 or contact us online to get a free estimate!
Why United Air Temp for Your Plumbing Needs?
Our company has been operating since 1931, delivering outstanding work and customer service for nearly 100 years.
Every UAT technician is highly trained and operates on our company ethics, ensuring that you always have a great experience when you choose our team.
Ready to get your plumbing back to normal? Contact us online or call us at (877) 552-8919 to request plumbing services in Alexandria today!

Why Choose Us
Discover the United Difference
Environmental Health & Safety
Environmental Health & Safety
Save on Your Service
Our Goal Is to Keep Your Home Comfortable
BOGO! $99 Buy This Year's Tune Up, Get Next Year's Free.
Expires 12/31/23
Plus, up to 2 lbs of refrigerant if needed. *Cannot be combined with any other offer. Call for details.
Save Up To $2,000

When You Buy a Complete HVAC System with A/C and Furnace!
Expires 12/31/23
*Cannot be combined with any other offer. Not applicable for a heat pump system.
What Our Clients Are Saying

The tech was at my home less than 10 minutes and gone within 20 minutes due to having my A/C up and running. I really appreciate his response to my home and working with my son due to me being out of town, but we spoke on the phone.

The technician arrived promptly, wore a mask, was very courteous and professional. I am generally very satisfied with service by United Air Temp. In addition to good service (they repair well), it is easy to speak to a person, and promptly. Thank you.

Great service! I called because I was under the impression the AC was not working upstairs. Someone came on the same day, checked out the system, and ensured everything was working. He was polite, thorough, and friendly.

Tech was very attentive and professional. He went out his way to explain everything to me as he was doing it. I appreciated him keeping me informed.
The service technician was awesome! He spent the extra time necessary to ensure the leak in our system was fixed, the system fully recharged and everything was functioning as it should. He was extremely thorough and very professional. We are extremely pleased with the result!