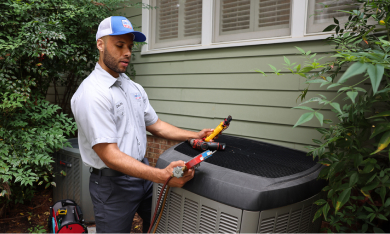 Plumbing Services in Franconia, VA
Plumbing problems can happen in any home, whether it's a few years or several decades old. When you need expert help with plumbing repairs or replacements in the Franconia area, turn to our team at United Air Temp.
We have been delivering complete customer satisfaction since 1931, and we offer all the plumbing, drain, and sewer services you need for your Franconia home.
Our highly trained plumbers are some of the best in the area, and we will work hard to ensure all your needs are met. We feature fair, upfront pricing, quality craftsmanship, and on-time service with convenient two-hour service windows.
Call us at (877) 552-8919 or contact us online now to schedule plumbing services in Franconia, VA, or the surrounding communities.
When to Call a 24/7 Plumber
Even a minor plumbing problem can cause costly damage to your home, so it is important to act quickly if you think you may have a damaged pipe, a sewer backup, a leak, or other plumbing issues. Call United Air Temp today when you notice any of the following signs of plumbing problems:
Low water pressure
Water leaks
Drain clogs
Slow drains
Leaky faucets
Gurgling toilets
High water bills
Request Service
Get started by filling out a service request form or by giving us a call.
24/7 Emergency Plumbing Repairs in the Franconia Area
When you need help with a plumbing problem right away, count on our team at United Air Temp. We offer 24/7 plumbing in Franconia and beyond and will respond as quickly as possible to your call.
We can help with any emergency plumbing situation, such as:
No water: Whether you have a water line break or a frozen pipe, our team can find the cause and repair it.
No hot water: If your water heater has stopped working, our experts can provide repairs or a full replacement as necessary.
Leaks: If you have a leaking or burst pipe, our team can stop the leak and prevent further water damage
Sewer or drain backups: When you have standing water or sewage backup, our experts can clear the drain or sewer line clog with drain cleaning or hydro jetting.
When you need an emergency plumber in Franconia or Fairfax County, call UAT at (877) 552-8919!
Full-Service Plumbing for Franconia Homes
Whether you need plumbing repairs, plumbing replacements, or updated fixtures for your kitchen or bathroom, our team at United Air Temp is happy to help. Our plumbing services include:
Call us today at (877) 552-8919 or reach out online to schedule reliable plumbing services anywhere in Franconia or the surrounding areas.
Drain & Sewer Services in Fairfax County
Clogged drains or sewer lines can be a nuisance, especially if they start to back up, but with our team at United Air Temp, you can fix the problem quickly and keep the mess to a minimum.
We offer a full line of drain and sewer services for your Fairfax County home, including:
Video camera inspections: We'll quickly locate pipe leaks or clogs to restore your drain or sewer lines.
Drain cleaning: Get your sink, bathtub, or toilet draining again with professional drain clearing instead of risking pipe damage with chemical drain cleaners.
Hydro jetting: Remove stubborn sewer clogs caused by tree roots, grease, hair, and more.
Sewer line repair and replacement: We offer standard and trenchless sewer line service when you have a broken or deteriorated sewer main.
Sewage ejector pump replacement and repair: If your fixtures sit below the municipal sewer line, you need a sewage ejector pump so your sewer main can carry away waste.
Schedule drain or sewer services in Franconia today by calling (877) 552-8919 or contacting United Air Temp online.
Sump Pump Replacement & Repair in Franconia
Sump pumps are essential for any home that has a basement or experiences occasional flooding. By collecting and discharging groundwater into the sewer system, the sump pump helps to keep your basement, appliances, and belongings dry while preventing mold and mildew.
Periodic testing and repairs of your sump pump are necessary to protect your home from flooding and water damage. At United Air Temp, we can help with fast sump pump repairs and expert sump pump replacements.
Call us at (877) 552-8919 or contact us online today to schedule sump pump services in Franconia.
Choose United Air Temp for Plumbing Services Today
When you need the help of a professional plumber in Franconia, choose our experts at United Air Temp. With over 90 years in business, we value our customers and can provide the quality services they need for the ultimate home comfort.
By choosing our company for all your plumbing needs, you can enjoy:
Reliable, honest, and trustworthy technicians
Unmatched quality, craftsmanship, and service
24/7 emergency plumbing services
Get help with all your plumbing needs in Franconia and Fairfax County. Call United Air Temp today at (877) 552-8919 or contact us online.

Why Choose Us
Discover the United Difference
Environmental Health & Safety
Environmental Health & Safety
Save on Your Service
Our Goal Is to Keep Your Home Comfortable
BOGO! $99 Buy This Year's Tune Up, Get Next Year's Free.
Expires 12/31/23
Plus, up to 2 lbs of refrigerant if needed. *Cannot be combined with any other offer. Call for details.
Save Up To $2,000

When You Buy a Complete HVAC System with A/C and Furnace!
Expires 12/31/23
*Cannot be combined with any other offer. Not applicable for a heat pump system.
What Our Clients Are Saying

The tech was at my home less than 10 minutes and gone within 20 minutes due to having my A/C up and running. I really appreciate his response to my home and working with my son due to me being out of town, but we spoke on the phone.

The technician arrived promptly, wore a mask, was very courteous and professional. I am generally very satisfied with service by United Air Temp. In addition to good service (they repair well), it is easy to speak to a person, and promptly. Thank you.

Great service! I called because I was under the impression the AC was not working upstairs. Someone came on the same day, checked out the system, and ensured everything was working. He was polite, thorough, and friendly.

Tech was very attentive and professional. He went out his way to explain everything to me as he was doing it. I appreciated him keeping me informed.
The service technician was awesome! He spent the extra time necessary to ensure the leak in our system was fixed, the system fully recharged and everything was functioning as it should. He was extremely thorough and very professional. We are extremely pleased with the result!