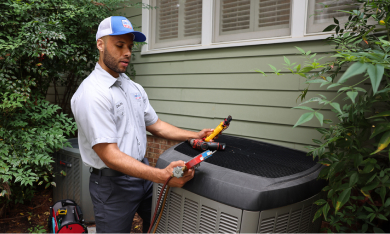 24/7 Heating and Cooling Services in Lorton, VA
Every homeowner eventually runs into HVAC problems. You need experts to handle the mess, from AC units blowing hot air to busted pipes pouring out water. Look no further than United Air Temp!
We offer top-of-the-line HVAC services throughout the Lorton, VA, region. We can get to the bottom of your HVAC issues and ensure your systems are ready for daily use.
Contact us to schedule the HVAC work you need for your home.
Every home needs a reliable HVAC system. If yours has seen better days, let United Air Temp bring it back to like-new status. Our team has the experience to make your HVAC system work perfectly again. Our HVAC services include:
24/7 Air Conditioning Services
Staying cool in the summer can be challenging in Virginia. You can depend on us for all your air conditioning needs, including:
Air conditioner installation
Our highly trained HVAC technicians also service a variety of systems, such as heat pumps and ductless mini-splits. With our help, you can rest easy knowing you'll be able to beat the heat.
Request Service
Get started by filling out a service request form or by giving us a call.
Emergency Heating Services
For how hot summers in Virginia can be, the winter is equally brutal. When freezing temperatures arrive, you'll need reliable heating for your entire home. Our crew can provide:
Heating repair
Heating installation
We service dual-fuel heating systems, geothermal systems, and mini-splits, too. No matter your heating system, we can ensure you're warm all winter.
Indoor Air Quality
The air you breathe is vital to your health. Installing indoor air quality systems in your home can help ensure you're breathing clean, fresh air. We install, repair, and perform maintenance for:
Air scrubbers and purifiers
You can also depend on us for:
Thermostat services
Ductwork installation and repair
R-22 conversions
Make sure you and your family are comfortable every season. Contact us today to discuss the HVAC services that can make your home more comfortable.
Rely on United Air Temp for HVAC Work
For nearly 100 years, United Air Temp has provided HVAC services throughout the Lorton, VA, area. Since 1931, we've brought integrity, responsibility, and customer service to every assignment. We treat every home like our own, so you can rest assured your issue will be resolved.
Ensure your home's HVAC systems are working safely and correctly. Contact us to schedule HVAC services at your Lorton, VA, home.

Why Choose Us
Discover the United Difference
Environmental Health & Safety
Environmental Health & Safety
Save on Your Service
Our Goal Is to Keep Your Home Comfortable
BOGO! $99 Buy This Year's Tune Up, Get Next Year's Free.
Expires 12/31/23
Plus, up to 2 lbs of refrigerant if needed. *Cannot be combined with any other offer. Call for details.
Save Up To $2,000

When You Buy a Complete HVAC System with A/C and Furnace!
Expires 12/31/23
*Cannot be combined with any other offer. Not applicable for a heat pump system.
What Our Clients Are Saying

The tech was at my home less than 10 minutes and gone within 20 minutes due to having my A/C up and running. I really appreciate his response to my home and working with my son due to me being out of town, but we spoke on the phone.

The technician arrived promptly, wore a mask, was very courteous and professional. I am generally very satisfied with service by United Air Temp. In addition to good service (they repair well), it is easy to speak to a person, and promptly. Thank you.

Great service! I called because I was under the impression the AC was not working upstairs. Someone came on the same day, checked out the system, and ensured everything was working. He was polite, thorough, and friendly.

Tech was very attentive and professional. He went out his way to explain everything to me as he was doing it. I appreciated him keeping me informed.
The service technician was awesome! He spent the extra time necessary to ensure the leak in our system was fixed, the system fully recharged and everything was functioning as it should. He was extremely thorough and very professional. We are extremely pleased with the result!