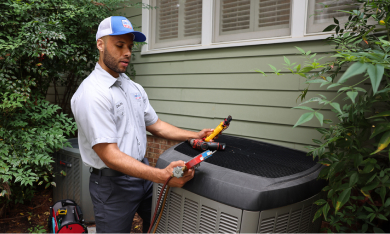 Plumbing Services in Reston, VA
Problems with your plumbing systems can damage your home and create significant health and sanitation issues. At United Air Temp, we keep residential plumbing systems in excellent condition, no matter how large or small the issue is.
Our comprehensive plumbing services include repair, installation, and replacement. We adhere to strict quality standards so you can have peace of mind that you've chosen the right team.
When you need reliable plumbing services in Reston, VA, reach out to the team at United Air Temp by calling (877) 552-8919 or contacting us online!
Signs You Need a Plumber
If you detect the following signs of plumbing problems in your home, we recommend scheduling a service appointment with our plumbing team right away:
Inconsistent water flow
No hot water or reduced hot water supply
Visible leaks or sweating pipes or fixtures
Low water pressure
Clogged drains
Jammed garbage disposal
We Proudly Serve NOVA, DC & BALT Areas
Get started by filling out a service request form.
24/7 Emergency Plumbing for Reston Homes
Our team is available 24/7 to provide effective emergency plumbing services. We have a comprehensive parts inventory and maintain a fleet of fully stocked service vehicles capable of responding to every need.
Some of the most common emergency plumbing repairs we provide include:
Frozen or burst pipes
Clogged drains
Overflowing toilets
Leaking or burst water heaters
Call the plumbers at (877) 552-8919 to request emergency plumbing services in Reston, VA, now!
Full-Service Plumbing in the Reston Area
We work hard to ensure you enjoy all the comfort and convenience modern plumbing systems offer. Our certified, licensed, and fully insured plumbers are experts that can answer every plumbing need.
We offer a full range of plumbing services and complete ongoing training that allows us to service residential plumbing systems new and old, including:
Reach out to the plumbing experts at United Air Temp by calling (877) 552-8919 or contacting us online. We are always ready to answer your questions and provide the reliable plumbing services you deserve!
Reston-Area Toilet Replacement & Repair
Toilet repair or replacement will significantly improve your comfort. When your toilet needs to be replaced, we can help you choose the ideal low-flow or standard toilet for your home.
If you are tired of dealing with broken flappers, stuck valves, missing floats, and other issues, we can resolve the problem!
While it's possible to remove and replace a toilet on your own, we strongly advise against doing so. That's because if the toilet isn't properly seated, leveled, and secured, it can leak and cause significant damage to your flooring and walls.
We Proudly Serve NOVA, DC & BALT Areas
Get started by filling out a service request form.
Leak Detection & Repair in Reston & Surrounding Areas
Our leak detection and repair services help protect your home from extensive water damage. We use minimally invasive inspection and repair techniques that can find and correct the cause of the problem quickly.
Early signs of hidden plumbing leaks include:
Water spots on ceilings, walls, and floors
The sound of running water when no fixtures are in use
Poor water quality
Reduced water pressure
Piping issues can range from small issues to major problems that cause catastrophic water damage, so we offer water line repair and replacement to remedy the root cause of any malfunction.
Contact United Air Temp online or call (877) 552-8919 to request leak detection and repair services in Reston, VA, today!
Why Should You Choose United Air Temp?
At United Air Temp, our 24/7 plumbing services help protect your home and family. Our carefully chosen plumbing team has the necessary skills and expertise to provide exceptional service to our valued clients in Reston, VA, and surrounding communities.
Our company has proudly served our customers since 1930, and we guarantee you will always enjoy superior service, reliable solutions, and unimpeachable quality when you choose UAT.
You deserve reliable plumbing systems in your home, and our team is always prepared to provide the effective solutions you need.
Contact United Air Temp online or call (877) 552-8919 to schedule prompt and reliable plumbing services in Reston, VA. We're always here when you need us most, with free estimates, same-day services, and emergency repairs.

Why Choose Us
Discover the United Difference
Environmental Health & Safety
Environmental Health & Safety
Save on Your Service
Our Goal Is to Keep Your Home Comfortable
FREE

Surge Protector with Electrical Panel Upgrade
Expires 05/31/23
FREE

second opinion – HVAC or Plumbing replacement
Expires 05/31/23
What Our Clients Are Saying

The tech was at my home less than 10 minutes and gone within 20 minutes due to having my A/C up and running. I really appreciate his response to my home and working with my son due to me being out of town, but we spoke on the phone.

The technician arrived promptly, wore a mask, was very courteous and professional. I am generally very satisfied with service by United Air Temp. In addition to good service (they repair well), it is easy to speak to a person, and promptly. Thank you.

Great service! I called because I was under the impression the AC was not working upstairs. Someone came on the same day, checked out the system, and ensured everything was working. He was polite, thorough, and friendly.

Tech was very attentive and professional. He went out his way to explain everything to me as he was doing it. I appreciated him keeping me informed.
The service technician was awesome! He spent the extra time necessary to ensure the leak in our system was fixed, the system fully recharged and everything was functioning as it should. He was extremely thorough and very professional. We are extremely pleased with the result!