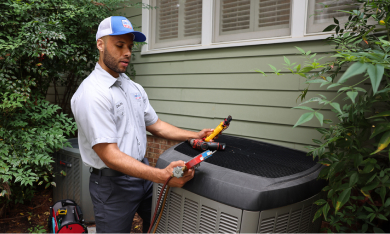 Plumbing Services in Arlington, VA
For nearly a century, the experts at United Air Temp have provided extensive home comfort services to our customers. We're proud to continue that legacy today with reliable plumbing services in Arlington, VA.
Whether you suspect a hidden leak or you're battling an overflowing toilet, we have quick and effective plumbing solutions you can trust.
Schedule plumbing services with United Air Temp in Arlington, VA, today by contacting us online or calling (877) 552-8919.
When to Call a 24/7 Plumber
Your home's plumbing infrastructure is tucked away behind walls and underneath your foundation, making identifying plumbing breakdowns challenging.
However, there are some signs you should always be on the lookout for, including:
Clogged or backed-up drains
Constantly running toilets
Leaky faucets or pipes
Low water pressure
Strange-smelling or -tasting water
Request Service
Get started by filling out a service request form or by giving us a call.
24/7 Emergency Plumbing Repair in the Arlington Area
We provide 24/7 emergency plumbing repairs for those plumbing problems that can't wait. Common issues that need emergency plumbing service include:
No water
No hot water
Flooding in the basement or other areas of your home
Frozen or broken pipes
Sewage backup in multiple fixtures
If you notice any of these issues, it's time to call United Air Temp at (877) 552-8919 for emergency service!
Full-Service Plumbing in Arlington County
Our team of experienced plumbers is here to keep your plumbing system in great shape for years to come. We offer a comprehensive list of reliable plumbing services, including:
Trust United Air Temp for all your plumbing needs in Arlington, VA. Contact us online or call (877) 552-8919 today to schedule same-day service.
Drain Cleaning for Arlington Homes
Your home's drains affect your entire plumbing system, so a clog can be a real pain if it's not quickly and properly cleared.
UAT offers reliable drain cleaning and clogged sink clearing and repair, so you never have to resort to chemical drain cleaners that will damage your pipes.
The easiest way to prevent drain clogs is to be careful about what goes down your drains. The most common causes of clogs for toilets, sinks, and showers include:
Hair
Grease
Fibrous foods
Cotton swabs/pads
Flushable wipes
Feminine products
Request Service
Get started by filling out a service request form or by giving us a call.
Leak Detection & Repair in Arlington
Leaks can cause significant damage inside your home and your foundation, partly because they aren't always immediately apparent. Common signs you may have a hidden leak include:
Unexplained increase in your water bills
Water stains on your ceiling or walls
Water pooling in your yard
We can quickly locate and remedy any leak with expert leak detection and repair. We also offer water line repair and replacement services to ensure your home is never without water for long.
If you suspect a leak or you're not getting water to your home, United Air Temp's emergency services can help. Call (877) 552-8919 or contact us online today to get started.
Choose United Air Temp for Plumbing Services in Arlington
When you choose the experienced plumbers at United Air Temp for your plumbing needs, you can expect:
24/7 emergency repair services
Highly trained technicians
Upfront pricing
Quality craftsmanship
100% satisfaction guaranteed
On-time scheduling
Transparent communication
Schedule your expert plumbing services in Arlington, VA, today. Contact us online or call (877) 552-8919 today to get started.

Why Choose Us
Discover the United Difference
Environmental Health & Safety
Environmental Health & Safety
Save on Your Service
Our Goal Is to Keep Your Home Comfortable
Save Up To $2,000

When You Buy a Complete HVAC System with A/C and Furnace!
Expires 09/30/23
*Cannot be combined with any other offer. Not applicable for a heat pump system.
FREE

Surge Protector with Electrical Panel Upgrade
Expires 09/30/23
What Our Clients Are Saying

The tech was at my home less than 10 minutes and gone within 20 minutes due to having my A/C up and running. I really appreciate his response to my home and working with my son due to me being out of town, but we spoke on the phone.

The technician arrived promptly, wore a mask, was very courteous and professional. I am generally very satisfied with service by United Air Temp. In addition to good service (they repair well), it is easy to speak to a person, and promptly. Thank you.

Great service! I called because I was under the impression the AC was not working upstairs. Someone came on the same day, checked out the system, and ensured everything was working. He was polite, thorough, and friendly.

Tech was very attentive and professional. He went out his way to explain everything to me as he was doing it. I appreciated him keeping me informed.
The service technician was awesome! He spent the extra time necessary to ensure the leak in our system was fixed, the system fully recharged and everything was functioning as it should. He was extremely thorough and very professional. We are extremely pleased with the result!