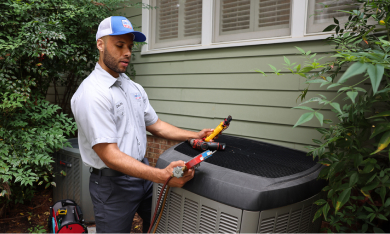 Plumbing Services in Washington, DC
United Air Temp offers a complete range of plumbing services to homeowners in the Washington, DC, area. We can help whether you need 24/7 emergency plumbing repair, drain and sewer services, or full-service plumbing replacement and repair!
To learn more about United Air Temp plumbing services in the DC area, call (877) 552-8919 or contact us online today.
24/7 Emergency Plumbing Repair in Washington, DC
The team at United Air Temp is available 24/7 for plumbing emergencies, such as:
Overflowing toilets
Leaking water heater tanks
Burst, cracked, or frozen pipes
Sewer clogs
No hot water
No water
Our service vehicles are well-stocked, so we have the tools and components to address any situation. We know how to deal with urgent issues to restore your peace of mind.
Do you have a plumbing emergency? Call UAT at (877) 552-8919 right away!
Signs You Need a Plumber
Sometimes it's not clear you need a plumber, but there are signs that you shouldn't ignore or try to resolve yourself, such as:
A sudden increase in water bills
Sounds of running water when you're using no fixtures
Insufficient hot water supply
Changes in water smell, color, pressure, or taste
Water damage on ceilings, floors, or walls
If you need a plumber, contact United Air Temp online or call (877) 552-8919 today.
Drain & Sewer Services in the Washington, DC Area
Drain and sewer problems can be seriously frustrating. Not only can flooding make a mess of things, but it's not always easy to find or clear pipe blockages.
At United Air Temp, we provide comprehensive drain and sewer services:
Video camera inspections help identify the location and nature of a blockage or break so we can restore your pipes.
Drain cleaning requires a professional hand to use a drain snake or auger. We'll clear your pipes, whether it's clogged with hair, grease, or anything else.
Hydro jetting uses a high-pressure water jet to clear clogs deep in your sewer line.
Sewer line repair and replacement can involve digging a trench in your yard to reach the line or a minimally invasive trenchless method. The method we use depends on the state of your pipes.
Sewage ejector pump replacement and repair ensure waste removal in homes where sewer lines or fixtures are lower than the external sewer line.
Schedule your drain and sewer service today! Call United Air Temp at (877) 552-8919 or contact us online.
Garbage Disposal Replacement & Repair in the DC Metro Area
Garbage disposals should last around 10 years, but in the meantime, they may need a few repairs. Signs that you need professional garbage disposal services include humming instead of grinding, leaks under the disposal, and a jammed disposal.
Keep your garbage disposal running well for as long as possible and prevent a clogged kitchen sink by avoiding sending the following substances down your drain:
Eggshells
Nuts
Potatoes
Coffee grounds
Oatmeal
Grease
Asparagus and other fibrous foods
Request Service
Get started by filling out a service request form or by giving us a call.
Full-Service Plumbing in the DC Area
UAT offers a full range of plumbing services. Our professionals have the knowledge and experience to efficiently resolve any plumbing situation. Count on our team for:
Let United Air Temp help with all your plumbing needs. Contact us online or call (877) 552-8919 today!
United Air Temp Is the Best Plumbing Choice in Washington, DC
At UAT, we see the homeowners we serve as lifelong customers and go the extra mile for them whenever we can. Our professional plumbers are committed to quality workmanship and customer service for every job, whether it's a simple faucet upgrade or an emergency gas line repair.
Customer satisfaction is guaranteed when you choose United Air Temp.
Call (877) 552-8919 or contact us online to request plumbing services now!

Why Choose Us
Discover the United Difference
Environmental Health & Safety
Environmental Health & Safety
Save on Your Service
Our Goal Is to Keep Your Home Comfortable
BOGO! $99 Buy This Year's Tune Up, Get Next Year's Free.
Expires 12/31/23
Plus, up to 2 lbs of refrigerant if needed. *Cannot be combined with any other offer. Call for details.
Save Up To $2,000

When You Buy a Complete HVAC System with A/C and Furnace!
Expires 12/31/23
*Cannot be combined with any other offer. Not applicable for a heat pump system.
What Our Clients Are Saying

The tech was at my home less than 10 minutes and gone within 20 minutes due to having my A/C up and running. I really appreciate his response to my home and working with my son due to me being out of town, but we spoke on the phone.

The technician arrived promptly, wore a mask, was very courteous and professional. I am generally very satisfied with service by United Air Temp. In addition to good service (they repair well), it is easy to speak to a person, and promptly. Thank you.

Great service! I called because I was under the impression the AC was not working upstairs. Someone came on the same day, checked out the system, and ensured everything was working. He was polite, thorough, and friendly.

Tech was very attentive and professional. He went out his way to explain everything to me as he was doing it. I appreciated him keeping me informed.
The service technician was awesome! He spent the extra time necessary to ensure the leak in our system was fixed, the system fully recharged and everything was functioning as it should. He was extremely thorough and very professional. We are extremely pleased with the result!