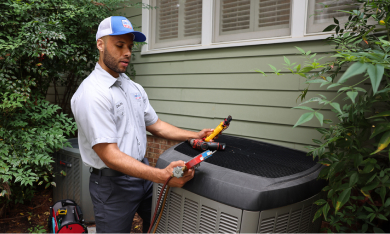 Plumbing Services in Woodbridge, VA
Plumbing problems aren't just a nuisance — they can be a serious health hazard to you and your family if left untreated. From sagging sewer lines and clogged drains to toilet troubles and water heater failure, United Air Temp provides the plumbing solutions you need.
Don't let plumbing issues take you by surprise. United Air Temp offers 24/7 emergency plumbing repair to keep all your systems running smoothly.
Contact us at (877) 552-8919 to request plumbing services in Woodbridge today!
24/7 Emergency Plumbing Repair in Woodbridge, VA
There's nothing worse than discovering a plumbing catastrophe. At United Air Temp, we understand that true plumbing emergencies can't always wait until standard business hours. That's why we offer 24/7 emergency plumbing repairs to all Woodbridge-area families.
No matter when your plumbing fails, our emergency plumbers will provide prompt repairs.
Call United Air Temp at (877) 552-8919 to request emergency plumbing service in Woodbridge!
Signs You Need a Plumber
Early detection is the key to quickly restoring your plumbing with minimal costs and damages. Be on the lookout for the following signs that you need a plumber:
Slow-moving drains
Low water pressure
Sewage backflow
Gurgling water in drains and pipes
No hot water
Burst, frozen, or cracked pipes
Water leaks on walls and ceilings
Request Service
Get started by filling out a service request form or by giving us a call.
Drain & Sewer Services in Woodbridge, VA
Our team is trained to service the hardest-to-reach areas of your plumbing system. We proudly offer the following comprehensive drain and sewer solutions:
Video camera inspections: We'll get to the root cause of your pipe's clog, break, or leak by inserting a small camera into your pipes for a good look.
Drain cleaning: We use chemical-free drain cleaning techniques to eliminate stubborn blockages without damaging your pipes.
Hydro jetting: We'll use highly pressurized water jets to blast through difficult blockages within your sewer line.
Sewer line repair and replacement: Our team is skilled in traditional and trenchless sewer line repair and replacement techniques.
Sewage ejector pump replacement and repair: Reduce the risk of sewage backflow with sewage ejector pump solutions.
Schedule drain and sewer services in Woodbridge by calling United Air Temp at (877) 552-8919 today!
Gas Line Replacement & Repair in Woodbridge, VA
Gas leaks are one of the most dangerous plumbing problems homeowners can face. You need gas line repair or replacement if you notice:
The smell of sulfur/rotten eggs
Hissing noises
Dead or dying plants
Persistent nausea, headaches, or fatigue
Higher-than-usual gas bills
If you need gas line services in Woodbridge, call us at (877) 552-8919 or request an appointment online today!
Full-Service Plumbing in Woodbridge, VA
Our team is proud to be your full-service plumbing solution. We have the training and tools necessary to resolve all your plumbing service requests for:
Contact us online or call (877) 552-8919 to request plumbing services in Woodbridge today!
Why Choose United Air Temp?
At United Air Temp, our team is committed to going the extra mile for each customer. We view every service call as an opportunity to build a lifelong relationship, acting as your go-to source for plumbing solutions in Woodbridge.
When you choose our team, you'll always have peace of mind thanks to:
24/7 emergency plumbing repair availability
Highly trained technicians who complete ongoing training
Upfront, honest pricing
Quality craftsmanship
Satisfaction guaranteed
Free estimates
If you need plumbing services in Woodbridge, VA, turn to United Air Temp. Call us at (877) 552-8919 to request an appointment today!

Why Choose Us
Discover the United Difference
Environmental Health & Safety
Environmental Health & Safety
Save on Your Service
Our Goal Is to Keep Your Home Comfortable
Save Up To $2,000

When You Buy a Complete HVAC System with A/C and Furnace!
Expires 10/31/23
*Cannot be combined with any other offer. Not applicable for a heat pump system.
FREE

Surge Protector with Electrical Panel Upgrade
Expires 10/31/23
What Our Clients Are Saying

The tech was at my home less than 10 minutes and gone within 20 minutes due to having my A/C up and running. I really appreciate his response to my home and working with my son due to me being out of town, but we spoke on the phone.

The technician arrived promptly, wore a mask, was very courteous and professional. I am generally very satisfied with service by United Air Temp. In addition to good service (they repair well), it is easy to speak to a person, and promptly. Thank you.

Great service! I called because I was under the impression the AC was not working upstairs. Someone came on the same day, checked out the system, and ensured everything was working. He was polite, thorough, and friendly.

Tech was very attentive and professional. He went out his way to explain everything to me as he was doing it. I appreciated him keeping me informed.
The service technician was awesome! He spent the extra time necessary to ensure the leak in our system was fixed, the system fully recharged and everything was functioning as it should. He was extremely thorough and very professional. We are extremely pleased with the result!