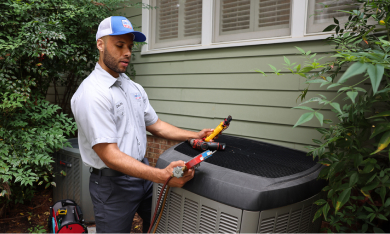 24/7 AC and Heating Services in Fredericksburg, VA
For over 90 years, the HVAC experts at United Air Temp have delivered superior service and quality to our clients throughout Virginia. When you want advice you can trust and quality you can count on, you can always depend on our certified, licensed, and fully insured professionals.
We provide a comprehensive range of heating and cooling services to clients in Fredericksburg and surrounding communities. Your comfort is our top priority, and we guarantee your satisfaction with our services!
Contact the HVAC experts at United Air Temp for fast and reliable heating and cooling in Fredericksburg, VA.
24/7 Air Conditioning Services
Your air conditioner is vital for keeping the heat and humidity at bay throughout the summer. When the temperatures rise, you can count on United Air Temp to keep you cool and comfortable. Our cooling system services include:
Contact United Air Temp to schedule fast and effective cooling services in Fredericksburg today.
Emergency Heating Services 
Your heating system is essential for your safety and comfort during the coldest months. At United Air Temp, our certified HVAC specialists possess up-to-date knowledge of modern heating systems and technologies.
We can quickly evaluate your heating system and perform any necessary repairs. We're also happy to provide recommendations regarding maintenance and replacement options. 
Our heating services in Fredericksburg include:
You can always depend on the professionals at United Air Temp to keep your home and family safe and warm throughout the winter. 
Contact us any time to schedule a service appointment.
Indoor Air Quality Solutions
Indoor air quality is often worse than the air outdoors. At United Air Temp, we work hard to eliminate allergens, mold, dust, and pet dander from the air you breathe. Whether we're installing humidifiers or UV lights, we have indoor air quality solutions that will improve your health, boost your energy, and help you breathe easier all year. 
Emergency HVAC Services in Fredericksburg
Whether you have a burst water supply pipe, malfunctioning air conditioner, or leaking toilet, we're available 24/7 to provide the emergency HVAC services you need.
Time is critical when HVAC systems falter and fail. Contact United Air Temp, and we'll send a certified technician to your home immediately.
Choose United Air Temp for HVAC Services in Fredericksburg
Our highly trained HVAC specialists guarantee we'll always provide superior work quality and exceptional customer service. You can count on our team to be on time, work quickly, perform the necessary work, and leave your home in pristine condition when we're done.
We're always happy to answer your questions and provide you with honest, upfront, and reliable advice you can trust.
For heating and cooling services in Fredericksburg, contact the certified, licensed, and fully insured experts at United Air Temp to schedule an appointment.

Why Choose Us
Discover the United Difference
Environmental Health & Safety
Environmental Health & Safety
Save on Your Service
Our Goal Is to Keep Your Home Comfortable
Save Up To $2,000

When You Buy a Complete HVAC System with A/C and Furnace!
Expires 09/30/23
*Cannot be combined with any other offer. Not applicable for a heat pump system.
FREE

Surge Protector with Electrical Panel Upgrade
Expires 09/30/23
What Our Clients Are Saying

The tech was at my home less than 10 minutes and gone within 20 minutes due to having my A/C up and running. I really appreciate his response to my home and working with my son due to me being out of town, but we spoke on the phone.

The technician arrived promptly, wore a mask, was very courteous and professional. I am generally very satisfied with service by United Air Temp. In addition to good service (they repair well), it is easy to speak to a person, and promptly. Thank you.

Great service! I called because I was under the impression the AC was not working upstairs. Someone came on the same day, checked out the system, and ensured everything was working. He was polite, thorough, and friendly.

Tech was very attentive and professional. He went out his way to explain everything to me as he was doing it. I appreciated him keeping me informed.
The service technician was awesome! He spent the extra time necessary to ensure the leak in our system was fixed, the system fully recharged and everything was functioning as it should. He was extremely thorough and very professional. We are extremely pleased with the result!