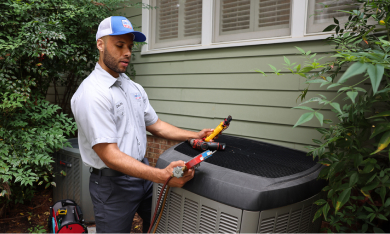 Plumbing Services in Ashburn, VA
Plumbing issues can affect any home, whether it's a few years old or was built several decades ago. When you need a skilled plumber in Ashburn, VA, or surrounding areas in Loudoun County, turn to our experts at United Air Temp.
We feature reliable, trustworthy plumbers who receive ongoing training to ensure they can resolve your plumbing issue the first time.
UAT has delivered complete customer satisfaction since 1931. With convenient, precise appointment windows and 24/7 emergency plumbing repairs, we are here when you need us. We offer great service with upfront pricing and guaranteed satisfaction.
Call us at [site_info_phone_number] or contact us online to schedule plumbing services in Ashburn today. 
When to Call a 24/7 Plumber
Left alone, plumbing problems like a burst pipe, backed-up drain, or leaking water heater can cause extensive damage to your home. To keep your repairs to a minimum, call our team at United Air Temp when you notice any of the following signs that you need help from a plumbing professional:
Standing water
Wet carpeting, floors, or drywall
Low water pressure
No water
Slow or blocked drains
The smell of sewage
The sound of flowing or dripping water
Request Service
Get started by filling out a service request form or by giving us a call.
24/7 Emergency Plumbing in Ashburn
No matter when your plumbing problem occurs, you can count on fast help from our team at United Air Temp. We are available 24 hours a day for emergency service, and we offer a wide range of emergency plumbing repairs, including:
Drain cleaning and clog removal
Frozen or burst pipe replacement
Water heater repair or replacement
Request an emergency plumber in Ashburn today by calling (877) 552-8919 or contacting us online.
Full-Service Plumbing in Loudoun County
Choose our team at United Air Temp for plumbing installations and repairs anywhere in the Loudoun County area. Our services include:
Contact us online or call (877) 552-8919 today for your free plumbing service estimate.
Ashburn-Area Water Heater Services
If you need a new water heater or are having problems with your current one, talk to our team at United Air Temp. We service both storage tank water heaters and tankless water heaters.
Our water heater services include:
Water heater repair
Water heater installation and replacement
Water heater maintenance
Tankless water heaters are a great alternative to standard water heaters for many Ashburn homes. They offer a nearly unlimited hot water supply while requiring less space, energy, and money to operate.
To request same-day service and a free quote for water heater services in Ashburn, call (877) 552-8919 or contact us online now.
Garbage Disposal Replacement & Repair in Ashburn
When you have a garbage disposal that's completely jammed, won't turn on, or just makes buzzing noises, it may be time to call a professional.
At United Air Temp, we offer expert garbage disposal replacement and repair, so you don't have to take any risks by doing it yourself.
To prevent clogged sinks and damage to your garbage disposal, avoid grinding up any of the following materials:
Eggshells and shell membranes
Pasta, rice, and cereals
Grease
Nuts
Potato peels
Coffee grounds
Fibrous materials like banana skins, celery, or melons
Request Service
Get started by filling out a service request form or by giving us a call.
Call Today for Top-Quality Plumbing Services in Ashburn
With over 90 years in business, our team at United Air Temp has the skill and experience to help with all your plumbing needs. Plus, we provide complete heating, cooling, and electrical services to keep your home comfortable and safe.
Our company is dedicated to the needs of our customers in Ashburn and surrounding areas, so we feature:
Highly trained, experienced technicians
Quality craftsmanship
Upfront pricing
A 100% satisfaction guarantee
24/7 emergency plumbing repairs
Call us today at (877) 552-8919 or contact us online to schedule plumbing services in Ashburn, VA.

Why Choose Us
Discover the United Difference
Environmental Health & Safety
Environmental Health & Safety
Save on Your Service
Our Goal Is to Keep Your Home Comfortable
Save Up To $2,000

When You Buy a Complete HVAC System with A/C and Furnace!
Expires 09/30/23
*Cannot be combined with any other offer. Not applicable for a heat pump system.
FREE

Surge Protector with Electrical Panel Upgrade
Expires 09/30/23
What Our Clients Are Saying

The tech was at my home less than 10 minutes and gone within 20 minutes due to having my A/C up and running. I really appreciate his response to my home and working with my son due to me being out of town, but we spoke on the phone.

The technician arrived promptly, wore a mask, was very courteous and professional. I am generally very satisfied with service by United Air Temp. In addition to good service (they repair well), it is easy to speak to a person, and promptly. Thank you.

Great service! I called because I was under the impression the AC was not working upstairs. Someone came on the same day, checked out the system, and ensured everything was working. He was polite, thorough, and friendly.

Tech was very attentive and professional. He went out his way to explain everything to me as he was doing it. I appreciated him keeping me informed.
The service technician was awesome! He spent the extra time necessary to ensure the leak in our system was fixed, the system fully recharged and everything was functioning as it should. He was extremely thorough and very professional. We are extremely pleased with the result!