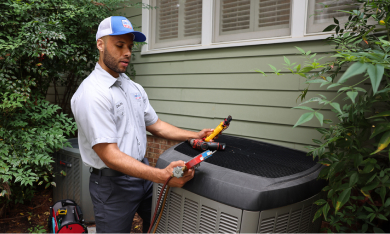 Expert HVAC Services in Chantilly, VA
Your HVAC  systems are the keys to modern comfort. At United Air Temp, our certified, licensed, and insured HVAC technicians and plumbers will keep your systems running smoothly. We provide a comprehensive range of HVAC services in Chantilly, including: 
Heating system installation, maintenance, repair, and replacement
Air conditioning system installation, maintenance, repair, and replacement
Indoor air quality testing, system installation, repair, and maintenance
We work hard to ensure your home comfort systems work correctly and effectively provide the comfort you deserve. Our certified experts maintain an up-to-date proficiency in the latest technologies and techniques.
Contact United Air Temp for fast and reliable HVAC services in Chantilly.
We Proudly Serve NOVA, DC & BALT Areas
Get started by filling out a service request form.
Air Conditioning Services
Chantilly heats up quickly in the summers and stays hot and humid until fall arrives. Our air conditioning services will help you stay cool and comfortable and include:
Air conditioning repair: Our experts can quickly diagnose and effectively repair any problem with your air conditioning system.
Air conditioning maintenance: Our preventative maintenance services will ensure optimal performance and prolong your system's operational life span.
Air conditioning installation: Our HVAC experts will help you select and install the ideal air conditioning system for your Chantilly home and budget.
Schedule air conditioning services in Chantilly today.
Heating Services
Virginia winters are cold, and your heating system is vital for your comfort and safety. Our heating services in Chantilly include:
Heating installation: We'll help you choose the ideal energy-efficient furnace or heat pump to keep your home warm for many winters to come.
Heating repair: We provide timely and reliable repair services for malfunctioning heating systems.
Heating maintenance: We'll keep your furnace operating within the proper parameters and help you enjoy safe, efficient operation throughout the coldest months.
Indoor Air Quality Services
Our professionals know all the ins and outs of humidifiers, air filtration systems, and other systems designed to improve and enhance the quality of the air you breathe. Our indoor air quality services will help you protect your family's health and well-being.
We're happy to perform an indoor air quality assessment and provide suggestions for solutions that will help you improve your indoor air quality.
Contact United Air Temp in Chantilly when you're ready to breathe easier.
Choose United Air Temp for HVAC in Chantilly
Since 1931, the professionals at United Air Temp have provided homeowners in the region with superior quality HVAC services. Our decades of experience and commitment to excellence ensure you'll always receive excellent service and dependable work.
Our NATE-certified HVAC technicians and licensed plumbers are always ready to help with all your home comfort needs.
Contact the team at United Air Temp for comprehensive HVAC in Chantilly, VA.

Why Choose Us
Discover the United Difference
Environmental Health & Safety
Environmental Health & Safety
Save on Your Service
Our Goal Is to Keep Your Home Comfortable
FREE

Surge Protector with Electrical Panel Upgrade
Expires 05/31/23
FREE

second opinion – HVAC or Plumbing replacement
Expires 05/31/23
What Our Clients Are Saying

The tech was at my home less than 10 minutes and gone within 20 minutes due to having my A/C up and running. I really appreciate his response to my home and working with my son due to me being out of town, but we spoke on the phone.

The technician arrived promptly, wore a mask, was very courteous and professional. I am generally very satisfied with service by United Air Temp. In addition to good service (they repair well), it is easy to speak to a person, and promptly. Thank you.

Great service! I called because I was under the impression the AC was not working upstairs. Someone came on the same day, checked out the system, and ensured everything was working. He was polite, thorough, and friendly.

Tech was very attentive and professional. He went out his way to explain everything to me as he was doing it. I appreciated him keeping me informed.
The service technician was awesome! He spent the extra time necessary to ensure the leak in our system was fixed, the system fully recharged and everything was functioning as it should. He was extremely thorough and very professional. We are extremely pleased with the result!