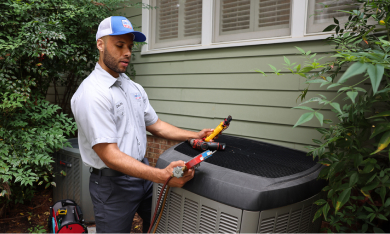 Air Conditioning and Heating Services in Burke, VA
Burke's winter climate is frigid and snowy, so no local can afford to outlast the season without a functioning heating system. Summer humidity is just as unforgiving. Your air conditioning unit is your best friend when temperatures skyrocket.
United Air Temp is an award-winning HVAC company. You can trust us to deliver the highest degree of service.
24/7 Air Conditioning Services
Burke summers are unbearable without an effective air conditioner. When humidity rises, heat becomes even harder to endure, so rely on United Air Temp to keep your system functioning beautifully. We offer:
Air conditioning maintenance: Regular tune-ups can prevent breakdowns. If your AC is blowing warm air, not responding to your thermostat, or increasing your humidity levels, it might be time for routine maintenance.
Air conditioning replacement: Air conditioners last between 15 and 20 years. If your unit breaks down frequently, it might have reached the end of its life span. Our installation team will guide your choices and give your new unit its best chance at long, reliable service life.
Air conditioning repair: If your air conditioner has started showing signs of a breakdown, United Air Temp's talented team is on hand 24/7.
Contact our team for top-notch AC services in Burke.
Heating Services 
Your heating unit is at the core of your winter comfort. When breakdowns happen, they can affect your quality of life and utility bills. United Air Temp has what it takes to assure you of a comfy winter. We handle:
Heating repair: Our repair crew is adept at fixing all HVAC alternatives, from heat pumps and furnaces to boilers and dual fuel systems.
Heating maintenance: Most heating units require an annual service, but heat pumps should receive a tune-up twice a year. We'll clean your registers, replace your filters, inspect your components, and more.
Heating installation: An exceptional replacement will affect the efficacy of your unit for its full life span.
Are HVAC woes getting you down? Contact us online to schedule service.
Indoor Air Quality Services
No homeowner can afford to take their indoor air quality for granted. Pollution can include toxins, allergens, mold, and more. These contaminants directly affect your long-term health, so let's make sure your environment is free of pollutants.
Our air quality services include:
Dehumidifiers and humidifiers
Thermostats
Ductwork repair and installation
Air scrubbers and purifiers
Attic fans
R-22 conversions
UV purifiers
Why Choose Us?
United Air Temp has won awards for its ethics and contracting work. You'll always receive honest, upfront pricing and exceptional quality when you choose us. We offer all our clients the highest standards of integrity and competence. We have almost a century of experience under our belt, so our competency is hard to beat.
Don't wait! Contact United Air Temp for plumbing, heating, and AC services in Burke, VA.

Why Choose Us
Discover the United Difference
Environmental Health & Safety
Environmental Health & Safety
Save on Your Service
Our Goal Is to Keep Your Home Comfortable
Save Up To $2,000

When You Buy a Complete HVAC System with A/C and Furnace!
Expires 10/31/23
*Cannot be combined with any other offer. Not applicable for a heat pump system.
FREE

Surge Protector with Electrical Panel Upgrade
Expires 10/31/23
What Our Clients Are Saying

The tech was at my home less than 10 minutes and gone within 20 minutes due to having my A/C up and running. I really appreciate his response to my home and working with my son due to me being out of town, but we spoke on the phone.

The technician arrived promptly, wore a mask, was very courteous and professional. I am generally very satisfied with service by United Air Temp. In addition to good service (they repair well), it is easy to speak to a person, and promptly. Thank you.

Great service! I called because I was under the impression the AC was not working upstairs. Someone came on the same day, checked out the system, and ensured everything was working. He was polite, thorough, and friendly.

Tech was very attentive and professional. He went out his way to explain everything to me as he was doing it. I appreciated him keeping me informed.
The service technician was awesome! He spent the extra time necessary to ensure the leak in our system was fixed, the system fully recharged and everything was functioning as it should. He was extremely thorough and very professional. We are extremely pleased with the result!