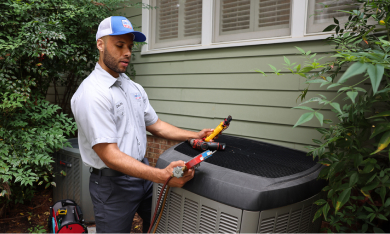 Plumbing Services in Laurel, MD
With over 90 years in business, it's no wonder United Air Temp is Laurel's premier provider of residential plumbing services.
Our highly trained plumbers can address any plumbing issue you have, starting with a free estimate. We always provide upfront pricing and on-time scheduling, so we'll arrive within a two-hour window for repairs to deliver the quality craftsmanship you need for your home.
Trust the team at United Air Temp for all your plumbing needs in Laurel, MD. Call (877) 552-8919 or contact us online today.
Signs You Need a Plumber
Your plumbing system is complex, and its infrastructure is largely hidden within your walls, under your floors, and beneath your foundation. It's easy for a DIY plumbing repair to go south quickly, even for seemingly simple fixtures like garbage disposals and toilets.
Contact the plumbers at United Air Temp if you notice:
Frozen, burst, or leaking pipes
Clogged drains
Sewage backup in multiple fixtures
Frequently clogged or overflowing toilets
Discolored water
Limited or no hot water
Low water pressure
An increase in water bills without explanation
If you experience any of the above, don't hesitate to call United Air Temp at (877) 552-8919 or contact us online to schedule service and request a free estimate.
24/7 Emergency Plumbing in Laurel & Surrounding Areas
When plumbing emergencies like a burst pipe happen, you can't wait until business hours to get it fixed. That's why United Air Temp is here for all your emergency plumbing service needs 24/7.
When the worst happens, call the best at (877) 552-8919.
Full-Service Plumbing in the Laurel Area
United Air Temp's licensed and trained plumbers are prepared to provide lasting solutions to a variety of plumbing problems, including:
When you're faced with a plumbing malfunction or failure, trust the experts at United Air Temp. Call (877) 552-8919 or contact us online to schedule service in Laurel.
Hydro Jetting for Laurel Homes
Your entire plumbing system is affected when your sewer line is backed up. United Air Temp can identify the location and cause of any clog with our cutting-edge video camera inspections.
We'll use hydro jetting, a type of drain cleaning that uses a high-pressure hose to blast water into your pipe from multiple angles, safely removing any clogs and other buildup.
Signs you need hydro jetting include:
Frequent drain clogs
Noisy drain pipes
Foul-smelling drains
For all your sewer and drain service needs, call United Air Temp at (877) 552-8919 or contact us online today.
Toilet Replacement & Repair in Laurel, MD
When you're faced with a problematic toilet, opt to schedule professional toilet repair or replacement services, as many DIY approaches can actually cause more damage.
Consider calling an expert for plumbing services if:
Your toilet frequently clogs.
Your toilet is cracked.
Your toilet leaks.
Your toilet needs frequent repairs.
Your toilet wobbles when you sit.
We Proudly Serve NOVA, DC & BALT Areas
Get started by filling out a service request form.
Choose United Air Temp for Plumbing Services in Laurel
Our team is dedicated to providing long-lasting plumbing solutions and providing exceptional customer experience, start to finish.
When you choose United Air Temp, you can count on:
Quality craftsmanship
Upfront pricing
Satisfaction guaranteed
On-time scheduling
Transparent communication
24/7 emergency plumbing repair
For plumbing services you can trust, call United Air Temp at (877) 552-8919 or contact us online to get started with a free estimate!

Why Choose Us
Discover the United Difference
Environmental Health & Safety
Environmental Health & Safety
Save on Your Service
Our Goal Is to Keep Your Home Comfortable
FREE

second opinion – HVAC or Plumbing replacement
Expires 03/31/23
$25 OFF

for referrer and friend
Expires 03/31/23
$50

diagnostic for first- time plumbing customer
Expires 03/31/23
What Our Clients Are Saying

The tech was at my home less than 10 minutes and gone within 20 minutes due to having my A/C up and running. I really appreciate his response to my home and working with my son due to me being out of town, but we spoke on the phone.

The technician arrived promptly, wore a mask, was very courteous and professional. I am generally very satisfied with service by United Air Temp. In addition to good service (they repair well), it is easy to speak to a person, and promptly. Thank you.

Great service! I called because I was under the impression the AC was not working upstairs. Someone came on the same day, checked out the system, and ensured everything was working. He was polite, thorough, and friendly.

Tech was very attentive and professional. He went out his way to explain everything to me as he was doing it. I appreciated him keeping me informed.
The service technician was awesome! He spent the extra time necessary to ensure the leak in our system was fixed, the system fully recharged and everything was functioning as it should. He was extremely thorough and very professional. We are extremely pleased with the result!