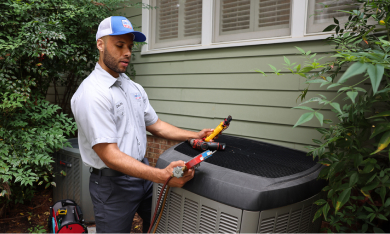 Plumbing Services in Odenton, MD
Keeping your home hygienic means keeping your plumbing working reliably. When you need professional plumbing services in the Odenton area, turn to the United Air Temp team for courteous customer service and on-time appointments.
We're available 24/7 for emergency repairs, and of course, we're also glad to help with plumbing replacements and non-emergency repairs.
Schedule plumbing services in the Odenton area by contacting us online or calling (877) 552-8919 now. 
24/7 Emergency Plumbing Repair in the Odenton Area
Not every plumbing situation can wait a few days until a plumber is available. When you're at risk of damage to your property or have no water or sewer access, our team is standing by to provide 24/7 emergency plumbing repair.
Call us for rapid assistance when quick solutions matter — our know-how helps us rapidly identify and repair your plumbing issue.
Call us at (877) 552-8919 to request emergency plumbing services in Odenton.
Signs You Need a Plumber
Have you noticed any irregularities with your plumbing? It's rarely a good idea to ignore an issue or try to DIY a solution.
Instead, reach out to the team at United Air Temp when you notice signs of trouble, such as:
Water where it shouldn't be from water heater leaks or burst pipes
Water that's changed in smell, taste, or color
Slow drains, smelly drains, or clogs in multiple fixtures
The smell of sulfur/natural gas
The sound of running water when no fixtures are in use
We Proudly Serve NOVA, DC & BALT Areas
Get started by filling out a service request form.
Hydro Jetting for Odenton Homes
When your sewer is clogged or sluggish, standard drain cleaning solutions like augers and snakes can prove inadequate for the job. With advanced hydro jetting from United Air Temp, high-pressure water breaks up clogs and scours your sewers clean.
We also provide other drain and sewer services, such as sewage ejector pump replacement and repair, sewer line repair and replacement, and more.
Not sure you need our help? Keep your eyes open for common signs of drain or sewer issues, such as:
Slow drains that leave you with standing water in showers and sinks
Sewage backup into one drain when another is in use
Foul sewage smells that permeate your drains
Once we arrive, we'll be able to determine the best treatment for your problems via video camera inspection of the inside of your drains and sewer.
Contact us online or call (877) 552-8919 now to request hydro jetting services for your Odenton home.
Water Treatment & Purification in Odenton
Are you concerned about your water quality? Consider whole-home water treatment installation from United Air Temp to enjoy cleaner water. We offer:
Whole-home water filtration: You don't have to avoid tap water and won't have to fuss with point-of-use filtration systems.
Water softeners: If your clothes and hair feel grimy after washing, your dishes are always spotty, or your fixtures are white and crusty, you likely have hard water that needs treatment.
Contact us online or call (877) 552-8919 now to request water treatment services in the Odenton area.
Full-Service Plumbing in Odenton
At United Air Temp, our plumbers have the skills and experience to assist with any and all plumbing services. We're ready to assist with:
Contact us online or call (877) 552-8919 now to request comprehensive plumbing services for your Odenton home.
Schedule Plumbing Services With United Air Temp Today
At United Air Temp, we treat every customer the way we would want to be treated. From beginning to end, you can expect our team members to embody:
Service
Excellence
Training
Character
When you need us, call: We provide 24/7 emergency plumbing repair and always deliver exceptional professionalism and quality of work, no matter how big or small the project may be.
When you need plumbing services in Odenton, don't wait. Call (877) 552-8919 or contact us online to request service.

Why Choose Us
Discover the United Difference
Environmental Health & Safety
Environmental Health & Safety
Save on Your Service
Our Goal Is to Keep Your Home Comfortable
FREE

second opinion – HVAC or Plumbing replacement
Expires 03/31/23
$25 OFF

for referrer and friend
Expires 03/31/23
$50

diagnostic for first- time plumbing customer
Expires 03/31/23
What Our Clients Are Saying

The tech was at my home less than 10 minutes and gone within 20 minutes due to having my A/C up and running. I really appreciate his response to my home and working with my son due to me being out of town, but we spoke on the phone.

The technician arrived promptly, wore a mask, was very courteous and professional. I am generally very satisfied with service by United Air Temp. In addition to good service (they repair well), it is easy to speak to a person, and promptly. Thank you.

Great service! I called because I was under the impression the AC was not working upstairs. Someone came on the same day, checked out the system, and ensured everything was working. He was polite, thorough, and friendly.

Tech was very attentive and professional. He went out his way to explain everything to me as he was doing it. I appreciated him keeping me informed.
The service technician was awesome! He spent the extra time necessary to ensure the leak in our system was fixed, the system fully recharged and everything was functioning as it should. He was extremely thorough and very professional. We are extremely pleased with the result!