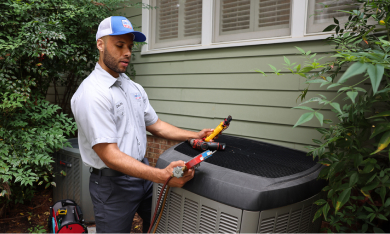 Plumbing Services in Fredericksburg, VA
Plumbing trouble can quickly turn a normal day into complete chaos, leaving you unable to use your fixtures — or even putting your Fredericksburg home at risk of serious water damage. When your home needs plumbing services, it's important to quickly reach out to a professional you can trust, like the team at United Air Temp.
With our plumbers on the job, you can rest easy knowing that we'll handle all necessary repairs, tune-ups, installations, and replacements with the utmost skill and professionalism.
Contact United Air Temp online or call (877) 552-8919 now to request plumbing service in Fredericksburg, VA, or a neighboring area.
Signs You Need a Plumber
Not sure if you need a plumber? The sooner you get a professional in when you need one, the less likely you will face serious disruptions or damage. Contact United Air Temp if you notice:
Water anywhere it shouldn't be
Changes in your water's pressure, color, smell, taste, or temperature
Drains that are getting slower or backing up into other drains
The sound of water running when you're not using any fixtures
Frozen pipes
Have you noticed these signs or other problems with your plumbing? Contact United Air Temp online or call (877) 552-8919 now to schedule prompt service in Fredericksburg.
24/7 Emergency Plumbing for Fredericksburg Homes
Not every plumbing situation can wait until tomorrow, so it's important to know when you need emergency plumbing and who you can call. A plumbing emergency is any plumbing problem that, if left alone, would result in substantial risk to people or property, including:
Leaks that cause water damage
Flooding that risks electrical shock and damaged possessions
Backflow contamination to your water supply
Exposure to fumes from your sewer or gas line leaks
And more
A broken gas line warrants a call to your utility provider first for safety — make UAT the second call, and we'll take care of the repairs afterward.
To request emergency plumbing in Fredericksburg, call (877) 552-8919 now.
Full-Service Plumbing in Fredericksburg & Surrounding Areas
When you need plumbing repairs, installations, upgrades, or maintenance in the Fredericksburg area, ensure you're working with the plumbing experts of United Air Temp. We approach every project with care and precision, delivering excellent results you can count on.
Choose our team for:
We Proudly Serve NOVA, DC & BALT Areas
Get started by filling out a service request form.
Sewer Line Replacement & Repair in Spotsylvania County
Leave your sewer line trouble to the team at United Air Temp if you've noticed:
Clogged drains in multiple fixtures
Sewage backflow
Gurgling noises from your toilet
A soggy yard
More often than not, sewer line issues warrant emergency service. We'll assess the situation and deliver replacement or repair via the least disruptive means possible. We offer both types of sewer line services:
Traditional sewer line repair and replacement requires digging a trench around either side of the pipe
Trenchless sewer line repair and replacement means inserting a lining or new pipe inside your existing line
Remember, sewer line service is just as important as repairing a burst water pipe — even if it isn't directly driving up your bills, leaking into your home (yet), or affecting your water supply.
Call (877) 552-8919 or contact United Air Temp online to request sewer line service in Fredericksburg today!
Toilet Replacement & Repair in Fredericksburg
When it's time for toilet repair or replacement, leave it to the plumbing experts at United Air Temp.
The sooner you resolve problems with a damaged toilet, the less likely you will end up with more substantial problems like excessive water bills or water damage. Look out for:
A toilet that constantly runs
A toilet that consistently requires multiple flushes
Sewer smells from or around your toilet
Visible cracks or other damage to the toilet bowl, tank, or base
Remember, it might be tempting to DIY toilet repair or even replacement, but minor errors can affect your home's value and damage your fixtures, costing you more money in the long run.
Need toilet services in Fredericksburg? Call (877) 552-8919 or contact United Air Temp now to request repair or replacement.
Choose United Air Temp for Plumbing Services in Fredericksburg, VA
When you need a plumber, ensure you're getting service you can trust to resolve the issue fully and correctly the first time you call — no one likes needing to call the plumber out three or four times for the same problem.
Our well-trained technicians, commitment to service, and satisfaction guarantees mean you can expect only the best when you work with United Air Temp.
To schedule plumbing services in Fredericksburg, call (877) 552-8919 or contact United Air Temp online today!

Why Choose Us
Discover the United Difference
Environmental Health & Safety
Environmental Health & Safety
Save on Your Service
Our Goal Is to Keep Your Home Comfortable
FREE

Surge Protector with Electrical Panel Upgrade
Expires 05/31/23
FREE

second opinion – HVAC or Plumbing replacement
Expires 05/31/23
What Our Clients Are Saying

The tech was at my home less than 10 minutes and gone within 20 minutes due to having my A/C up and running. I really appreciate his response to my home and working with my son due to me being out of town, but we spoke on the phone.

The technician arrived promptly, wore a mask, was very courteous and professional. I am generally very satisfied with service by United Air Temp. In addition to good service (they repair well), it is easy to speak to a person, and promptly. Thank you.

Great service! I called because I was under the impression the AC was not working upstairs. Someone came on the same day, checked out the system, and ensured everything was working. He was polite, thorough, and friendly.

Tech was very attentive and professional. He went out his way to explain everything to me as he was doing it. I appreciated him keeping me informed.
The service technician was awesome! He spent the extra time necessary to ensure the leak in our system was fixed, the system fully recharged and everything was functioning as it should. He was extremely thorough and very professional. We are extremely pleased with the result!