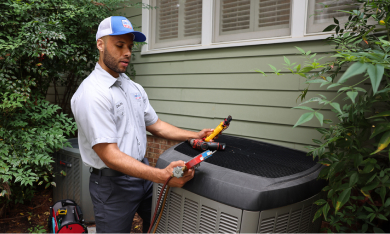 Plumbing Services in Randallstown, MD
Every homeowner relies on their plumbing throughout the day. When you experience a clogged drain or a burst pipe, you'll want fast, reliable service from a reputable plumber. For comprehensive plumbing services in Randallstown, look no further than United Air Temp!
Since 1931, we've provided residents of Randallstown and surrounding areas with complete plumbing repair, installation, maintenance, and more! Over the years, our team has seen and fixed it all, so you can rely on us to resolve even the most challenging plumbing issues.
When you choose United Air Temp, your satisfaction is 100% guaranteed! Contact us online or call (877) 552-8919 to schedule plumbing services.
24/7 Emergency Plumbing Services
Plumbing emergencies never arise when it's convenient. United Air Temp is available day and night to handle your urgent plumbing requests. Call our team immediately if:
You have no water pressure at all
You have a clogged drain that's flooding
You have a burst pipe that won't stop flowing
Call (877) 552-8919 now to request emergency plumbing services.
Signs You Need a Plumber
Over time, daily wear and tear can cause problems with your pipes, drains, water heater, and other components of your plumbing system. Call our Randallstown plumbers right away if you are experiencing the following problems:
Your drains don't drain quickly anymore
You notice wood rot or a musty odor near one of your pipes
Your water heater doesn't warm your water anymore
Your water bill seems much higher than usual
We Proudly Serve NOVA, DC & BALT Areas
Get started by filling out a service request form.
Comprehensive Plumbing Services
No matter the type of plumbing service you need, you can count on our crew that can handle it all. Our plumbing services include:
Ready to book an appointment? Contact us online or call (877) 552-8919 to request plumbing repair, maintenance, and more!
Hydro Jetting for Randallstown Homes
When serious clogs develop, hydro jetting offers an effective solution. Our plumbing team has years of experience clearing drains of stubborn clogs. When we arrive, we'll perform a video camera inspection to locate the clog and determine its severity. Then, we'll perform hydro jetting to eliminate the clog carefully and effectively. If needed, we can also perform sewage ejector pump replacement or repair to help avoid clogs in the future.
You may need hydro jetting services if:
Your drains seem to be consistently clogged
Your drains are old and deteriorating
You regularly deal with small clogs
Ready to schedule? Request service online or call (877) 552-8919 to speak with a United Air Temp representative.
Leak Detection & Repair in the Randallstown Area
Leaking water can cause serious problems, such as wood rot, mold, insect infestations, and more. United Air Temp has the experience and tools to quickly locate and repair leaks. Signs of a leak include:
A musty odor underneath your sink
An increase in insects in your home near a water fixture
You hear a consistent drip in your walls
Water stains are appearing on your ceilings
Resolve leaks once and for all by calling (877) 552-8919 or contacting us online.
Why Choose Us?
For over 90 years, United Air Temp has delivered exceptional plumbing services in Randallstown and the surrounding DC metro area. You can rely on our team for all your plumbing needs, from water heater replacement and burst pipe repair to hydro jetting and more! Our loyal customers choose us for our: 
Highly trained, courteous plumbers
Satisfaction guaranteed
Upfront pricing
24/7 emergency services
90+ years of industry knowledge
On-time scheduling
And more!
Don't delay — contact United Air Temp online or call (877) 552-8919 to schedule plumbing services in Randallstown, MD.

Why Choose Us
Discover the United Difference
Environmental Health & Safety
Environmental Health & Safety
Save on Your Service
Our Goal Is to Keep Your Home Comfortable
FREE

second opinion – HVAC or Plumbing replacement
Expires 03/31/23
$25 OFF

for referrer and friend
Expires 03/31/23
$50

diagnostic for first- time plumbing customer
Expires 03/31/23
What Our Clients Are Saying

The tech was at my home less than 10 minutes and gone within 20 minutes due to having my A/C up and running. I really appreciate his response to my home and working with my son due to me being out of town, but we spoke on the phone.

The technician arrived promptly, wore a mask, was very courteous and professional. I am generally very satisfied with service by United Air Temp. In addition to good service (they repair well), it is easy to speak to a person, and promptly. Thank you.

Great service! I called because I was under the impression the AC was not working upstairs. Someone came on the same day, checked out the system, and ensured everything was working. He was polite, thorough, and friendly.

Tech was very attentive and professional. He went out his way to explain everything to me as he was doing it. I appreciated him keeping me informed.
The service technician was awesome! He spent the extra time necessary to ensure the leak in our system was fixed, the system fully recharged and everything was functioning as it should. He was extremely thorough and very professional. We are extremely pleased with the result!