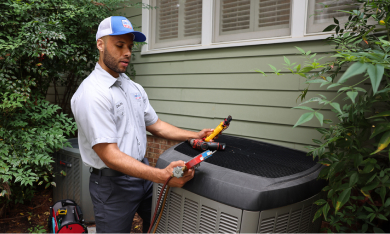 Plumbing Services in Rockville, MD
As important as your plumbing system is to your everyday life, it's essential to find a qualified team to keep it running smoothly and repair any problems that may arise. With more than 90 years of providing superior home services, United Air Temp is experienced and equipped to handle all your plumbing needs in Rockville and beyond.
Our company features an industry-leading customer service experience, and we work diligently to ensure you're completely satisfied once the job is complete. Our skilled, professional plumbers complete ongoing training, provide upfront pricing, and arrive during convenient two-hour repair service windows so that you are never stuck waiting too long.
When you need expert help with your plumbing issues, count on our team at United Air Temp. Call (877) 552-8919 or contact us online to schedule an appointment in Rockville or the surrounding areas today.
24/7 Emergency Plumbing Repair in Rockville
Not all plumbing problems can wait until the next business day. When your family is in jeopardy, or your home may be damaged, call our team at United Air Temp right away.
We offer 24/7 plumbing services throughout the Rockville area, and we can help with any plumbing emergency, including:
Frozen or burst water pipes
Water heater failures, leaks, or breakdowns
Sewage backups
Overflowing toilets
Low water pressure
Do you have a major plumbing problem in Rockville? Call (877) 552-8919 or contact us online for help from an emergency plumber in the Rockville area today.
Drain & Sewer Services in the Rockville Area
Drains and sewer pipes rely on gravity to carry wastewater and sewage away from your home, making them particularly vulnerable to clogging and backups. For expert help with drain and sewer problems in the Rockville area, call United Air Temp. We offer:
Video camera inspections: Our team can insert a cable-mounted camera to determine where and w your pipes are clogging.
Drain cleaning: We can remove even the toughest drain clogs using pipe snakes and drain augers.
Hydro jetting: When your main sewer line is clogged, we'll use powerful water jets to cut through mineral deposits, tree roots, and more.
Sewer line repair and replacement: Our team can dig up and replace damaged sewer pipes. We also provide trenchless sewer service whenever possible to minimize disruption to your yard.
Sewage ejector pump repair and replacement: When your sewage ejector pump clogs or stops working, count on our team for expert repair or replacement.
We Proudly Serve NOVA, DC & BALT Areas
Get started by filling out a service request form.
Sump Pump Replacement & Repair in Montgomery County
If your home has a basement or crawl space prone to flooding or groundwater intrusion, you should have a sump pump in place to prevent moisture problems and structural damage.
You should also test your pump periodically by filling the sump pit with water until the float rises. If your sump pump fails to turn on, makes strange noises, or cannot pump the water out effectively, it may fail during an emergency, leaving your home flooded.
When you need help with your sump pump, call United Air Temp. We offer sump pump repair and replacement throughout the Rockville area.
Contact us online or call (877) 552-8919 today to request sump pump repair or replacement.
Full-Service Plumbing in Rockville
Whether you have a minor or major plumbing problem, you can trust our team at United Air Temp for fast, reliable plumbing repairs or replacements in Rockville. Our plumbing services include:
Call (877) 552-8919 or contact us online to schedule plumbing replacement or repair in Rockville.
Choose United Air Temp for Plumbing Services Today
Since 1931, United Air Temp has provided the highest-quality home comfort services and products. With our skilled team, we can help with all your home plumbing needs, from repairing leaks and clogs to water heater and fixture replacements.
We've served over 80,000 customers and have great reviews, so you can count on us for excellent service, quality craftsmanship, and supervisor value with every visit.
Call (877) 552-8919 or contact us online to schedule plumbing services in Rockville, MD, or the surrounding areas.

Why Choose Us
Discover the United Difference
Environmental Health & Safety
Environmental Health & Safety
Save on Your Service
Our Goal Is to Keep Your Home Comfortable
FREE

second opinion – HVAC or Plumbing replacement
Expires 03/31/23
$25 OFF

for referrer and friend
Expires 03/31/23
$50

diagnostic for first- time plumbing customer
Expires 03/31/23
What Our Clients Are Saying

The tech was at my home less than 10 minutes and gone within 20 minutes due to having my A/C up and running. I really appreciate his response to my home and working with my son due to me being out of town, but we spoke on the phone.

The technician arrived promptly, wore a mask, was very courteous and professional. I am generally very satisfied with service by United Air Temp. In addition to good service (they repair well), it is easy to speak to a person, and promptly. Thank you.

Great service! I called because I was under the impression the AC was not working upstairs. Someone came on the same day, checked out the system, and ensured everything was working. He was polite, thorough, and friendly.

Tech was very attentive and professional. He went out his way to explain everything to me as he was doing it. I appreciated him keeping me informed.
The service technician was awesome! He spent the extra time necessary to ensure the leak in our system was fixed, the system fully recharged and everything was functioning as it should. He was extremely thorough and very professional. We are extremely pleased with the result!